Happy 420 from HelloMD
Another year and 4/20 is upon us again, with celebrations all over the country to prove it. This year, we have seen the change of the Obama administration to that of Trump and still the sweep of cannabis legalization continues. Now 30 states have legal cannabis in one form or another and 8 of those states have fully legalized for recreational/adult use consumption.
FOLLOW US ON FACEBOOK & INSTAGRAM
At HelloMD we celebrate crossing our 2 year mark of being within the cannabis industry. We have continued to grow with the industry, connecting more patients every week to cannabis clinicians, crowdsourcing thousands of Q&A through our Answers platform and facilitating interactions with more than 400 brands and retailers we have on our site.
HelloMD Staff: Our Favorite Products
One of the many benefits of being within the cannabis industry is that we get to know the cannabis products really well! So for 420, we have compiled some of our staff's favorite products with reviews in their own words.
Have a happy and safe 4/20 this year and let us know what you think of the products listed!
Fresh Cannabis Leaves by Ona.Life
Review by: Pamela – Co Founder/
Find it: Fresh Leaves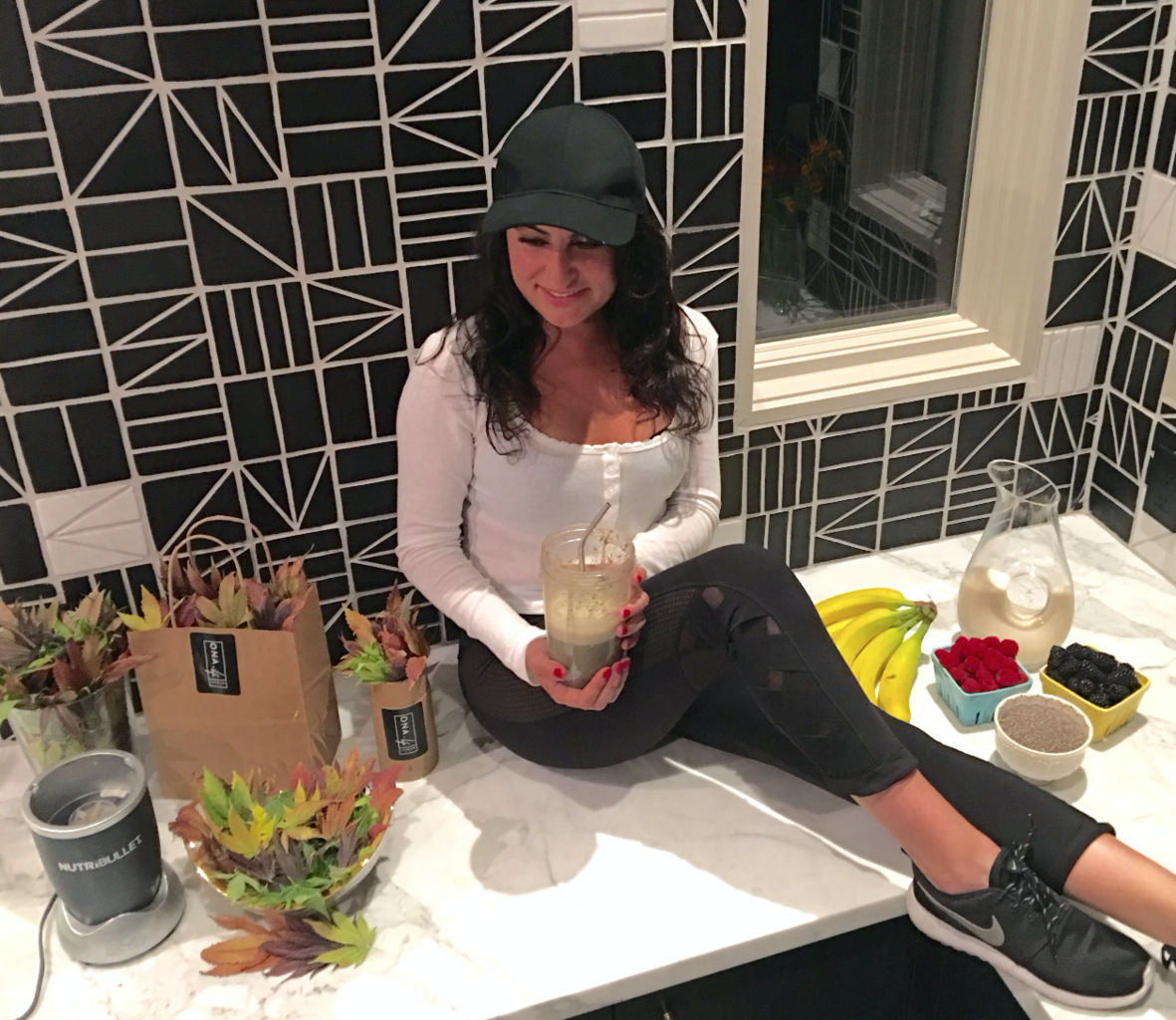 Nurit Raphael, Founder of Ona.Life with her freshly blended cannabis smoothie.
I am a huge fan of green juicing every morning, you can read all about it in my article on consuming THCA naturally. Now that I have a fresh supply of organic, pesticide free leaves I'm an even bigger fan. I order my leaves weekly from my friend Nurit at Ona.Life. Ona.Life is the first service in California to offer freshly cut cannabis leaves for juicing and Ona.Life ships statewide. Whoop, whoop!
The leaves add a huge, zesty flavor to my green juice without a psychoactive high. It is packed full of THCA, what I call the powerhouse cannabinoid full of all the same benefits CBD offers and a massive load of antioxidants. People, this is the new wheatgrass, only better! Bonus: your leaves keep fresh in the fridge for two weeks, you can freeze them or you can juice it all and make THCA green ice cubes to use in your juice every morning. Snap!
Kiva Terra Bites Chocolate Covered Espresso Beans
Review by: Mark – Co Founder/
Find it: Kiva Espresso Beans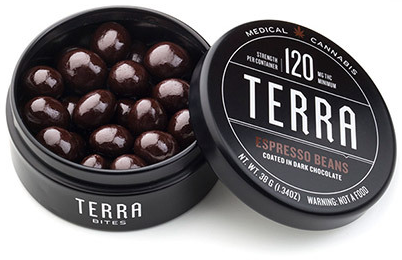 I love the low dose of each chocolate bean, which contains just 5mg of THC. This makes dosing (or microdosing) easy and consistent. Personally, I like to take two beans together, and then might add a third about an hour later. This 10 – 15mg range puts me in a wonderful, happy mood for the evening, enhances the sound of music and leaves me sharp enough to cook and enjoy a delicious meal with my family. It's the perfect Friday night wind down after a usually stressful week.
RELATED: MICRODOSING: THE BIG NEW TREND
There is no hint of cannabis in the flavor. It's just a combination of great tasting dark chocolate, which I love, and the roasted espresso coffee bean. I am not sure the espresso bean is enough to provide a wake-up kick, but it might, and so this is an added bonus for me.
Level Blends: 1:1 Uplift Vape Cartridge
Review by: Michael Litchfield – VP of Marketing/ Find it: Level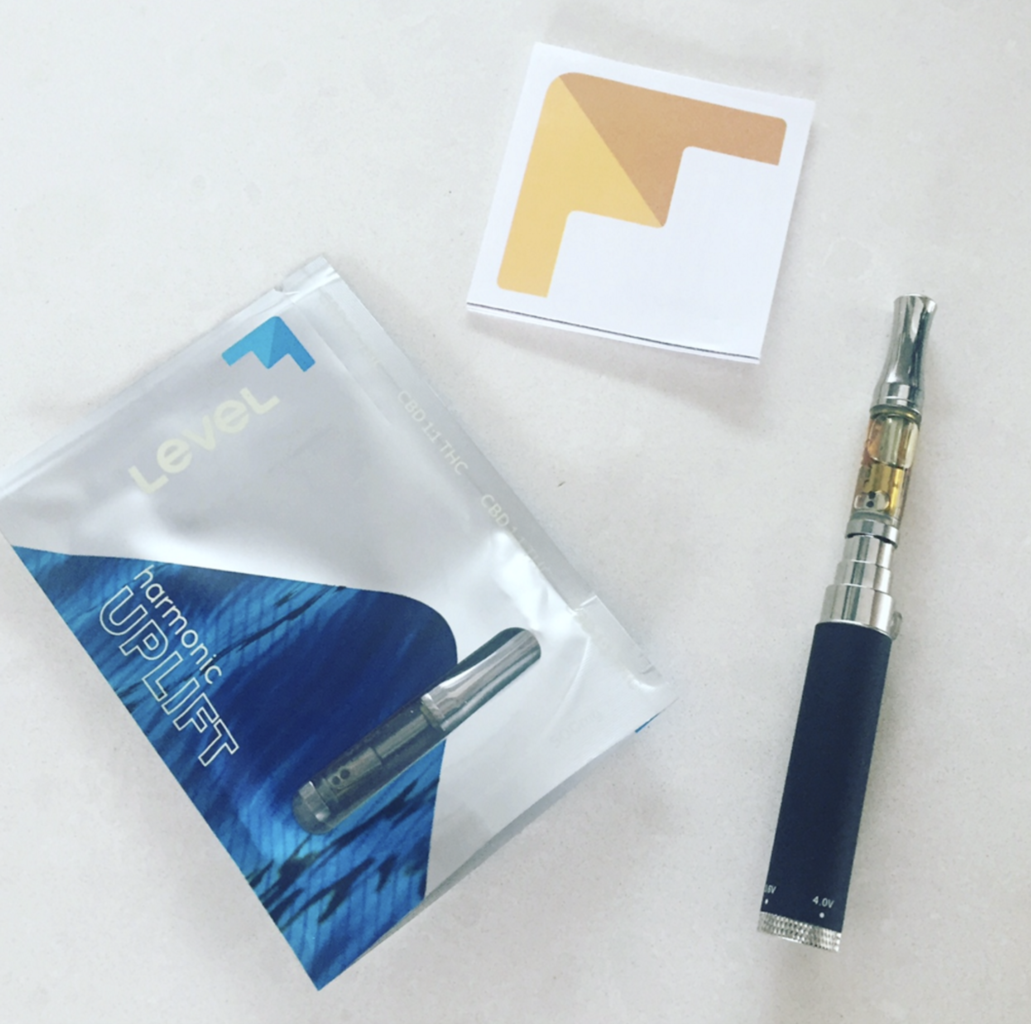 Uplift, from Level Blends, is my go-to cannabis product du jour. It is a cannabis oil cartridge and pen, and I know that by using it I won't feel too high. Uplift is the Goldilocks product – it's not too much, not too little – it's just right, with equal parts CBD and THC. In fact, so long as I regulate my dose I don't feel even the slightest bit high, instead I feel just the right amount of relaxed.
Perfect for the evening and a great aid for letting go of the stresses and anxieties that accumulate through the day. And for me, it has the added advantage of taking the edge off a chronic knee pain that's been following me around for years. All that in a single product. The battery part of the pen is a little different too, it has an adjustable voltage selector on the base that alters the temperature of the heating coil.
Useful if you are of the type that believes vapor from oil heated at a lower temp is more efficient. And it looks great too – the perfect combination of svelte and steam-punk.
HMBLDT Relief Vape Pen
Review by: Ashleigh- Director of Operations/ Find it: True Farma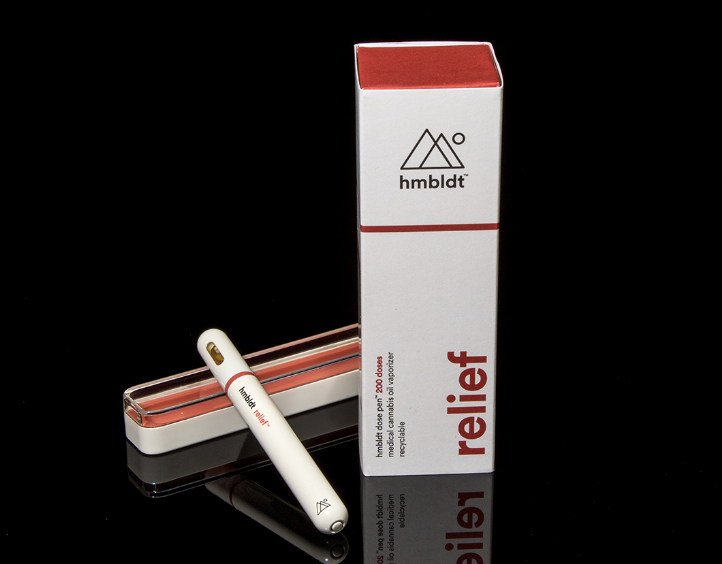 The first thing you notice is that HMBLDT pens are beautifully packaged. They have a clean and sleek aesthetic reminiscent of high-end cosmetics, rather than cannabis. There is no reference to anything 'stoner', such as cannabis plants or a green color palette. You can feel comfortable carrying this with you as it's very discrete. They are color-coded and clearly labelled as to their intended-effect: Calm, Relief, Bliss, and Sleep.
They are no buttons or temperature controls to fuss with, making them very easy to use. The pens emit vapor which is surprisingly cool and mildly flavored; perfect for those who do not particularly enjoy the smell/taste of cannabis, but are seeking its medicinal effects. The pens are activated by inhalation, and vibrate at the end of a 3-second inhalation. The impressive technology of the HMBLDT delivery system means that each 3-second dose results in precisely 2.25mg of medication, regardless or the length or  aggressiveness of inhalation.
Bhang Cookies and Cream Chocolate
Review by: Dmitry – Videographer and Personality (Lots)/ Find it: Bhang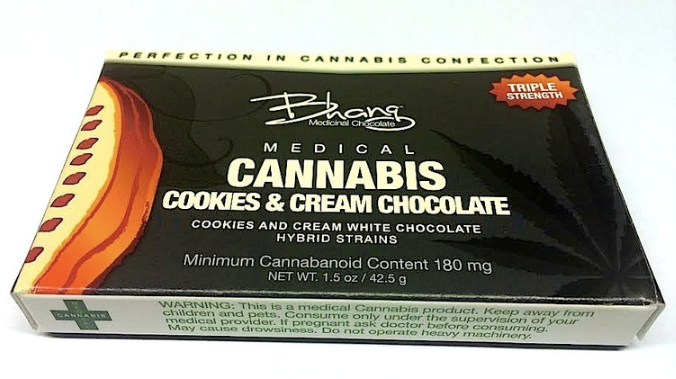 I love my Bhang Cookies and Cream! Eating this edible gives you very cerebral feeling and it also is what I call a holistic product. My wife is very sensitive to cannabis so she can only take very clean and organically sourced cannabis and Bhang cookies and cream is a good example of how the edible should be done! This is a great 4.20 choice!
Pax Era Single Origin Pods – Jack Herer
Review by: Melissa – Customer Service Lead/ Find it: Get Sava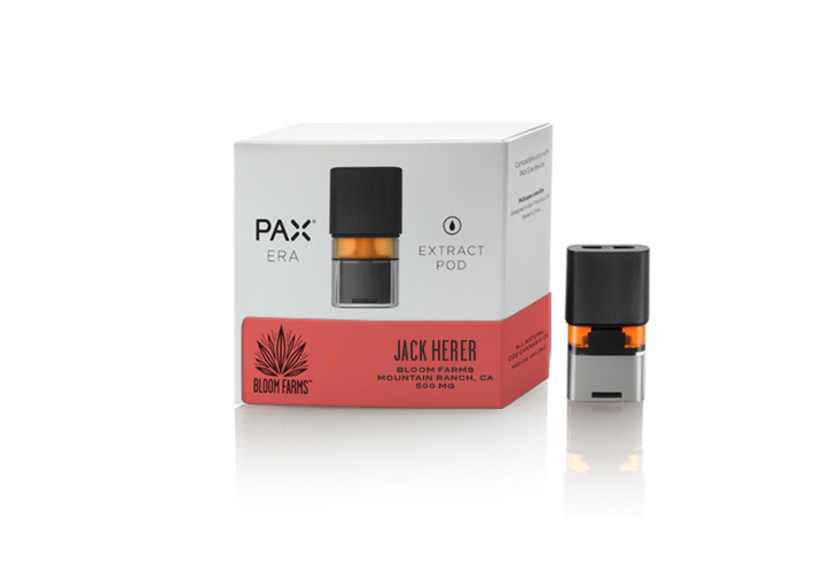 The Pax device is sleek and easy to use. Just pop the pods in and out to change! I also like being able to use the app on my iPhone to change the temperature settings and check my battery level. The Jack Herer and Sativa blends make me feel energetic. They're great for when it's hard to open your eyes and you need to get up and moving!
Flower: Blue Dream
Review by: Veronica – Customer Service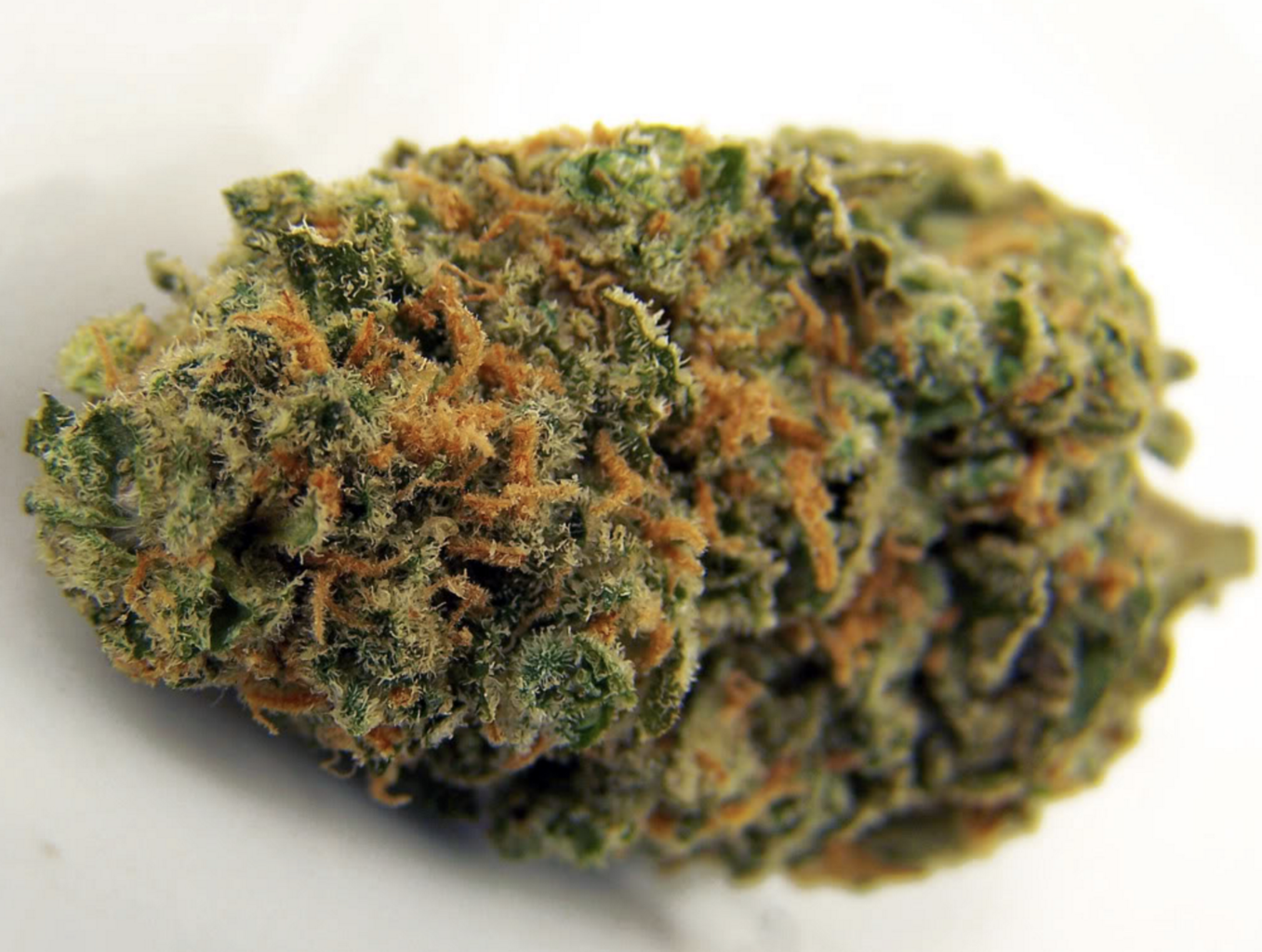 One of my favorite flower strains of all time is Blue Dream, a sativa-dominant hybrid cross between Blueberry and Haze. I love blue dream because it was the first flower I consumed with a relative. At the time, I was afraid to admit I enjoyed cannabis, only to find out they had a large amount of Blue Dream they were more than willing to share with me.
I always experience happy and uplifting effects with Blue Dream. Not to say other flowers and products do not do the same, but Blue Dream is even more special to me because it always reminds me of the time cannabis brought my family member and I closer together. That single positive experience made me fall in love with Blue Dream, and I have continued to make more beautiful memories with everyone I share Blue Dream with.
Flower: Grapefruit OG by Dirt Ninja Farms
Review by: Bart – Customer Service/ Find it: Club M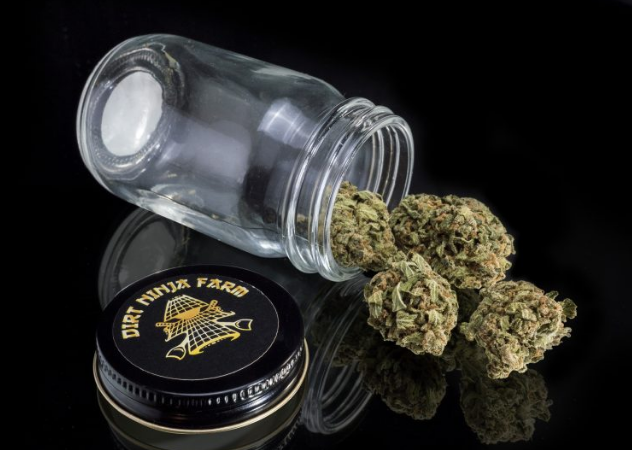 Grapefruit OG is the best smelling cannabis that I have tried (smells exactly like Grapefruit). This is a great hybrid strain- not too stimulating like a pure sativa and not too much of a downer like a pure indica. If you are looking for a great tasting and great smelling strain, look no further than Grapefruit OG by Dirt Ninja Farms. Grapefruit OG won highest total terpenes and terpolene at Terpestival. A great way to end your 420 after tasting so many different strains- try something fresh!
Strovia 5:1 Mango Lemongrass Lozenge
Review by: Ryan – Customer Service, Content Writer/ Find it: True Farma
[image/10]
This is a cannabis lozenge similar to a jolly rancher with 10mg CBD and 2mg THC.
Strovia lozenges are deeply relaxing and undeniably delicious. Since trying my first lozenge, I was a huge fan. CBD helps immensely with anxiety, and the 5-1 CBD-THC ratio is perfect to avoid an intoxicating feeling, while still reaping the benefits of the entourage effect. The mango lemongrass flavor is really worth mentioning as well. I would not be disappointed if Jolly Rancher decided to offer the same option!
When I consume a lozenge I begin to feel a calming sensation that relieves my nervous system, while the muscles of my body simultaneously relax. CBD is a wonderful compound, and Strovia's CBD lozenges are my number one CBD product.
Kiva Petra Mints
Review by: Chris – Business Associate/
Find it: Sava
[image/12]
Lately I've been loving on Kiva's Petra Mints, particularly the Moroccan Mint flavor. I've been using medicated mints for a while, because of the sublingual delivery method (it is has the most immediate onset; second to smoking or vaporizing.) While smoking still remains my preferred method of consumption in private; mints provide a quick, discreet way to medicate throughout the work day.
The Petra Mints are hands down my favorite on the market. Unlike other mints I have tried, these are the first that present as true mints. Several others on the market have a chalky taste and texture, with a hint of cannabis flavor within them. Not so with the Petra mints, which leave my mouth feeling fresh and clean. As a high tolerance user, the 2.5mg per mint is the perfect dose that can be consumed anytime, without fear of too much psychoactivity. I turn to them anytime I'm feeling the stress of the word day building up, or just need to kill some coffee breath.
If you are new to cannabis and want to learn more, take a look at our Cannabis 101 post. HelloMD can help you get your medical marijuana recommendation; it's 100% online, private and efficient.