"Bohemian Rhapsody" or "Black Panther" for Best Picture? Olivia Coleman or Lady Gaga for Best Actress? Spike Lee or Alfonso Cuarón for Best Director? It's almost that time to see who will take home the most coveted statue in Hollywood. Yes, the Oscar.
So, take a page out of the Academy's book this year—they're doing things differently by going without a host—and change up your usual Oscars viewing party by including cannabis.
FOLLOW US ON FACEBOOK & INSTAGRAM
If you're planning on hosting an Oscars party this year, consider making it that much more fun with a little marijuana. The right kinds of cannabis can uplift mood, make wallflowers want to join in the conversation, and have people feeling relaxed and happy.
Here are five marijuana products that are perfect for passing around at your Oscars party. They may just help everyone have more fun seeing who's wearing what on the red carpet, who the Oscars go to and who has the best—or most awkward—speech this year.
1. Hybrid Pre-Rolls by Marley Natural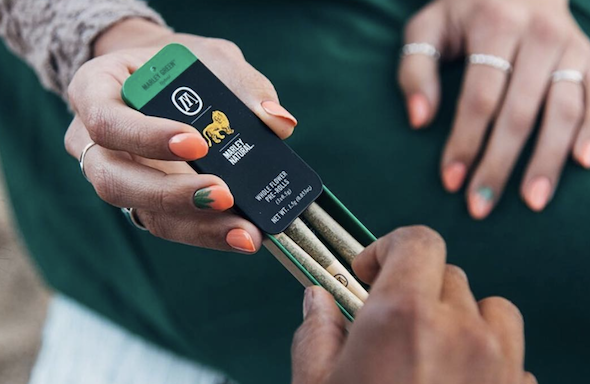 Perhaps the most social way to consume cannabis is passing a joint around among friends. So, if your guests are game to smoke marijuana to set the mood for the Oscars, you can't go wrong with the Hybrid Pre-Rolls by Marley Natural.
These joints, as the name tells you, are pre-rolled, so you don't have to mess with papers, cannabis grinders or trying to roll a tight, even joint yourself.
This version of the Marley Natural Pre-Rolls features the cannabis strain Blue Dream, which is known to impart a long-lasting calm, yet energizing effect—perfect for making it through the entire telecast while engaging with other viewers. Blue Dream's balanced effects are a proven crowd pleaser, so it should work well for the experienced marijuana consumers and cannabis newbies alike.
2. Positivi-Tea by Kikoko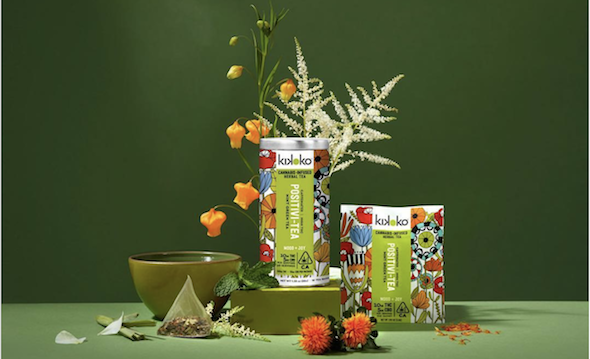 If you don't want people smoking in your home while you watch the Oscars, a smoke-free marijuana option for your guests is the tasty and effective Positivi-Tea from Kikoko.
Each tea sachet contains 10 mg of tetrahydrocannabinol (THC) and 5 mg of cannabidiol (CBD), along with a bit of caffeine and invigorating herbs like:
Spearmint
Green tea
Lemongrass
Kikoko's teas are a soothing and comfortable way to ingest cannabis, so they're perfect for guests who may be new to the plant or who aren't interested in vaping or smoking.
If anyone's worried about taking the whole dose, you can split cups of tea between two or even three people, so folks can tailor a microdose that works for them.
3. Pineapple Coast Vape Pen by DomPen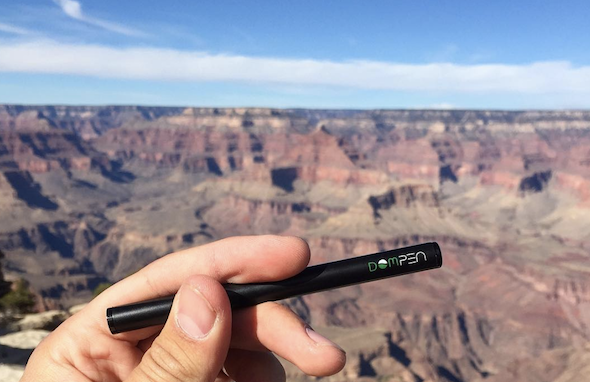 Another fun and sociable way to pass cannabis around a party is with a vape pen. And the Pineapple Coast from DomPen is a handy little pen that makes vaping cannabis easy.
This is a disposable vape pen that comes pre-filled, so you don't need to buy any hardware or separate cannabis oil. There aren't even any buttons to press; you just inhale and enjoy the balance of cannabis and fruit-flavored terpenes.
Most plants produce terpenes, which are oils that come from resin glands. Herbs, fruits vegetables and yes, cannabis, all make terpenes. Researchers now think terpenes play an important role in the therapeutic benefits some experience after consuming marijuana, like improvements in mood and a boost in appetite.
Now some marijuana products—like this one—feature additional terpenes to not only bump up the aroma and flavor profile, but also to add to the health benefits.
RELATED: 3 POPULAR QUESTIONS ABOUT MARIJUANA & TERPENES ANSWERED
4. Honey Mustard Pretzels by the Venice Cookie Company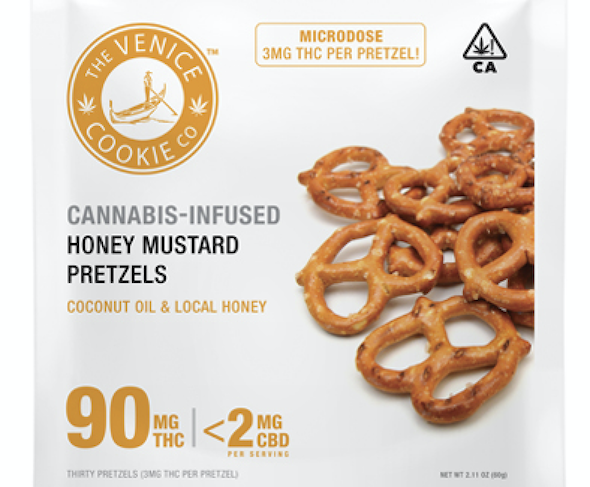 Obviously, you're going to have snacks at your Oscars party. So why not include some cannabis-infused edibles in your spread? These delicious Honey Mustard Pretzels by the Venice Cookie Company make eating cannabis delicious. With only 3 mg of THC per pretzel, it's an easy way for folks to control how much cannabis they take and to ensure all tolerance levels at the party get what they need.
Since edibles typically take around an hour or two to kick in, tell your guests to eat their pretzels at the beginning of the party. This way, they'll feel happy and sociable until the end, when you see who wins Best Picture.
5. Elevate Tablinguals by Level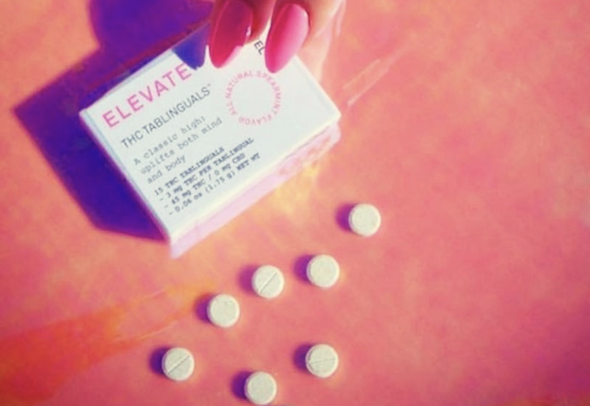 Another microdosing option for your Oscars party is the Elevate Tablingual by Level. These little tabs are designed to dissolve in your mouth, so you don't chew or swallow them. Because the mucous membranes in your mouth are so porous, the cannabinoids enter your bloodstream quicker than when you eat a marijuana edible.
These little tabs feature 3 mg of THC each, and consumers report an uplifting, invigorating effect. Have your guests start off with one, then see how they feel after about an hour. If they want more, they can place another tablingual—or even half of one for a smaller dose—under their tongue to keep the good times rolling through the entire party.
Photo credits: Ahmet Yalçinkaya (main image), Marley Natural (Marley Natural image), Kikoko (Kikoko image), frenchweedology (DomPen image), Level (Level image)
If you're new to cannabis and want to learn more, take a look at our Cannabis 101 index of articles. And if you have questions about cannabis, ask them and our community will answer.