What do you do for the guy who tickled you till you cried, cheered you from the bleachers and didn't get mad the time you got in that fender bender?
Sure, a pair of socks, a gift certificate or some grilling gear are good standbys. But if you want to make Father's Day a memorable experience for your dad, why not give him something that makes him feel good and that the two of you can enjoy together?
FOLLOW US ON FACEBOOK & INSTAGRAM
Yes, give the gift of cannabis. It's available in different forms and different strengths, catering to all kinds of tastes. Cannabis-infused gifts are available for every kind of dad—from coffee lovers to active dads who enjoy getting outside.
Perhaps your dear old dad is a cannabis newbie and wary about giving the plant a try. Well, explain to him that marijuana has a host of health benefits, which range from relieving stress to soothing aches and pains.
He doesn't have to consume anything too strong. In fact, your father can enjoy cannabis's benefits with little or no tetrahydrocannabinol (THC), the ingredient that can get you high. And if he doesn't want to smoke it, he doesn't have to. There are other ways to consume marijuana.
RELATED: TIPS ON HOW TO GET YOUR PARENTS TO TRY CANNABIS
So, here are five Father's Day gift suggestions that will cover dads who are experienced marijuana consumers as well as those who are just getting started with cannabis.
1. Start Father's Day With Cannabis-Infused Cold Brew Coffee From Somatik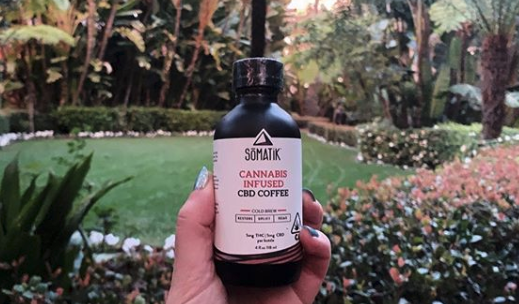 Remember those great pancake breakfasts that your dad used to make you on weekends? Perhaps it's time to repay the favor by making him a special Father's Day breakfast.
To go with the bacon and waffles or eggs Benedict, opt for a trendy cold brew coffee infused with cannabis. Somatik serves up ready-to-drink, delicious, single-origin, cannabis-infused cold brews. And you and your dad (and the rest of the family) can share them around the breakfast table. They're available in two versions:
THC-infused: With 10 mg of THC, this cold brew can help improve dad's mood while imparting a clear and euphoric mind with relaxed body highs.
CBD-infused: This cold brew serves up a 1:1 ratio of cannabidiol (CBD) to THC (5 mg each), making it a milder beverage. But it's still one that can help reduce stress and anxiety as well as impart a sense of well-being.
2. Enjoy Some Cannabis Pretzels From the Venice Cookie Company While You & Dad Watch the Game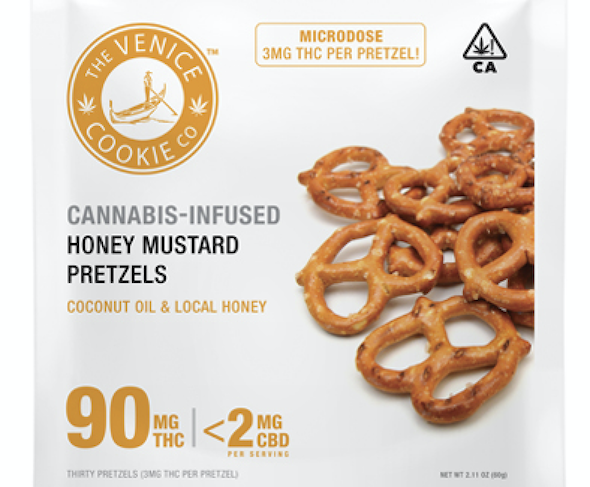 Perhaps chilling out with your dad is a matter of watching a game on TV together, both of you in the jerseys of your favorite team. And of course you'll need snacks while you lounge, so why not reach for some pretzels—cannabis infused, of course.
You can have sweet or savory pretzels (or mix them together) from the Venice Cookie Company. Its Honey Mustard Pretzels are made with locally sourced honey and coconut oil, and contain about 3 mg of THC per twist.
With a similar dosage of THC, the Savory Pretzels contain no sugar and are vegan friendly.
As far as doses go, we always recommend you start small (5 mg THC or less) until you know how a particular product affects you. It can take as little as 30 minutes or as long as two hours to feel the effects of a cannabis edible. To be safe, wait the full two hours for the effects to come on before eating more—and make sure your dad does the same.
3. Help Dad Banish Aches & Pains With a Calm Vape Pen From Dosist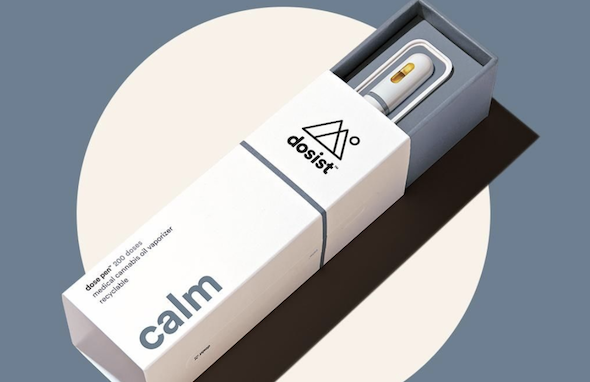 If you're going to spend a Father's Day on the move—maybe with a bike ride or hike with your pop, think about presenting him with a Calm vape pen from Dosist.
This vape pen's cannabis oil is high in CBD, which is great if your father is experiencing any aches and pains. The formula is also ideal if your dad deals with anxiety, as it includes the calming and uplifting effects of three cannabis terpenes:
And, if your dad is a cannabis newbie, consuming with a Dosist pen couldn't be easier. It's pre-filled, so you don't need to worry about charging it up or changing cartridges. Plus, the pen vibrates when dad has inhaled a precise 2.25 mg per dose.
4. Gift Dad Some Low-THC Cannabis Like Pre-Rolls From Flow Kana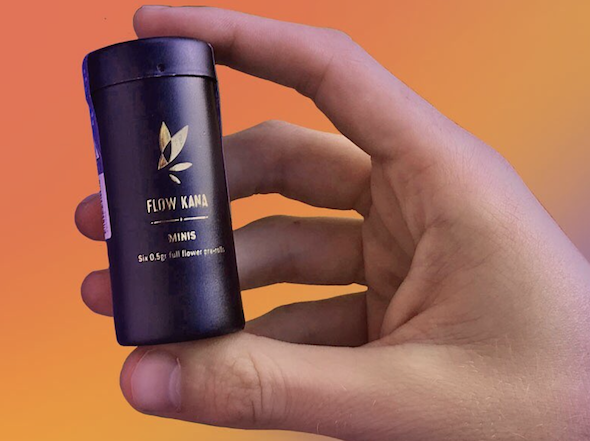 If your dad wants to try smoking marijuana, but is nervous about the effects, then it's a good idea to start with cannabis that has a low percentage of THC. In this case, go for a pack of mini pre-rolls from Flow Kana
These mini pre-rolled joints feature the cannabis strain Box Car, which is a high-CBD cross of the strains Harlequin and Super Melly Nova. Your dad will likely notice the enticing sour lemon taste and the citris aroma with hints of pine.
Since the cannabis in these mini pre-rolls is low in THC, they're perfect to break out any time you and your pop want to relax and unwind.
5. Teach Dad How to Microdose Marijuana With Papa & Barkley's Releaf Tincture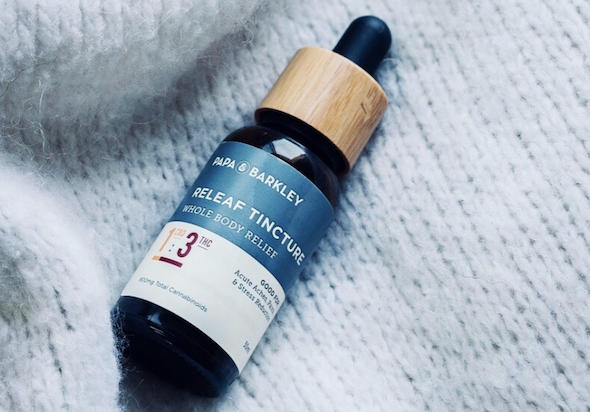 Another increasingly popular way to minimize the psychoactive effects of THC is to microdose. This means consuming small amounts of cannabis to get the benefits without an intense high.
RELATED: MICRODOSING: A BETTER WAY TO TAKE CANNABIS?
While you can microdose marijuana in just about any form, tinctures may work best, because you can more easily control your dosage.
One of HelloMD's best-selling tinctures is Papa & Barkley's 1:3 Releaf Tincture Providing strong pain relief and mental calmness, the tincture contains 350 mg of THC and 100 mg of CBD.
You and your dad can each take the amount of tincture you want under the tongue (sublingually). Or if you're enjoying any kind of nonalcoholic drink with your father, you can add a few drops of the tincture for a discreet and easy way to consume.
Whichever cannabis gift you choose for Father's Day, you'll have trouble surpassing yourself next year, after raising the bar so high.
Photo credits: Monkey Business Images/Shutterstock (main image), Somatik, (Somatik image), Dosist (Dosist image), Flow Kana (Flow Kana image), Papa & Barkley's (Papa & Barkley's image)
If you're new to cannabis and want to learn more, take a look at our Cannabis 101 index of articles. And if you have questions about cannabis, ask them and our community will answer.