The cannabis movement continues to spread across the globe, offering new access to this life-changing plant. But while these new laws allow for private consumption, there are very few options for those of us who'd like to enjoy cannabis in more public settings.
Going out for a drink at a bar, club or restaurant is a great way to celebrate, spend time with friends or meet new people. If you're an alcohol drinker, you have plenty of social spots to choose from.
FOLLOW US ON FACEBOOK & INSTAGRAM
But for cannabis consumers, it's a different story. There are aren't many public places where you can go to hang out and mingle while smoking or vaping marijuana.
But while these cannabis lounges are few and far between, they do exist. They're even becoming more popular as different areas update their laws to allow for these social cannabis havens.
Here are five fantastic spaces around the globe that are a lot like a bar, coffee shop or club—but they allow patrons to enjoy cannabis as part of the experience.
1. La Tertulia Coffeeshop in Amsterdam, Netherlands
If we're talking about cannabis lounges, we have to start our tour in Amsterdam. This city has had legal cannabis coffee shops since the '70s and has long been the primary destination for cannabis tourists looking for a social cannabis experience. Amsterdam boasts hundreds of shops where tourists can stop by to buy and enjoy cannabis.
If you're not sure where to go, try La Tertulia. This cozy, little family business has been around since the '80s and is run by a mother-daughter pair. It's known for its relaxed atmosphere and an iconic mural of Vincent van Gogh that's painted outside.
Inside the calming coffee shop, you can find relaxing music, a variety food and drinks, and plenty of room to sit down and chill out. You can settle down by their crystal garden and soak in the energy from their collection of crystals, fossils and meteorites, or go upstairs for views of the canal. In the warmer months, step outside to the canal-side terrace to enjoy Amsterdam's outdoor beauty and entertaining people watching.
La Tertulia coffee shop also offers a wider array of smoking accessories than what you can usually find in Amsterdam. While most coffee shops there only sell pre-rolled joints for smoking flower, La Tertulia also offers a selection of vaporizers and water pipes for visitors to enjoy.
2. Barbary Coast Lounge in San Francisco, CA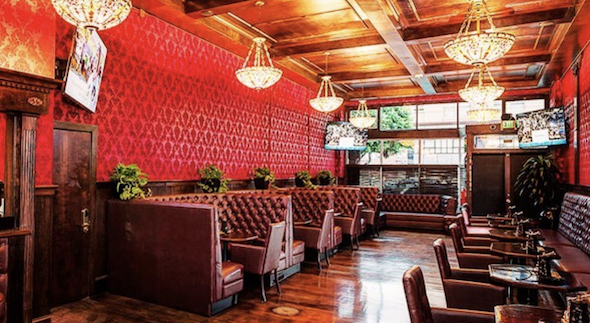 The U.S. also has some fantastic cannabis lounges. While most areas with legal cannabis don't have laws allowing for this type of lounge, San Francisco has allowed for a small number of cannabis consumption lounges to pop up around the city. These vary in terms of whether they allow smoking or vaping only, but they offer a great way for S.F. natives and tourists alike to step into a bar-like atmosphere where marijuana is allowed.
One of the most popular lounges is in Barbary Coast, a swanky S.F. marijuana dispensary with decor reminiscent of a 1920s speakeasy. The elegant lounge features deep red brocade wallpaper, hardwood floors, leather seating and delicate stained-glass chandeliers.
Unfortunately, this isn't like an Amsterdam coffee shop where you can just hang out all day. Given its popularity, Barbary coast has a 30-minute limit for patrons to spend consuming cannabis in their gorgeous lounge space.
RELATED: TAKE A TOUR OF CALIFORNIA WINE & CANNABIS COUNTRY
3. Mon Ami Social Club in Barcelona, Spain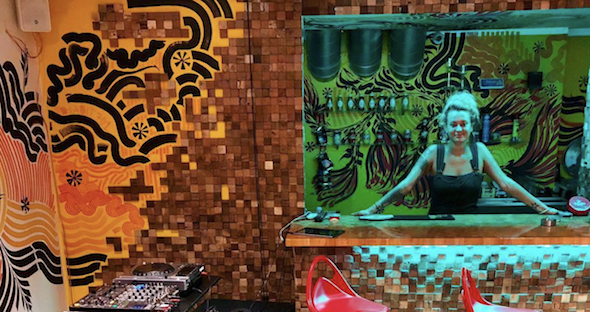 Another international city with a thriving cannabis social scene is Barcelona, Spain. While cannabis consumption and possession are both illegal in public, the city allows for private cannabis social clubs where members can buy and take cannabis. Members pay a fee to join (usually around 20 euros) and then make donations to obtain cannabis once inside. These clubs have dispensaries as well as lounge areas, and often have drinks and snacks available, too.
Still, it can be tricky to become a member of one of these marijuana social clubs, since you need to be invited—and not all clubs accept tourists. Unfortunately, the ones that do take tourists are often expensive with poor quality. A friend stayed in Barcelona for months and only found overpriced tourist traps when it came to cannabis lounges.
When I traveled there, I found it very helpful to use a marijuana tour service. The one I used, Barcelona Weed Tour, found the perfect places for me to go, got my invitations lined up and took me around town on a customized tour.
My favorite cannabis lounge in Barcelona was Mon Ami. This is a bigger club compared with others I saw there and had a great selection of products for very reasonable donations.
Its smoking lounge was spacious and comfortable, with big leather couches arranged around coffee tables. The lounge also had a pool table, a variety of board games, a snack bar and even a live DJ at times. The vibe was chill and relaxed with groups of friends sitting around smoking, playing games or chatting.
4. Alchemy Lounge in Los Angeles, CA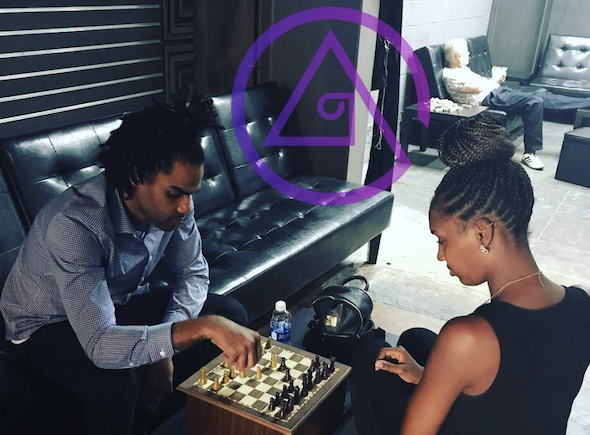 Back in California, you can also find a limited number of lounges in the Los Angeles area. While officials are looking into permitting lounges in L.A. (similar to how they're allowed in S.F.), the laws don't currently allow public consumption in cannabis dispensaries. While experts are predicting more lounges to come as legislators begin to explicitly permit them, some innovative entrepreneurs have found a way to start the marijuana lounge scene early.
Alchemy Lounge, for example, is a members-only social club. Because it's a private club and not a public one, members are able to enjoy cannabis just like they could in their own home.
While Alchemy doesn't sell cannabis or allow for selling on their premises, members can bring their own marijuana supply to smoke or vape.
The lounge features comfortable seating, WiFi, games and TVs. Alchemy also hosts a variety of cannabis-themed events including:
Cannabis talks
Ganja yoga
Game nights
Cannabis art shows
Live music
5. Tetra Lounge in Denver, CO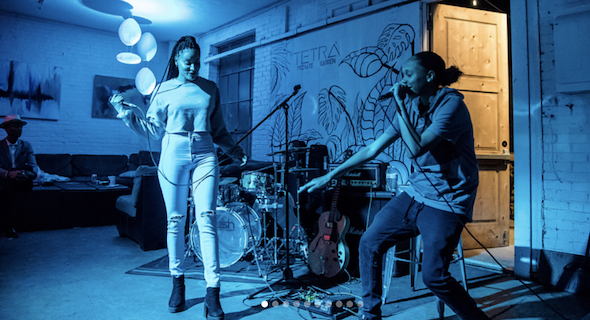 Another region with limited cannabis lounges in the U.S. is Denver, Colorado. While Colorado generally doesn't have laws in place for cannabis lounges, Denver has given out one marijuana lounge license, and other lounges use the same private club model that we see in L.A.
One such location is Tetra Lounge, a private cannabis social club where guests can preregister online to join. Tetra is a little on the pricey side, but it's also right in the heart of the fairly central River North Art District (RiNo) of the city, not on the fringes of Denver like many of the alternatives.
Tetra is known for having:
Creative marijuana-themed classes like sushi and joint rolling, and "chronic and canvas" painting classes
Live music
Special events like strength training and cannabis fitness sessions
The space includes an indoor area with seating, dab bar and pool tables, and an outdoor patio with large murals and cozy hammocks.
Like most private cannabis clubs, nothing is for sale. So bring your own cannabis, and enjoy the space.
Photo credits: Canna Obscura/Shutterstock (main image), La Tertulia (La Tertulia image), whitecoatservices (Barbary Coast image), Mon Ami Barcelona (Mon Ami image), Alchemy Lounge (Alchemy Lounge image), Tetra Lounge (Tetra Lounge image)
If you're new to cannabis and want to learn more, take a look at our Cannabis 101 index of articles. And if you have questions about cannabis, ask them and our community will answer.