Some weeks, you feel invincible. Your presentation at work was well received; your home is clean and organized; you've made it to the gym several times; and everyone around you is in a great mood.
Then there are those other weeks. Nothing in your closet seems to fit; you got saddled with yet another emergency project at work; and everyone around you is getting on your nerves. You just feel blah.
Guess what? Cannabis can help.
FOLLOW US ON FACEBOOK & INSTAGRAM
Many of the compounds—cannabinoids and terpenes—in marijuana have proven mood- boosting qualities. In fact, tetrahydrocannabinol (THC), the molecule responsible for cannabis's head high, acts on the brain in a very similar way to anandamide, otherwise known as the bliss molecule.
Ever wonder why you feel almost euphoric after biting into a luscious piece of chocolate? It's the anandamide in the cocoa solids giving you that pleasurable sensation.
So, here are eight cannabis products you may want to try next time you need help boosting your mood.
1. Kikoko Positivi-Tea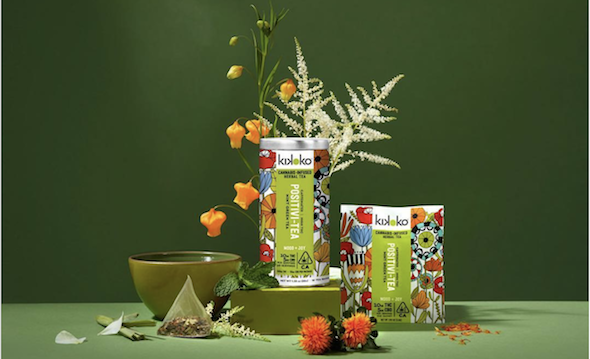 If you've never tried drinking your cannabis before, it may be time to give it a shot. The Positivi-Tea from Kikoko features top-shelf cannabis blended with other uplifting ingredients like lemongrass, spearmint and safflower petals. The brew is so fragrant and refreshing that you can't taste even a hint of cannabis—a remarkable feat for a marijuana edible.
Make a cup of Positivi-Tea as you would a nonmedicated tea, then sip away. Each tea bag contains 10 mg of THC, but if you want to start off small, you can always stop at half a cup and save the rest for later or split it with a friend.
Typically, you'll feel the tea's effects in about 15–20 minutes. Especially accessible to cannabis newbies, this is a great option if you don't want to vape or smoke cannabis.
2. Bloom Farms Sativa+ Pax Pod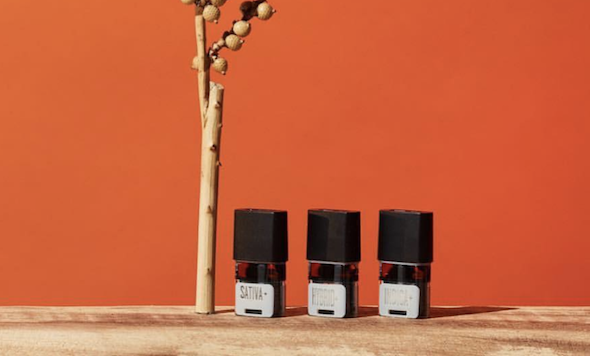 This Bloom Farms Sativa+ vape cartridge, compatible with only the Pax Pod vape pen, will have you feeling energized and ready to tackle that project you've been putting off forever. This marijuana oil is made from a sativa strain of cannabis—and for most people sativa strains are stimulating, energizing and provide a great little pick-me-up.
Bloom Farms is known for marijuana oil that's tasty, potent and extracted using a clean CO2 process, so you can be confident there's no toxic additives in your vape cartridge.
Vaping is a great way to feel better fast, as the vapor enters your bloodstream almost instantaneously. The Pax Pod is also small and discreet, so you can boost your mood whenever you need to—provided you don't have to drive.
The Sativa+ pod features a high-THC percentage, so start with one puff and wait a while before deciding if you need more. Overdoing it on THC can sometimes make your mood worse, instead of better.
3. DomPen California Citrus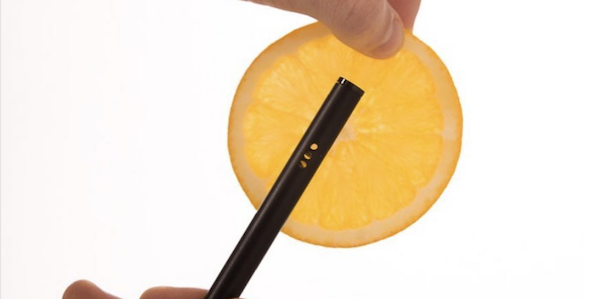 If you're interested in vaping, but aren't sure about committing to some hardware, a disposable vape pen may be for you. The newest generation of disposable vape pens are made from high-quality, recyclable materials and have top-of-the-line cannabis oil inside to match.
Once such disposable vape pen is the California Citrus from DomPen. Packed with around 70% THC, this cannabis oil blend will help you feel energized, focused and ready to take on the world.
This vape pen's citrus notes aren't just for flavor. DomPen has added a special terpene blend to this marijuana oil to boost its uplifting effects. The citrus aroma and taste come from the terpene limonene. Limonene is an oil found naturally in citrus fruits and some cannabis strains. It's been shown to improve mood and calm anxiety—another reason why the California Citrus DomPen can be your go-to next time you've got a case of the blahs.
RELATED: KNOW YOUR CANNABIS TERPENES: LIMONENE
4. Level Elevate Tablinguals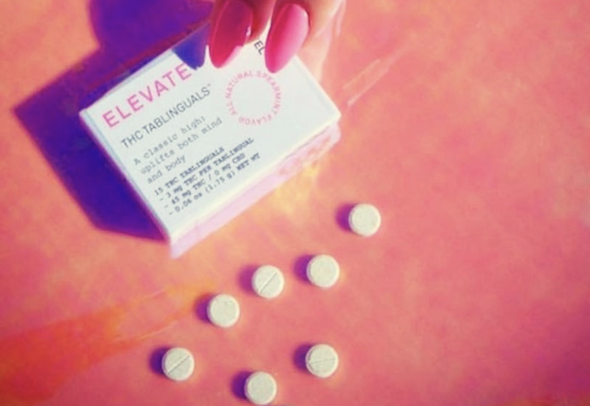 Not quite an edible, not quite a sublingual, Level's Tablinguals are in a class all their own. Next time you need a quick and easy way to feel better, Level's Elevate Tablinguals may just do the trick.
Tablinguals look like mints, but you don't chew or swallow them. Place a tablingual under your tongue and let it dissolve. The cannabinoids will make their way through the porous mucus membranes in your mouth and into your bloodstream in about 15 minutes.
With Elevate, you'll feel uplifted and content, and you may even notice some body pain melting away, too. Each tablingual contains just 3 mg of THC, a great microdose for folks new to cannabis and those who just aren't interested in a mega dose of THC.
RELATED: HOW TO MICRODOSE WITH CANNABIS: A HELLOMD EVENT
5. Mr. Moxey's Energizing Peppermints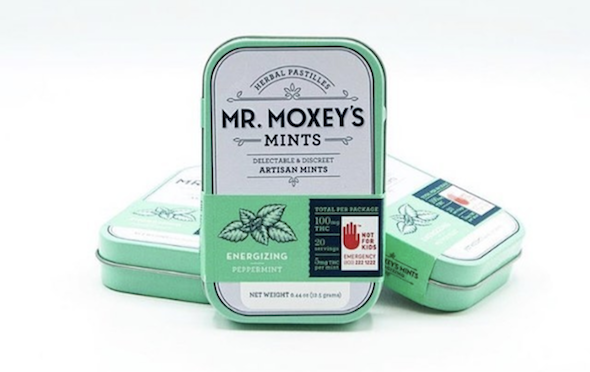 Perfect if you're out and just not feeling it, Mr. Moxey's Energizing Peppermints can have you ready to socialize in a matter of minutes. These refreshing little mints contain 5 mg of THC each, an amount that most consumers report makes them feel relaxed and happy without being too intoxicating.
Besides the THC, Mr. Moxey also mixes in Siberian ginseng to promote stamina and energy, as well as gingko biloba for clarity and focus. Plus, these handy little mints are vegan and gluten free, so everyone can enjoy them.
6. Humboldt Apothecary Uplift CBD Tincture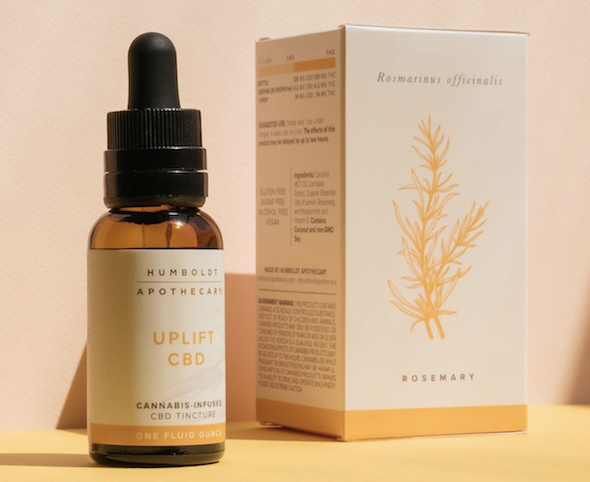 If you want your mood-boosting cannabis to also include some cannabidiol (CBD) and all of its benefits, a great product to pick up is the Uplift CBD Tincture from Humboldt Apothecary. This formulation is a 1:1 THC-to-CBD ratio, which means every dose is equal parts THC and CBD (in this case 4.2 mg of each).
The founders of Humboldt Apothecary were herbalists before they turned their attention to cannabis. So, all of their tinctures feature different combinations of therapeutic herbs; this not only helps amplify the oil's effects, but it also makes the tinctures smell and taste fantastic.
The Uplift tincture also features lemon, rosemary and peppermint, for a combination that will wake you up and have you feeling content and at ease. Tinctures are a great way to medicate, because they're relatively fast-acting, smokeless and versatile—you can place the oil directly under your tongue or add a few drops to your coffee, tea or juice.
7. Jetty Extracts Super Lemon Haze Dablicator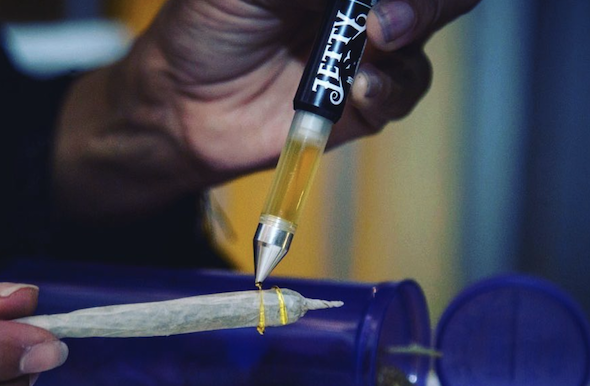 Concentrates may seem a little intimidating, but the truth is they're one of the purest ways to ingest the exact kind of cannabis you need. And this Super Lemon Haze Dablicator from Jetty Extracts makes taking a cannabis concentrate a cinch.
All you have to do is give the dablicator a twist and a click, and it measures out a precise dose of marijuana concentrate. You can use it to add some concentrate to a joint (extra points for a cool design) or your pipe. Some folks even add it to their beverage of choice.
And this dablicator comes loaded with concentrate made from the marijuana strain Super Lemon Haze. You may have guessed from the name that it features our friend limonene, which will have you feeling bright, motivated and just plain happy.
8. Kiva Confections Pineapple Habanero Camino Gummies
Do you think the only cannabis edibles out there are brownies and cookies? Think again. These little Pineapple Habanero Camino Gummies from Kiva Confectons are bursting with flavor. They're also packed with uplifting cannabinoids and terpenes to enhance your senses, melt away anxiety and get you motivated for wherever the day takes you.
Each gourmet gummy contains 5 mg of THC, so because they're a microdose, you can easily customize the amount you consume. The tropical pineapple notes with just a kick of heat at the end will convince you that today's marijuana edibles are sophisticated, delicious and provide exactly the effects you're looking for.
Photo credits Seth Doyle (main image), Kikoko (Kikoko image), Bloom Farms (Bloom Farms image), DomPen (DomPen image), Level (Level image), Mr. Moxey's (Mr. Moxey's image), Humboldt Apothecary (Humboldt Apothecary image), Jetty Extracts (Jetty Extracts image), Kiva Confections (Kiva Confections image)
If you're new to cannabis and want to learn more, take a look at our Cannabis 101 index of articles. And if you have questions about cannabis, ask them and our community will answer.