A Rose Garden Luncheon
Being involved in California's cannabis industry has allowed me to meet many strong and inspiring women. On a recent afternoon I was invited up to Sonoma wine country for a luncheon with the founders of Sava and Garden Society. Sava, founded by Andrea Brooks, is a curated online marketplace for cannabis goods that delivers anywhere in California, and has quickly grown to be a market leader within the space. Garden Society, founded by Erin Gore, is an emerging edibles brand, which has beautiful, low dose confections which remind me of what you might find in a Parisian patisserie.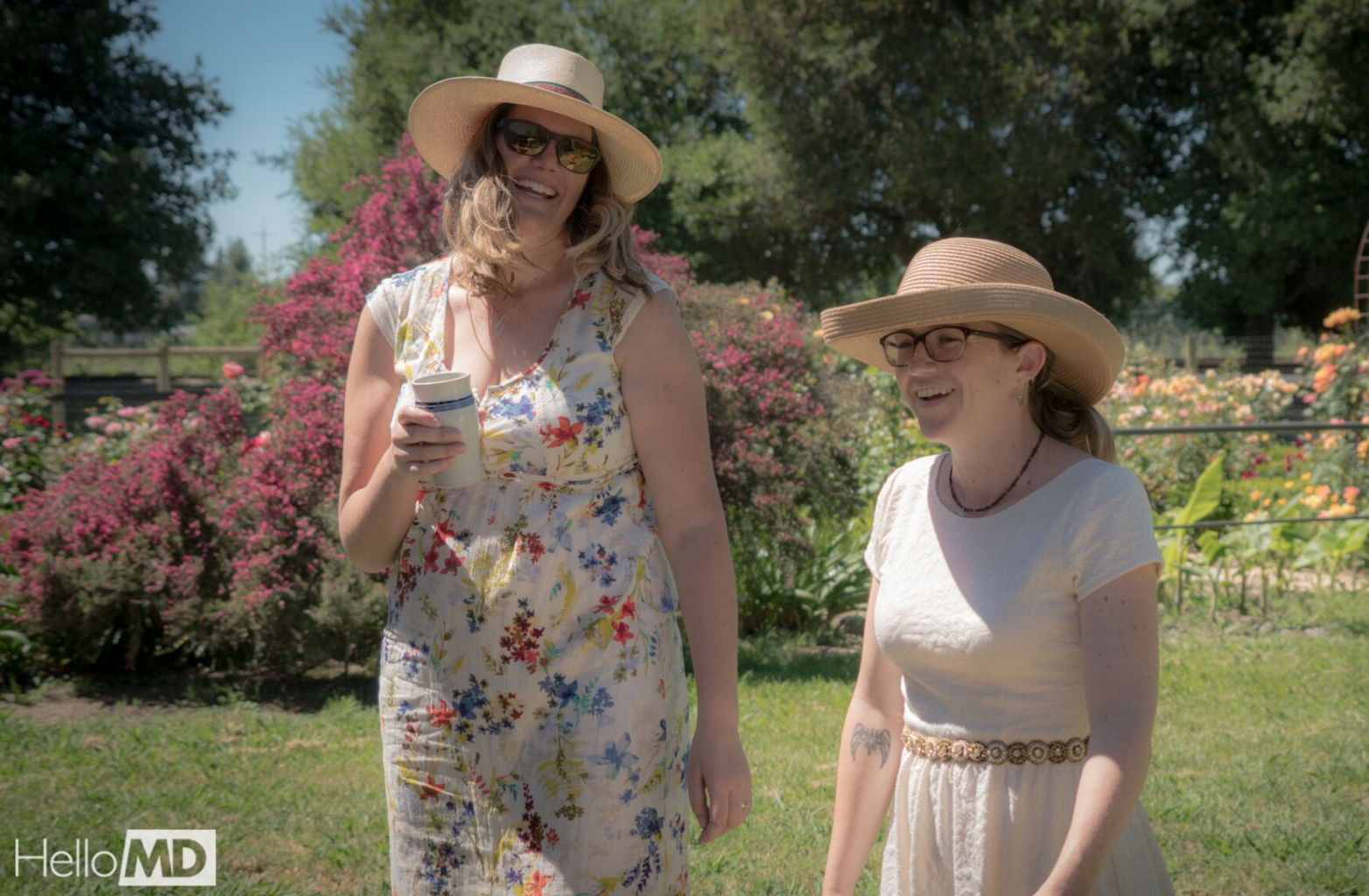 Erin Gore, founder of Garden Society and Karli Warner, the marketing director
FOLLOW US ON FACEBOOK & INSTAGRAM
Our luncheon took place in a glorious rose garden, which also happened to be the source of inspiration for the name Garden Society. Karli Warner, the marketing genius behind GS also joined our crew, while we dined, chatted and got better acquainted. Personally, I love spending time with women in cannabis who are creating successful businesses while also promoting the powerful aspects of health and wellness that cannabis provides.
Sava: A Place for Artisanal Brands
Soon after entering the cannabis industry myself, I met Andrea Brooks. Andrea crafted her company with patients in mind, and when transitioning into the cannabis industry she not only brought her passion for cannabis, but her passion for empowering women and thoughtful small businesses as well. Through Sava, Andrea has focused much of her energy on promoting smaller artisanal brands, like Garden Society, that carry a message she believes in.
Andrea, when talking about Garden Society, describes the company as being at the forefront of the changing cannabis industry. She says,
"Currently, I'm seeing a shift in the industry where a handful of cannabis formulators are making very high quality, sophisticated products. People within the industry are tailoring their products to achieve a very focused and specific effect – whether it be energizing, calming, for sleep, etc. and they're using the highest quality ingredients, from the cannabis to the carrier oils or food ingredients.
Consumers are starting to ask for these high quality, healthy products that offer a consistent predictable experience, therefore demanding more from the market. It's a really exciting time to be involved in the wellness sector of this industry. Garden Society is one of these formulators making high quality edibles with a moderate dose. The effect is tailored and consistent, and the method of delivery is a gourmet edible with high quality ingredients. Their edibles feel very special, their artisan nature comes through in every aspect from the packaging to the taste."
Garden Society Blooms
Erin Gore, the founder of Garden Society, began to appreciate cannabis' medicinal qualities when she was a young adult and suffered from sports related industries. As she took on a high power career, cannabis helped her find balance, and sleep, in her daily life. Her passion for cannabis continued to grow as she attempted to find, and subsequently create, cannabis products that were right for her.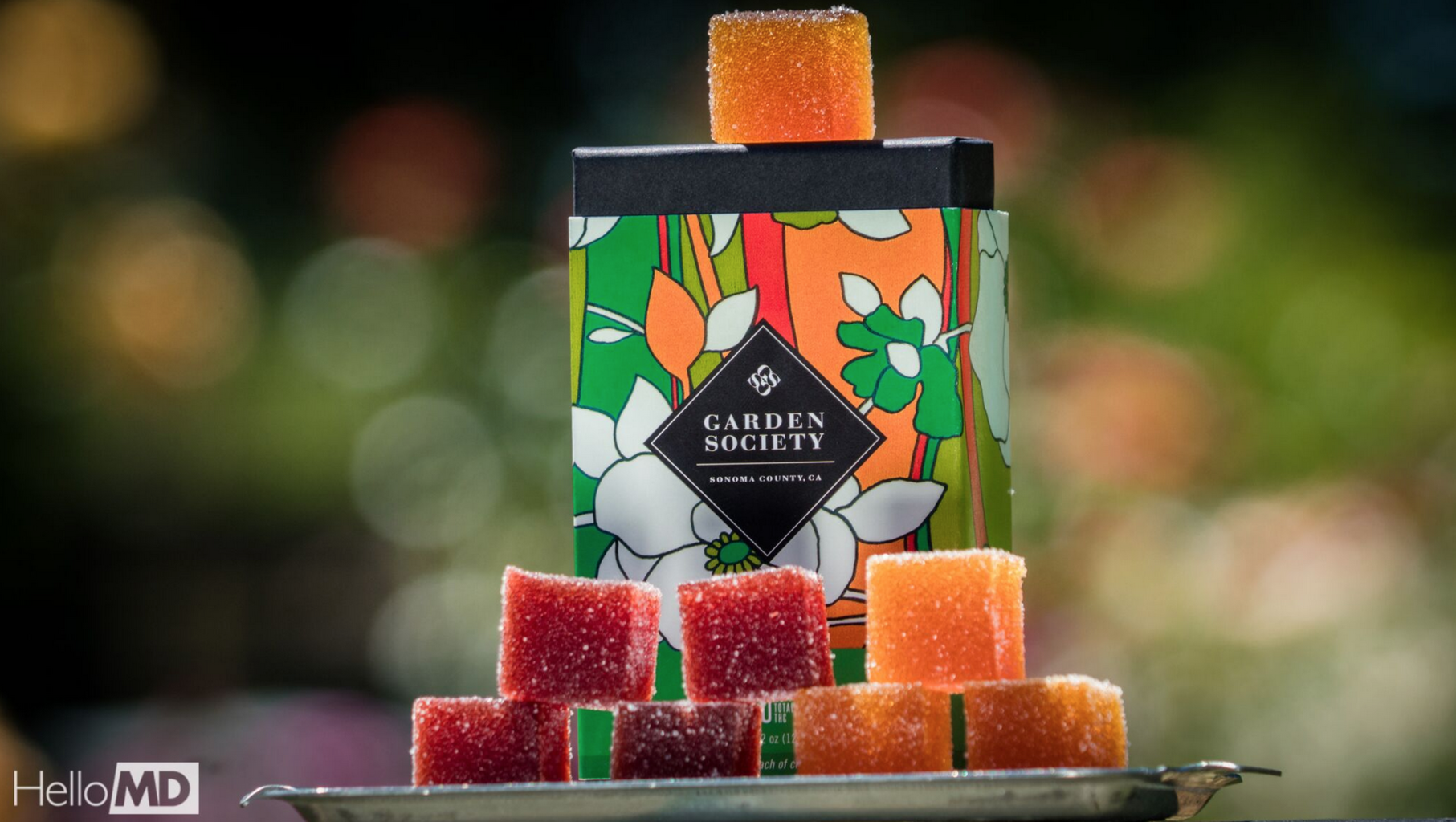 Garden Society's Bliss Blossoms
RELATED: THE TOP 5 HEALTH TRENDS IN CANNABIS
Erin decided to leave her stressful, high powered job and focus on the creation of Garden Society in 2016. Garden Society is founded on the idea of being a lifestyle brand primarily geared towards "finding healthy ways to bring balance to our busy lives", while at the same time attempting to reduce the stigma of cannabis consumption.
Focus on High Quality & Microdosing
The GS edibles are curated to be approachable and easy to use, and it is clear that Erin has been thinking about bringing cannabis to women who may otherwise shy away from it. Microdosing, is typically considered anywhere from 2mg to 10mg per dose, depending on a person's tolerance. Garden Society's edibles are between 5 to 10mg of THC and they come in the form of delicious confections including Bright Blooms, which are fruit and herb gelées, and Bliss Blossoms, which are dreamy milk chocolate bites.
Garden Society uses premium organic and fair trade ingredients and biodynamic cannabis in their edibles that feature CBD, THC, and even THC-A. After spending the afternoon with Erin, I saw GS as a company that will continue to help normalize cannabis consumption for patients while at the same time creating high quality, exceptional confections. Garden Society, to me, represents the changing, new face of edibles.
Our luncheon was filled with great conversation, laughter and an active exchange on the turbulence of running a business within the cannabis industry. This industry can be extremely challenging and is indeed risky, but it is also filled with strong community. While talking, we agreed that women within the cannabis industry typically support other women, more so than in any other industry any of us have been a part of. That day in Erin's garden, I sat with three other amazing women who work together to build successful businesses while supporting one another, and that's a very good thing.
You can purchase Garden Society edibles through Sava.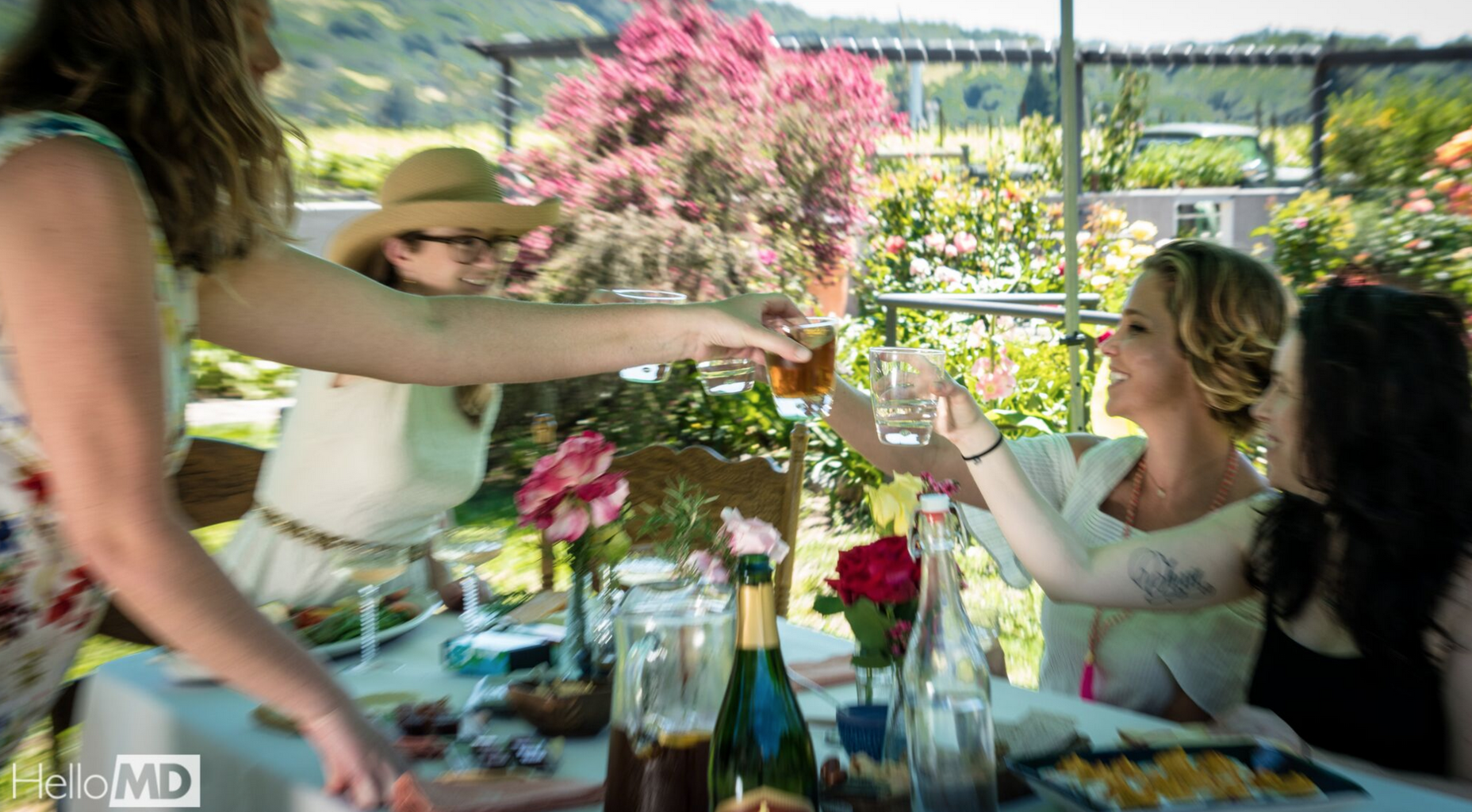 A toast to a beautiful day together
If you are new to cannabis and want to learn more, take a look at our Cannabis 101 post. HelloMD can help you get your medical marijuana recommendation; it's 100% online, private and efficient.