Basic Jane is the first consumer-focused line of products from research company Verda Bio, which was founded by scientists with the mission to discover, develop and bring novel cannabinoid-based remedies to market. Basic Jane has been able to create natural pain remedies—including gels, creams and sprays—powered by Verda Bio.
Named one of the most interesting people in cannabis by The Seattle Times and a cannabis leading lady by Cannabis Now, co-founder Jessica Tonani is a biotechnology professional with two decades of experience in life science research. She became interested in cannabinoids due to an incurable illness she suffers from. With her best friend Kersten Gaba, who's a clinical research nurse, they founded Verda Bio.
FOLLOW US ON FACEBOOK & INSTAGRAM
Verda Bio has been active in obtaining cannabis research legislation in Washington state. Currently, Verda Bio has the only state-issued cannabis research license in the country. Verda Bio has sequenced the genomes of Cannabis sativa plants, collaborated with leading research institutes and tracked feedback from users to create a high-quality line of plant-based topicals, which are sold by Basic Jane.
HelloMD talked with Jessica (pictured below right with Kersten) about how Basic Jane got its start, why she and Kersten decided to use hemp-derived cannabidiol (CBD) in its products, and the various topical blends it has to offer.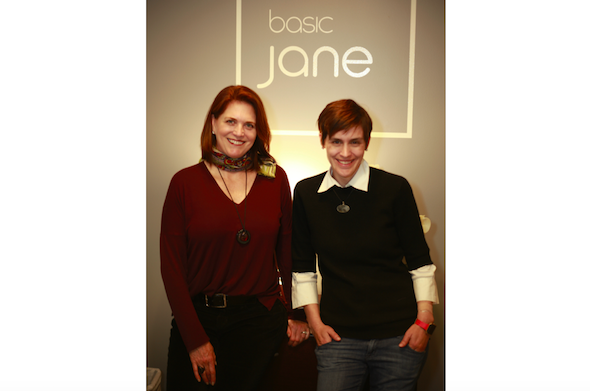 The founders of Basic Jane have a background in research and science. What led you to start Basic Jane?
Jessica Tonani: The idea for Basic Jane topicals was founded in 2014 when my co-founder Kersten was approached by her 80-year-old mother who was devastated to learn she could no longer take her anti-inflammatory medications for the painful arthritis in her knees, hands and the degenerative disks in her back. As a nurse, she had to find a way to help. I was a little skeptical about whether we'd be able to help, but our research was a success.
A few months later, Basic Jane's first Relieve formula was developed in 2014. Relieve was formally introduced to the public in 2017 after years of research and development.
Your product line focuses on topicals, all with hemp-derived CBD. What's the science behind CBD working in our bodies?
JT: This is a great question and an emerging area of research. The question of how CBD works in the body is a complicated question to answer, because CBD doesn't do just one thing in the body. We know that CBD interacts with a number of different receptors in the body including GPR18, GPR55, GPR 119, 5HT1A and TRPV2. Using CBD for pain relief has been researched since the 1970s, but it wasn't until the early 2000s that research began to explore the use of CBD for topical and transdermal systems of pain relief.
Research has shown several ways CBD leads to pain relief in the body including using the adenosine pathway. But the complete mechanism is still being discovered. We continue to perform research ourselves and collaborate with other researchers to determine how CBD works in the body.
Why did Basic Jane choose to use hemp-derived CBD vs. CBD from cannabis marijuana or even a THC (tetrahydrocannabinol) topical?
JT: The CBD molecule derived from any cannabis plant, hemp or marijuana, is exactly the same molecule. Hemp plants simply don't produce high levels of THC.
At Basic Jane, our goal is to build effective pain relief products. We began our research to find the perfect pain relief formulation by exploring multiple compounds from cannabis. The data led us to CBD. We found people had the greatest pain relief with products containing CBD.
It was a natural transition for us to move to Cannabis sativa plants with less than 0.3% THC—hemp—to manufacture our products. Hemp is legally used to produce topical products, food supplements, textiles and an endless supply of other products. This is the reason why we use hemp plants. Hemp plants allow us to create products to address everyday aches and pains that are easily accessible to everyone.
Anecdotally speaking, why are topicals being used by people for aches and pains?
JT: People are using Basic Jane products for aches and pains because they're experiencing relief. We hear from a broad spectrum of people using the products ranging in age from young athletes to 103-year-olds. Our customers tell us that people like the idea of being able to target pain relief with a topical without taking a pill. No one wants to go through life with pain.
Here are a couple of the testimonials on our website:
"Basic Jane provides the relief I need so I can get back to my exercise routine again. Thanks, Basic Jane, I am so thankful for your products!" —Ester
"This has been a wonderful product for me as I am no longer in constant pain from my hip area and in my lower back. I feel like I have my life back." —Shirley
Basic Jane talks about the "genomes of the cannabis" plant when speaking about its products. What do you like to highlight about the cannabis plant that you use and the overall line-up of ingredients?
JT: Studying the genomes of cannabis allows us to begin to understand how and why the plant produces different cannabinoids. For example, the genetics of a plant will dictate if a cannabis plant is a hemp plant (produces less than 0.3% THC) or marijuana.
We're very interested in researching molecules like THCV, CBG and CBC. We hope that by understanding the genetics of cannabis, we'll be able to expand our products beyond CBD to other molecules—such as CBDV, THCV and so on—which may have equal or better pain relief properties in the future.
Why do you have different kinds of topicals? Are they used for different reasons?
JT: We know people have different needs, and so we've built products to address those differences. We generally refer people to the following comparison chart, which you can find on our website.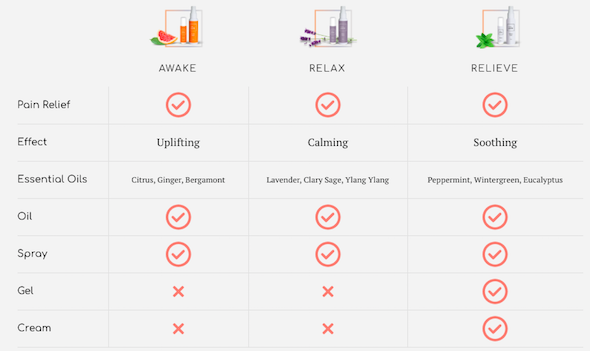 Basic Jane produces cream, gel, sprays and oils in three signature scents. We offer Relieve, Relax and Awake lines. Our Relieve line contains our signature blend of wintergreen and peppermint to provide cooling relief for your aches and pains; it contains a cream, gel, spray and oil.
Our Relax line contains our signature blend of lavender, ylang-ylang and clary sage to relax and calm your aches and pains; it contains a spray and an oil. Meanwhile, our Awake line contains our signature blend of citrus, bergamot and ginger to refresh the soul and soothe your aches and pains; it contains a spray and an oil.
We find some people have a personal preference as to what format—cream, gel, spray or oil—they use. But we also designed the products to address different needs. For example, the Relieve cream is a nourishing and indulgent cream, providing rapid cooling pain relief. We find people love to use this product before bed or first thing in the morning, but it may be a little thick to use before a workout or under a brace.
In contrast, the Relieve gel is a light, aloe-based gel designed to penetrate deep and absorb quickly to decrease inflammation and provide cooling relief. Relieve gel is the perfect product to use in hot weather or when working out due to its quick absorption. We find people love to use this product before they go to the gym or under braces.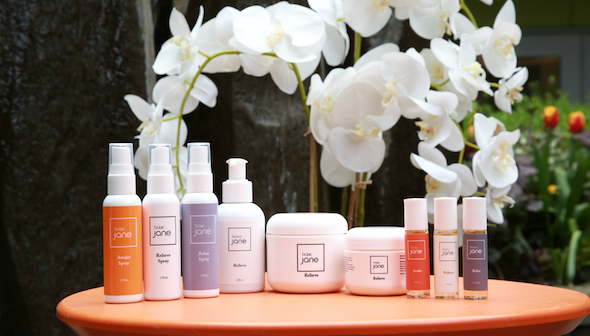 Our newest products are the Basic Jane pain relief sprays—available in Awake, Relax and Relieve scents—which are designed to be used on hard-to-reach areas or for particularly stubborn pain—meaning, they're our strongest product. The pain sprays are fast-acting and extremely easy to apply.
Finally, our oils, also available in Awake, Relax and Relieve, are compact rollerball applicators, which are perfect to carry on the go. We find people love to use these products on the bottom of their feet or key areas on the body like their temples, wrists and neck line.
Where does Basic Jane source its hemp-derived CBD?
JT: We source our hemp from Europe.
Basic Jane has a comprehensive menu of CBD topicals. What are your most popular products and why?
JT: Basic Jane's most popular product is our Relieve cream, which is a thick, nourishing cream containing a signature blend of peppermint, menthol and hemp-derived CBD. People love the rapid onset of pain relief and the cooling relief of this nourishing cream. This is the perfect product to apply before you go to sleep or in the morning. This is my favorite product. I love to use it on sore feet after a long day.
Our Relieve gel is also extremely popular, especially in the warmer seasons, as it's a light aloe-based gel that contains a powerful combination of peppermint, arnica, cooling menthol and hemp-derived CBD to provide light, soothing relief. The gel is perfect for athletes as the lightweight gel can be used under braces without causing the brace to slip. Our gel is also used for relief from sunburns and bug bites.
Relieve gel is my co-founder's favorite product. She's a rower, which can cause leg cramps. She loves to use Relieve gel pre and post-rowing.
Finally, we just recently launched our pain relief sprays, which have become extremely popular. They're easy to apply and work quickly. All three sprays contain menthol and hemp-derived CBD to penetrate deep and decrease pain.
However, each spray has a different set of essential oils. Relax spray has a calming effect caused by a combination of the lavender, clary sage and ylang ylang. Awake spray contains an energizing blend of ginger, orange and lime. Relieve spray has a cooling effect due to a combination of peppermint and wintergreen.
I use the Awake spray every morning; the Relieve spray mid-day; and the Relax spray before bed to combat "computer shoulder" and "text neck."
CBD is all the rage, but there's some question about safety and efficacy of products at the moment. How would you advise omeone to choose the right product for them and ensure they're not buying snake oil?
JT: I'd recommend buying from trusted vendors who are willing to provide transparency on all of their ingredients.