The summer season is almost here, and in my house, that means big changes when it comes to cooking. Who wants to cook over a hot stove or fill the house with heat from an oven when it's already hot outside?
When it comes to making cannabidiol (CBD) edibles this summer, it's time to forget about baked goods and look for recipes that don't require any cooking at all.
To help you find the perfect recipes for summer, here are three of my favorite CBD edibles for when the weather's hot. These summertime recipes are quick, easy, and entirely heat-free.
They can be thrown together in a snap, so are perfect for a poolside lounge session or last-minute addition to a barbecue or pool party. And of course, they're also delicious and packed with healing CBD.
Try out this trio of CBD recipes, and discover your new favorite dish for the hottest months of the year.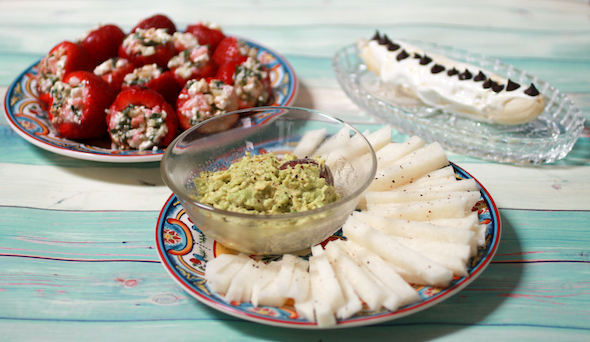 CBD Guacamole With Jicama Sticks
The first recipe in this trio is a simple six-ingredient guacamole. Perfect for any party or a quick snack, this summer standard is also a healthy choice.
The avocado is rich in healthy fats, which can boost your body's ability to process CBD.
Plus, avocados are full of vitamins and minerals like:
Vitamins A, C, and E
Potassium
Folate
For this dish, I pair the guacamole with jicama sticks. A root vegetable with a crisp and crunchy texture similar to fresh pears or apples, jicama is packed with fiber and water. This makes it a great choice if you're trying to maintain or lose weight. It's also an excellent source of vitamin C, and pairs well with guacamole.
Ingredients for CBD Guacamole With Jicama Sticks
Serves 1–2
1 avocado, halved and seeded
1 lime, juiced
1 small Roma tomato, diced
1 tbsp red onion, diced
1/4 cup fresh cilantro, chopped
1 small jicama root, peeled and cut into 1/4-inch strips
Salt and pepper to taste
*Everyone's different when it comes to dosing, so use your best judgment on dosing based on your previous experiences with CBD. If you aren't sure about dosing, start low. A good starting dose is 5 mg.
How to Make CBD Guacamole With Jicama Sticks
Arrange the jicama strips on a plate. Slice the lime in half, and using one half, lightly spritz the jicama sticks. This should use up to about 1/4 of the lime juice. Season sticks with salt and pepper to taste.
Scoop avocado out into a bowl. If you're not serving the guacamole immediately, leave the pit in as this will prevent the avocado from browning.
Squeeze the remaining lime juice onto the avocado, add the CBD tincture, and season with salt and pepper to taste.
Mash and stir the avocado mixture with a fork to your desired consistency, then fold in the diced tomato, red onion, and cilantro. Season with salt and pepper as needed.
Serve alongside jicama sticks.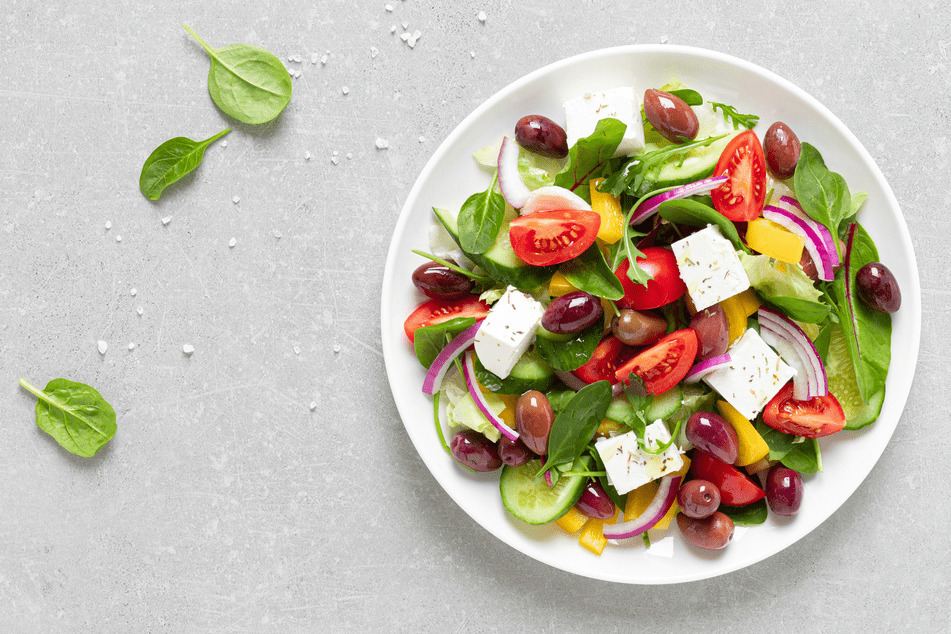 Basil, Feta & CBD-Stuffed Strawberries
If you're looking for a quick snack with a little more elegance than a simple guacamole, try these strawberries stuffed with CBD, feta, cucumbers, and basil. While they look and taste like a gourmet appetizer, you can throw them together quickly and easily. Plus, this dish is full of healthy ingredients.
Strawberries are known to:
Help improve immune function
Lower blood pressure
Fight inflammation
These red, juicy fruits have even been shown to have some antioxidant properties as well. This makes them a perfect complement to CBD, which can help neutralize free radicals that do damage to the cells in your body.
Meanwhile, basil has also been shown to possess antioxidant and anti-inflammatory properties.
Ingredients for Basil, Feta & CBD-Stuffed Strawberries
Serves 6
1 package of large strawberries, hulled and cored
1/4 cup cucumber, peeled and diced
1/4 cup fresh basil, chopped
1 tbsp CBD oil*
3/4 cups feta cheese, crumbled
1 tsp balsamic vinegar
Salt and pepper to taste
*If you have a lower tolerance to CBD, you can replace some of the CBD oil with regular olive oil. If you aren't sure about dosing, start low. A good starting dose is 5 mg per serving.
How to Make Basil, Feta & CBD-Stuffed Strawberries
Take the pieces of strawberry you removed when hulling and coring the fruits, and dice them into small pieces, slightly smaller than a pea; place in a small bowl.
Add the cucumber, basil, feta cheese, and CBD oil to the bowl and stir until evenly blended. Season with salt and pepper.
Scoop the mixture into each strawberry, arranging the stuffed strawberries on a plate.
When ready, drizzle with balsamic vinegar and serve.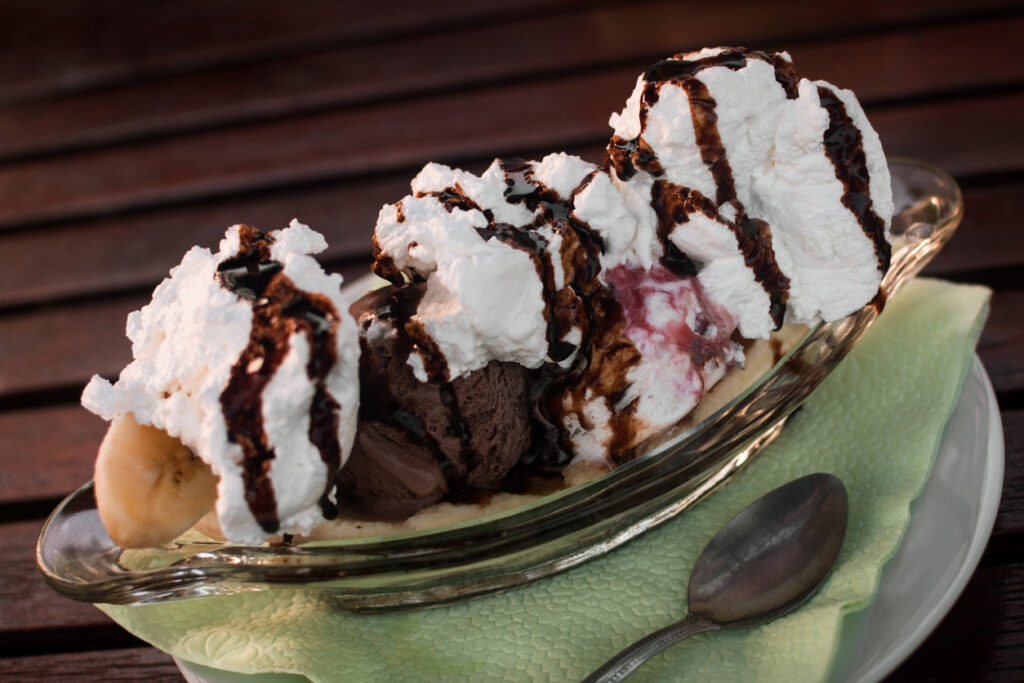 Banana Split With CBD-Infused Yogurt & Chocolate Chips
Who can resist a fresh banana split in the summer? For me, nothing brings back memories of past summer fun like a banana covered with ice cream, whipped cream, and chocolate. But then again, I usually feel terrible after eating all of that sugar.
That's why I created this easy and healthy version of the classic, replacing all of the ice creams with some CBD-infused yogurt, and the sugary chocolate sauce with dark chocolate chips and honey.
The only thing unchanged from the classic, indulgent recipe is the banana. Bananas are a great source of:
All of these nutrients can help with things like:
Digestion
Blood sugar levels
Weight loss
In addition to the banana, the yogurt is also great for:
Digestive health
Boosting your immune system
Strengthening bones
Ingredients for Banana Split With CBD-Infused Yogurt & Chocolate Chips
Serves 1
1 banana
1/4 cup Greek yogurt
Your personal dose of CBD tincture
1 tbsp dark chocolate chips
1/2 tsp vanilla
Honey to taste
How to Make Banana Split With CBD-Infused Yogurt & Chocolate Chips
Peel your banana and slice it in half lengthwise.
In a small bowl, mix the yogurt, vanilla, and CBD tincture until thoroughly combined.
Place both slices of the banana along the sides of a shallow dish, then add the yogurt mixture in between the banana slices and drizzle with honey, to taste.
Top with chocolate chips and serve immediately.
Get a Medical Marijuana Card Online
It's easy to get your medical marijuana document with the online Telehealth service HelloMD. Register, pay, and receive an online medical consultation with a licensed practitioner and purchase medical cannabis today. You don't pay unless you're approved!