With Valentine's Day around the corner, it is time to be wrapping up  your final gifts for that special someone. Red boxes of chocolate and bouquets abound, so perhaps this year you might think to step outside the normal festive heart shaped clichés. Don't cling to stuffed bears and hallmark cards, reach for gifts that can foster deeper connections between individuals, spice things up when the Valentine's day becomes Valentine's evening, or simply infect two entwined lovers with a case of the of the giggles. This year consider cannabis.
When the correct product and dose are found, cannabis can cause a profound state of calm and relaxation to wash over any consumer. You may find yourself becoming more still within your body and mind as well as more sensitive to the people around you. In these ways, cannabis can be a powerful catalyst for intimacy, enhanced emotions, and even sexual pleasure.
Here are five fantastic cannabis gifts to take make your special night out, out of this world.
Gifts We Love
1. Cannabis 'Flower' Bouquet
Let's skip the heart-shaped boxes and get straight to the nitty gritty. If you are in the Los Angeles area this Valentine's Day, my first suggestion is to place an order with Lowell Farms. Lowell Farms is offering up handmade bouquets of wildflowers, eucalyptus and organic cannabis stalks, budding with flowers for $400.
The floral arrangement also comes with an ounce of Purple Princess, a carefree, uplifting hybrid. An all around great strain for your intimate evening. Lowell Farms is an all natural organic farm that pledges to give every worker on the farm a living wage. Farms like Lowell are proving that the best flowers on Valentine's Day are definitely cannabis flowers!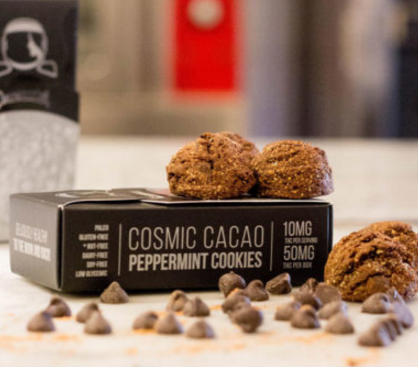 Foria Pleasure is the gift of an enhanced sexual experience.
2. Foria Pleasure
Who says gifts can't be fun? Here's the heavy sensual hitter: Foria Pleasure. It doesn't get more sensual than this. Foria's Pleasure has been around for a few years now, providing women with enhanced sexual pleasure all over California and Colorado. For some, the concept of using a cannabis lube can seem avant-garde and article's like Vice's, "I Got My ***** Stoned with Weed Lube," show that this still may be a taboo subject for some.
The reviews are in, however, and Foria Pleasure is becoming very well known for its ability to make, ["orgasms more intense, fuller or easier to access."] (https://foriapleasure.com/pages/about-us) Foria also asserts, "For others, it can help promote natural lubrication, reduce pain and tension and create the relaxation necessary for sensual experience or restorative rest." An absolute must have for this Valentine's Day's romantic crescendo!
RELATED: SHOP GREEN: MY HOLIDAY CANNABIS GIFT GUIDE

MoonMan's edibles taste great and are Paleo and gluten free as well.
3. MoonMan's Mistress Peppermint Cookies
The night should last forever, yet sadly your intimate dinner will come to end. Instead of reaching for a piece of pie, try tasty gifts. why not begin the evening with Moonman's Mistress's Cosmic Cacao Peppermint Cookies? A few days ago I had the pleasure of trying these cookies and two are good for one trip to the moon and one small box was just about right for orbit. As an extra bonus, these cookies are Paleo safe for those astronauts with special dietary needs.
Note: Please use edibles responsibly. Individual tolerances can vary widely, especially for edible cannabis. It is recommended by Moonman's Mistress that new users divide the cookie into quarters or halves to start. Experienced users can start with one or two whole cookies (10-20mg THC).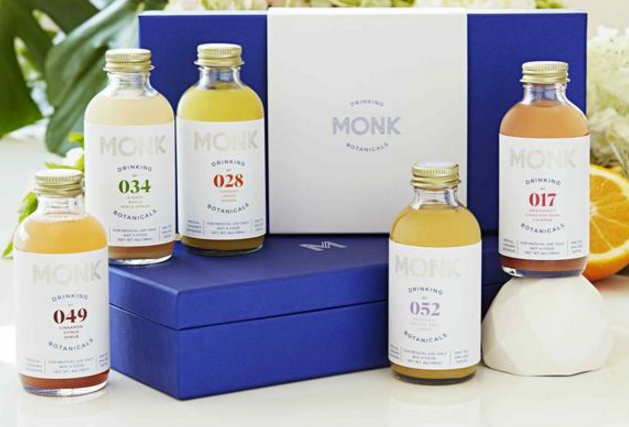 Monk Botanicals are beautiful to give as a gift.
4. Monk Drinking Botanical Elixirs
If shooting for the moon seems a bit too ambitious for you or your partner, I would recommend checking out Monk Drinking Botanicals. Their low dose 1:1 cannabis beverage is perfect for easing into experiencing cannabis with your significant other and the package is gift-ready elegant.
Each drink contains 5mg of THC and 5mg of CBD, along with many nutritious ingredients and some memorable flavors. After trying No. 49, Cinnamon Citrus Shrub, I would describe it as truly unique in the cannabis world. The natural flavors are so distinct and the overall experience was fantastic.
5. Hepburn's Petites
Are you wondering about those giggles I spoke about earlier? For those who simply want the good times to roll, my recommendation is for [Hepburn's Petites](HMD new biz and prod listing). They are terpene matched hash joints that come in a convenient and I'll admit, rather cute tin. They come in several varieties. Sava, a premium online cannabis retailer, can next day air you Cherry AK, Sour Diesel, Sour Tangie, and Girl Scout Cookies with a valid cannabis recommendation. Whether you are looking for an uplifiting sativa for inspired connection, or a balanced hybrid for the perfect relaxed setting, these hash joints will keep you and your companion in the Valentine's spirit.
Happy Valentine's Day!
If you are new to cannabis and want to learn more, take a look at our Cannabis 101 post. HelloMD can help you get your medical marijuana recommendation; it's 100% online, private and efficient.