The Beauty of the French Macaron Confection
Over the years, it's been a privilege to travel around the world, except during COVID, of course. I've spent many hours in transit, and have on many occasions found myself sitting in Charles-De-Gaulle airport in Paris. A small, guilty pleasure of mine, while being stuck at Charles-De-Gaulle, is the ability to buy and taste the macarons from the Lauduree stand, the famous French luxury bakery and sweets company founded in 1862. Some might say that Lauderee put the elegant double-decker macaron on the map, and to this day the company sets the industry standard.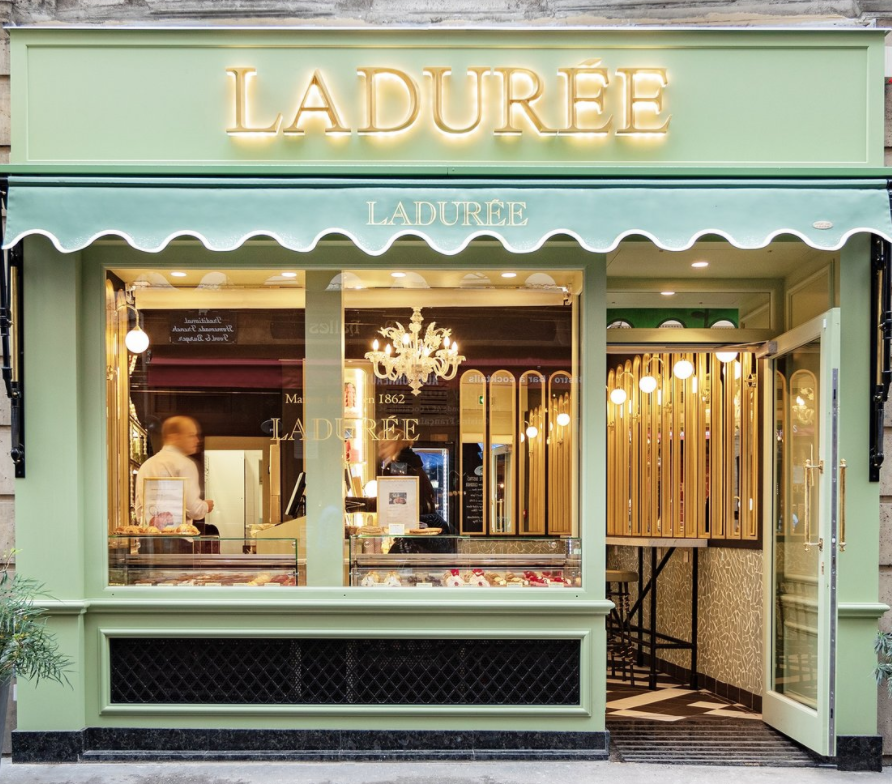 Lauderee French macarons in Paris
Traditional macarons come in various flavors and colors, with two light outer shells that are crunchy in texture with a buttery filling as a center.
There is a balance of creamy sweetness as you bite into a macaron, with unique and mundane flavors such as lemon passion fruit, pistachio, blackcurrant violet, vanilla, rose petal, coffee, or even 'Marie-Antoinette'.
Once you've tasted a macaron, a sweet meringue-based confection, you'll know the meaning of culinary luxury combined with delicate decadence. A macaron is not only an aesthetic pleasure but releases a hit of dopamine from the moment it hits the tip of my tongue.
Herve Launches Luxury Cannabis-Infused Macarons in Nevada and California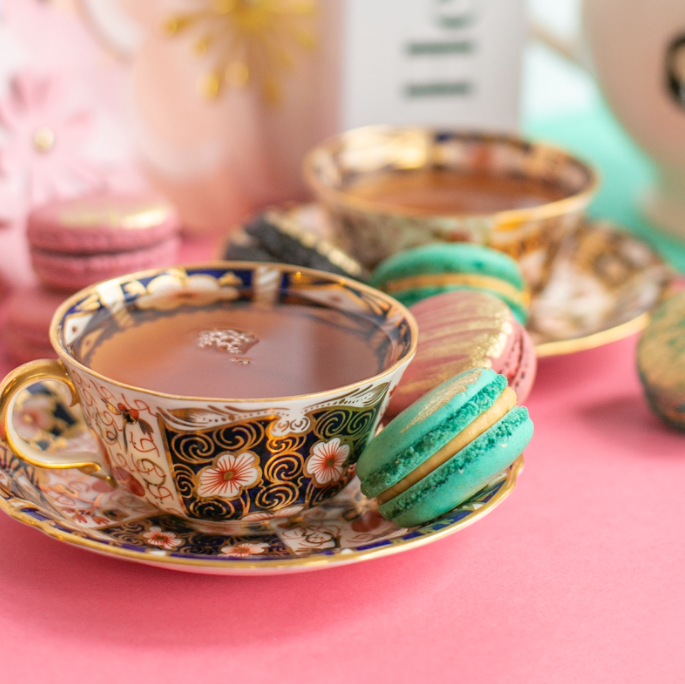 Herve cannabis-infused macarons
I've been in the cannabis industry for nearly nine years, and during this time, I've seen the explosion of edibles in the marketplace. Yet, despite the growing popularity of cannabis edibles, the breadth of selection has not kept pace. Looking at the cannabis industry, you would think the world is obsessed with multi-colored gummies.
For the discerning cannabis consumer, there's relatively little choice for high-quality, luxury products, until now. Herve, the Las Vegas-based edibles brand, launched their high-end cannabis-infused Les Macarons in Nevada in 2020 and most recently within California in October of 2021.
Wine Enthusiast named Herve "The best cannabis edible gift for luxury seekers" and says, "good things come in groups of threes, and these luxury edibles are no exception." While Benzinga wrote, "These innovative, high-end cannabis concepts will bolster the luxury cannabis sector as premium consumers seek cannabis-infused experiences."
"For California we have launched our signature Hervé macarons but with re-formulated recipes specifically designed for the California market," said Cheyne Nadeau, Vice President of Marketing of Hervé. "While the flavors and effects will be identical to our top selling Nevada macarons, we have focused on removing all dairy products from our recipes while also moving to fully sustainable packaging to ensure we are constantly evolving our offerings."
Herve Macarons – Made by Hand and Gluten-Free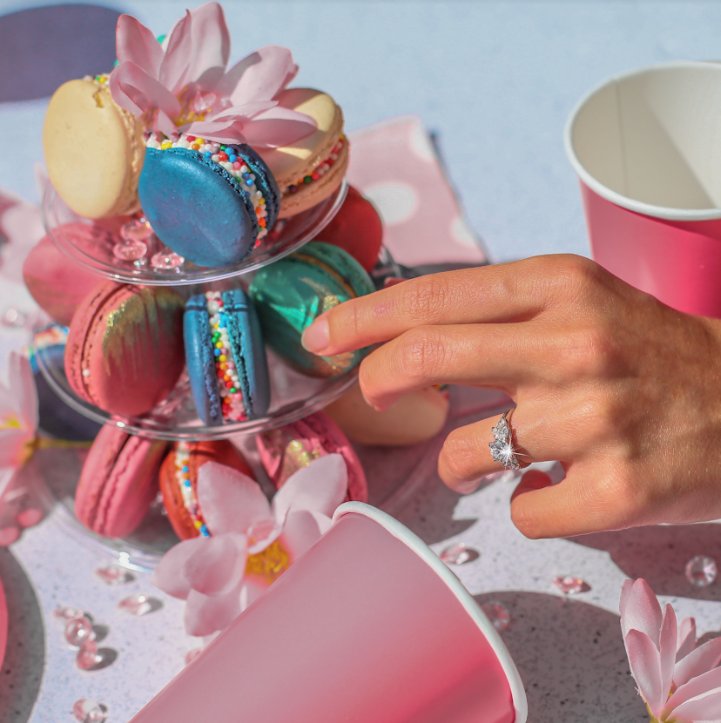 Herve cannabis macarons – a party in a box
With a nod to the French classic, Herve makes each gluten-free, vegan macaron by hand using the world's finest ingredients to create a top-shelf luxury cannabis experience. Each macaron is made with a Sativa hybrid distillate and contains 10mg of THC per cookie. Each colorful macaron is hand brushed with 23-karat gold leafing, which is not only beautiful but makes these macarons infinitely giftable!
Cheyne Nadeau commented, "Our signature Hervé macarons have taken off in Nevada, quickly becoming one of the most sought after cannabis edibles in the market. The hand-made nature of the product that uses only the best ingredients from around the world combined with premium Sativa hybrid cannabis makes the macarons beautiful and delicious while offering a consistent and predictable effect, all elements that the California consumer can appreciate."
Tasting the Herve Macaron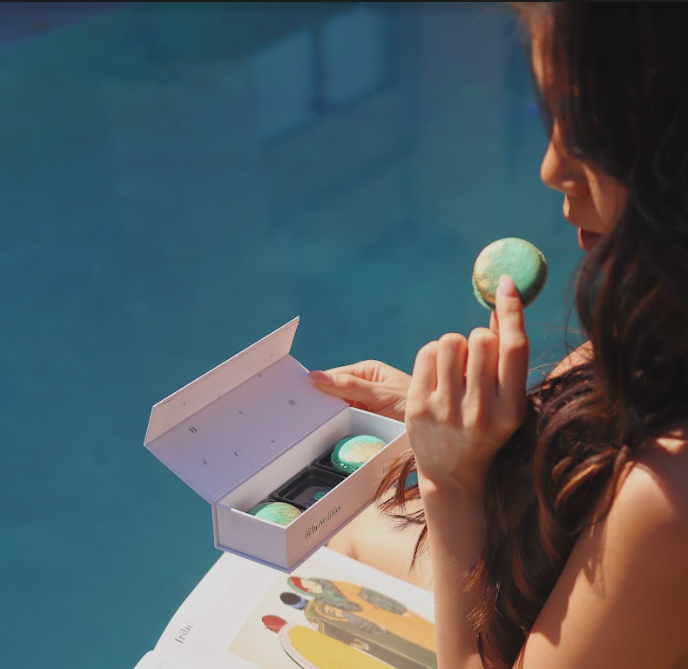 Tasting the Herve cannabis macaron
I was able to order the $60 Herve Celebration Four Box Bundle from Herve's online website. The Celebration Bundle includes one box of each of the classic Hervé macaron, three packs (raspberry, salted caramel & Chocolate) with a free three-pack of Celebration macarons, Herve's award-winning birthday cake flavor. The delivery driver arrived at my doorstep early that evening with the macaron boxes on ice within two hours of placing my order online.
The white Herve box was a bit of a trick to open (let's face it, which child-proof cannabis product isn't?), but once I got the four boxes open, the sugary smell of the sweet macarons wafted upwards. What is most striking about the Herve macarons is just how pretty they are. The brushed gold leafing on top of the green, brown, and pink is sophisticated elegance, especially compared to other cannabis products I usually consume.
Each cookie packs in 10mg of THC, which is around my outer limit for consumption – yes, I'm a cannabis lightweight and my preference with edibles is to have lower dosing, so I can eat multiples! As such, I set out with a strategy to try each macaron with a nibble to not exceed my cannabis tolerance.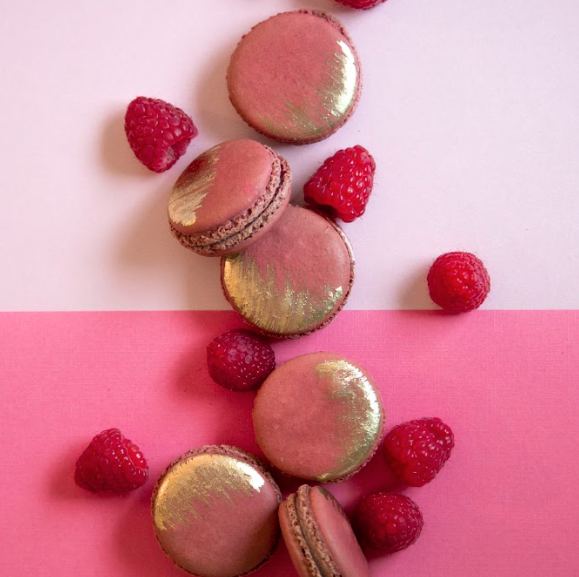 Herve Pink Rasberry macaron
Biting into my first macaron, pink rasberry, I felt the light crunch of the outer shell and tasted a tinge almond flavor with a fruity sweetness from the filling, which was not overpowering. The Herve macaron balances the crisp crunchiness on the outside with the typical soft chewiness on the inside.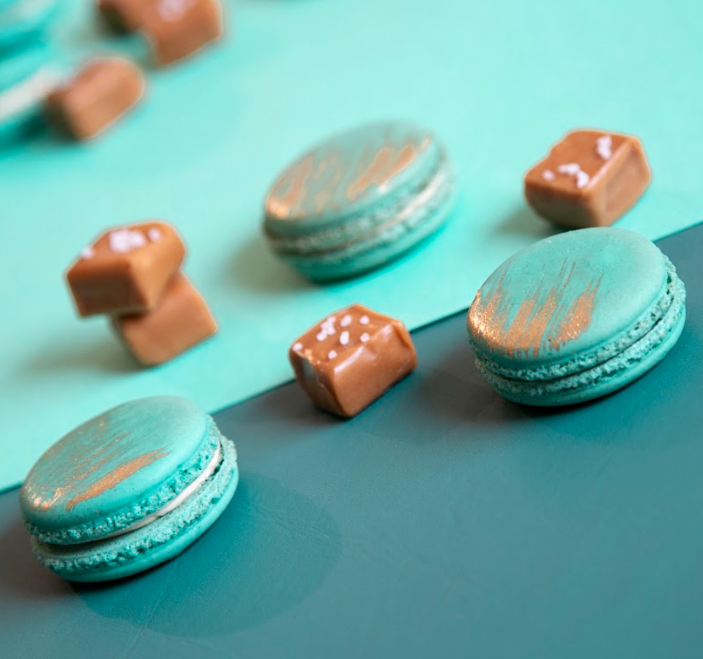 Herve Salted Caramel macaron
Next, I nibbled at the green Salted Caramel, which left a lovely sweet and salty taste in my mouth,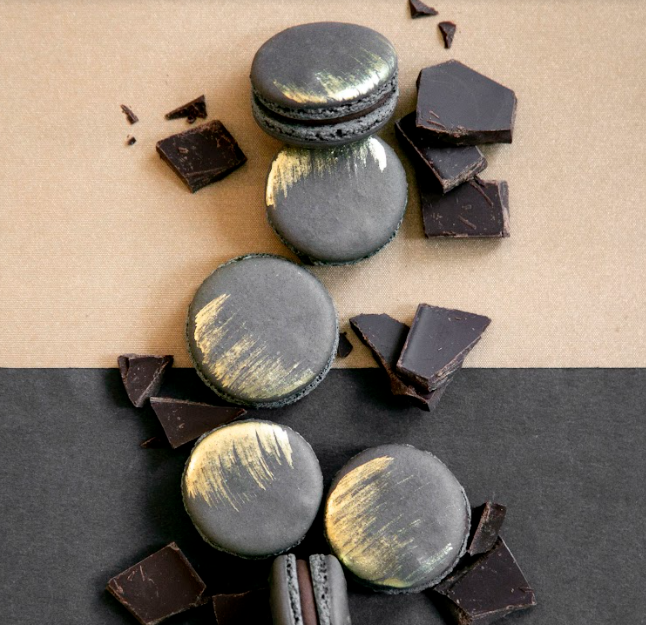 Herve Chocolate Ganache macaron
followed by the delicate Chocolate Ganache, which was more sweet and less chocolatey than expected.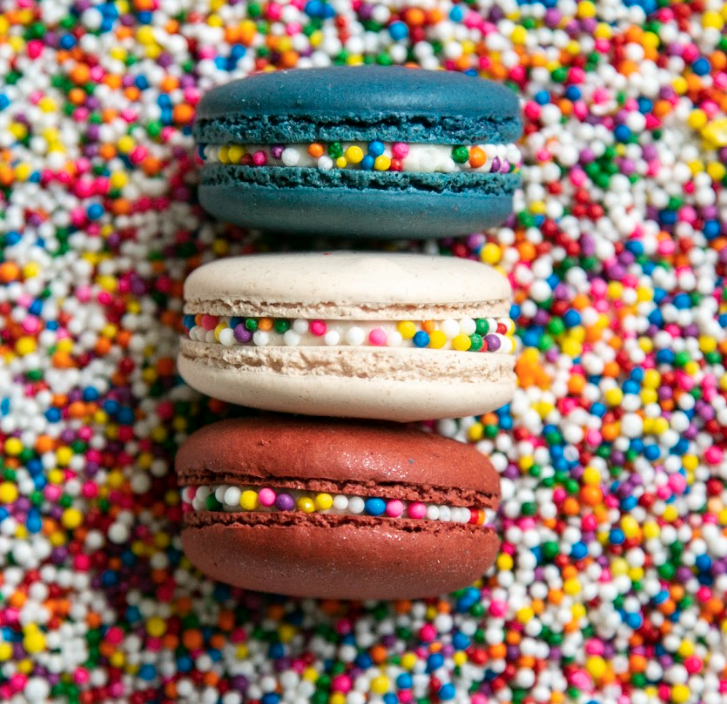 Herve Celebration Birthday Cake macaron
Lastly, I bit into the Celebration Birthday Cake, topped with rainbow sprinkles that had a delightful crunch and pop in the mouth. The vanilla birthday cake flavor was definitely my favorite of the three – it tastes like a party in a box. I had to stop myself from eating all 3 macarons!
About an hour later, I felt the THC kick in while watching the 4th Harry Potter movie (for the hundredth time). It was a clear, light high that produced a lovely euphoria and buzzy energy. The Sativa distillate felt like tapping a crystal glass with a fork – it was a pitch perfect high for my taste, one which might allow for a social evening out with friends. Herve macarons delivered a completely enjoyable evening on a silver platter and I am looking forward to a holiday season full of Herve gift-giving.
Shopping for Herve Macarons in California
Herve macarons are available in dispensaries across California, but they also offer direct-to-consumer shopping on their site. This option offers delivery to customers' homes throughout most of California, and within 4 hours of placing your order.
Herve macarons are sold frozen (in dispensaries they are kept in freezers, for DTC they are delivered with ice packs) and the shelf life when frozen is 12 months. According to Cheyne Nadeau of Hervé, "Our macarons are also tremendously stable and don't suffer from the traditional challenge of other frozen products. Unlike ice creams etc our macarons can be dethawed or refrigerated for even a few days and then frozen again without impacting the active ingredients or food safety of the product what-so-ever. We always recommend that our macarons be stored frozen and removed for 15-20 minutes to be enjoyed at their best of course."
If you are new to cannabis and want to learn more, take a look at our Cannabis 101 post. HelloMD can help you get your medical marijuana recommendation; it's 100% online, private and efficient.