Microdosing: The Hot Cannabis Trend
Microdosing is one of the biggest new trends in cannabis, and I'm possibly its number one fan. Microdosing started as a way for me to not only fight chronic pain from migraines but to also remain functional throughout the day. Being more THC sensitive than most, microdosing also offers me all the benefits of cannabis without the worry of going overboard.
In a series of blog posts, I'm reviewing 3 new products that have recently come to the California market. The products I selected for review are Satori Edibles by CannaCraft, PetraMints by Kiva Confections, and today's review which will focus on Activation Spray by CannaAthlete. By sharing my own micro dosing experiences, my hope is that other cannabis consumers or wanna-be-new-to-cannabis-consumers will consider smaller dose products as a viable option.
FOLLOW US ON FACEBOOK & INSTAGRAM
Activation Spray by CannAthlete
Activation Spray was created by Jim McAlpine of the 420 Games and Seibo Shen, the award-winning Founder of VapeXhale. Both of these guys are huge proponents of consuming cannabis during athletic pursuits, emphasizing that cannabis can actually enhance rather than diminish performance. Jim McAlpine believes in this idea so strongly, he is about to open the world's first cannabis gym Power Plant with his partner Ricky Williams, a former NFL player.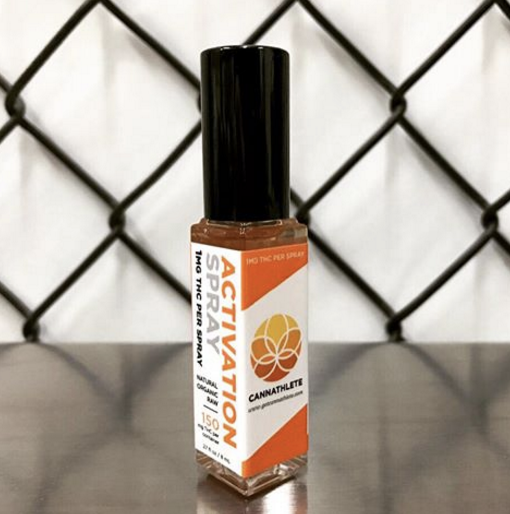 CannAthlete developed Activation Spray with athletes in mind.
The unique thing about Activation Spray is that it is a nifty little minty mouth spray that accurately doses 1mg of THC per spray. Each bottle contains 150 mg of THC, which is the equivalent of 150 mouth sprays. CannAthlete calls it "game-changing microdosing" where the focus is on "elevation" of spirit rather than the effect of getting high. In the words of Seibo Shen:
"The athletes that we work with have benefitted immensely by integrating cannabis into their exercise programs. That's why we decided to create our Activation Spray as a 1 mg of THC per dose product.
Being able to hit your "sweet spot" as an athlete is important and the ability to dose with 5X more accuracy than traditional microdose products is game changing for those looking to increase focus but not detract from coordination and endurance. Don't get high, get elevated with CannAthlete Activation Spray."
RELATED: MICRODOSING: SATORI CHOCOLATES REVIEW
Microdosing Before My Workout
Well, I am always game to hit my sweet spot, as he says, so I decided to give the Activation Spray a whirl while I exercised. Unfortunately, I hurt my shoulder while snowboarding, so my workout became workout-light with a one hour session at San Francisco's Dailey Method. Those ladies are fit and toned though, so it can't be too light.
Opening up the spray in the locker room 15 minutes prior to class, I liked the discreet nature of the product. It is a lovely glass bottle that might be confused for a small perfume. When carrying cannabis products, I do not think that is necessarily a bad thing.
Not wanting to become a cautionary tale, I chose to proceed with caution, so I shook the little love nugget and sprayed 3 squirts into my mouth, the equivalent of 3mg of THC. Wow, minty freshness in abundance, an incredible explosion of spearmint, all of which results in excellent Date-Night-Mouth (yes, DNM is real).
I put my stuff into my locker and entered the Dailey Method class and waited to feel the effects. The first thing that I noticed is that the onset of Activation Spray happened within 15 minutes, relatively quickly, which is a benefit of using a mouth spray. I also noticed that the music, which is always good at The Dailey Method, was more interesting and engaging than usual and that my focus turned to my breathing and the rhythm of movement and sound.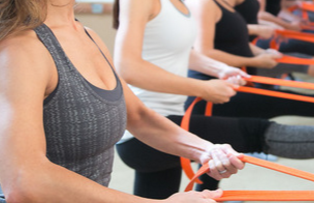 At Dailey Method, I did feel 'elevated'.
It did seem that I was also more focused, as promised, yet without the feeling of being high. My mind tends to wander when I do bar-method-like classes, so I found this to be extremely helpful. The effect of the spray seemed to last for a few hours and all in all I was very happy with the experience, something that I would choose to do again.
Microdosing Meets Snowboarding
The next week I took a trip to Squaw and got my groove on snowboarding in some of the best snow in years. My shoulder was still bothering me so I took a couple of sprays from my Activation bottle. Again, I noticed a heightened awareness of my breathing, a sense of my own range of motion as well as a reduction in pain. Everyone reacts differently to cannabis, but I believe that based on my own experience Activation Spray delivers on its promise.
If you are new to cannabis and want to learn more, take a look at our Cannabis 101 post. HelloMD can help you get your medical marijuana recommendation; it's 100% online, private and efficient.