New York City is a town that's always embraced delivery. Neighborhood markets and local pizza joints were bringing goods to customers' front doors well before the smartphone was invented. These days, New Yorkers can have anything from razors to fresh ingredients for dinner delivered within a few minutes or days of placing an order.
And so, it should probably come as no surprise that qualified patients in New York will now be able to count medical marijuana as yet another item they can have delivered right to their door.
FOLLOW US ON FACEBOOK & INSTAGRAM
The Benefits of a Medical Marijuana Delivery Service
Delivery serves patients who aren't geographically close to a dispensary.
New York is home to a population of 20 million people, but there are only 20 dispensaries in the entire state. As Jeremy Unruh, General Counsel at PharmaCannis explains, "Even when they double that number of dispensaries, that's only 40 dispensaries for 20 million people, so delivery is a large piece of the puzzle for patients."
RELATED: HOW TO GET YOUR MEDICAL MARIJUANA CARD IN NEW YORK STATE
Providers like PharmaCannis, whose dispensaries are located in Amherst, Liverpool, Albany and the Bronx, want to be able to serve patients no matter where they live, and this is now possible with delivery. "We've done a soft rollout of our delivery system in the Bronx," Jeremy continues, "and we're looking forward to rolling that out to our other dispensaries in a matter of weeks."
Delivery offers convenience to patients unable to visit a dispensary.
If the emergence of on-demand delivery tells us one thing, it's that people want convenience. For patients balancing family life with a 40-hour work week or others who are too sick to drive or navigate public transportation, getting to a dispensary can be challenging. By offering a delivery service, dispensaries like PharmaCannis can more easily accommodate patients' particular circumstances.
"It's very much an on-demand delivery service," Jeremy says, "meaning you call and talk to one of our pharmacists, schedule your delivery, then we send it out and a courier brings it to wherever you want the delivery to go."
Now patients can enjoy the ease of having their medicine delivered to them during times and to a location that suits them. That said, the convenience goes beyond just delivery—patients can also choose how to pay. "We love the cashless transactions," says Jeremy. "But a patient can manage payment for that transaction when she or he contacts the dispensary to arrange the delivery."
PharmaCannis' Delivery Service Coming Soon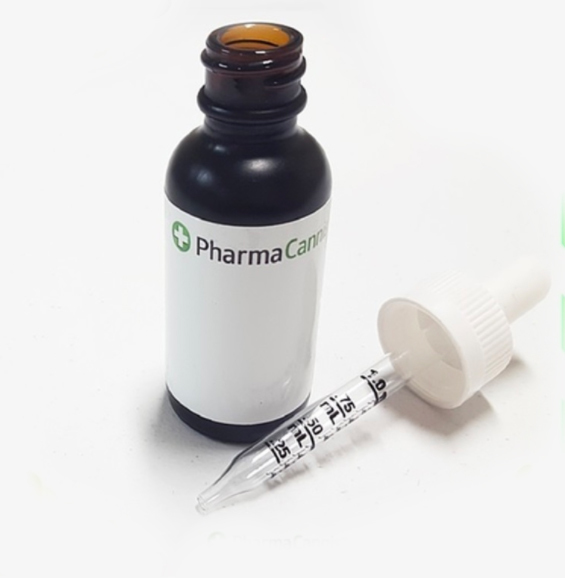 Tinctures are one of the products that may be delivered from a licensed NY dispensary.
In the coming weeks, patients will have a much easier time getting their medicine, thanks to more options for delivery. No doubt this benefit will likely help expand New York's medical marijuana program as news travels about the added convenience. Pilot programs like the one launched by PharmaCannis in the Bronx are opportunities to tighten the delivery process in preparation for serving greater numbers of people in various locations.
"Our goal is to expand the delivery schedule profile so that it's functionally on-demand," Jeremy explains. "But it's going to take a little bit of time to get there."
While patients shouldn't initially expect their medicine to be delivered in the same amount of time it takes to request an Uber, plans are for the program to adapt and scale quickly. "We need a day or two heads' up for delivery at this juncture," says Jeremy. "But that will evolve over time."
If you're new to cannabis and want to learn more, take a look at our Cannabis 101 post. HelloMD can help you get your medical marijuana recommendation; it's 100% online, private and efficient.