Jetty Wins First Place at High Times Cannabis Cup
In 2020, Jetty Extracts took first place at the High Times Cannabis Cup with their solventless Jetty Banana Creme Solventless Vape. Why did the BC vape win the people's hearts and minds? It certainly has the highest potency, it's also a super-clean vape, and it has incredible flavor – all of these could be reasons why the Banana Creme Vape snatched the blue ribbon.
But we have another thought. We think it's due to Jetty's solventless extraction process breakthrough, a process developed in-house that allows for cannabis extraction with ice, water, heat, pressure, and all without chemicals and zero solvents.
It took over two years of experimentation and development to create the manufacturing technique. Jetty's co-founder Nate Ferguson says, "Jetty mastered a natural purification process that removes the undesirable stuff that can mess with the flavor, while preserving everything we want to keep."
Once again, Jetty pioneers its way through the California cannabis industry – this time with the industry's cleanest vape.
The History of Jetty Extracts
In 2013 the medical marijuana market in California was booming, and nascent cannabis brands were beginning to emerge in dispensaries across the state. Jetty Extracts was among the early handful of brands to make waves, and quickly they developed a cult-like following. From their humble beginning, Jetty set itself apart from the rest of the industry by focusing on clean cannabis, becoming obsessed with removing harmful chemicals from its vapes and cannabis products. At the time, this was novel; most consumers did not even consider that their cannabis product may be full of chemicals and dirty solvents. Jetty changed that.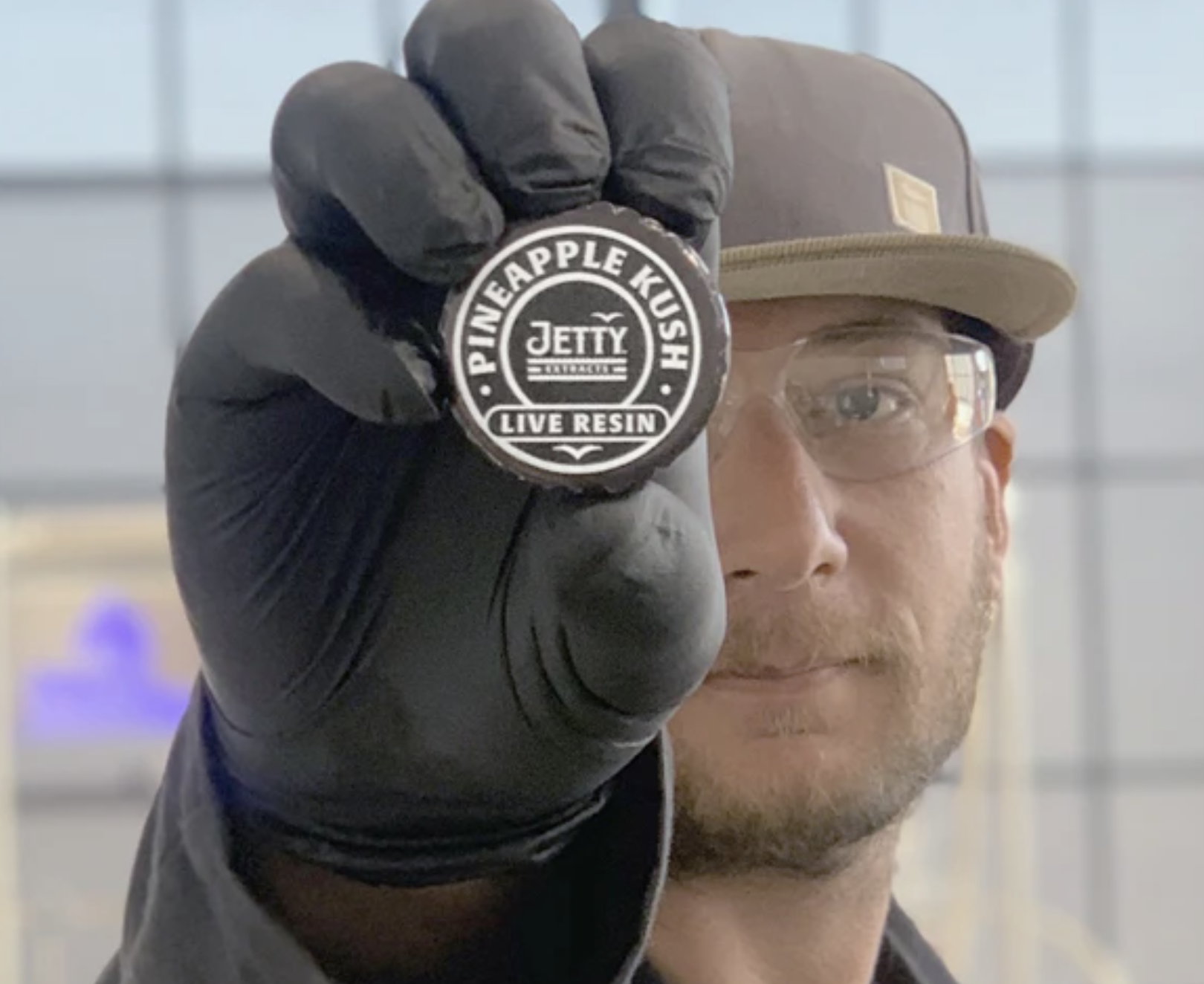 Since the start, the Founders of Jetty have been on a mission to provide clean and potent weed.
As a craft cannabis business, Jetty was (and still is) on a mission to create an artisanal cannabis brand that puts attention into sourcing the best cannabis, developing superior extraction methods, and creating access to the best products throughout the state. The result is a cannabis brand that prides itself on hand-crafted products free of chemicals, fillers, and pesticides.
Jetty Extract's CO2 Extraction Methods
Prior to solventless extraction, Jetty set the bar high early on by extracting cannabis with a supercritical CO2 extraction method. CO2 extraction has become the go-to method for cleaner cannabis products in lieu of using solvents like butane, which leave a nasty chemical trail.
Butane is a hazardous way to extract weed, and research indicates that the final product will contain additives not suitable for humans. Jetty focused on CO2 extraction early on to create a cleaner, more consumer-friendly product. CO2 by nature is non-toxic; it is a natural waste product from human bodies and fermentation. As a redsult extracts made from CO2 are free of potential toxic or heavy metal residues that may be left behind by butane hash oil.
Jetty Extracts Helps the Chronically Ill
Since 2014, The Shelter Project has provided free and safe access to cannabis to people with chronic illnesses. The Shelter Project was a run-away success with California's medical marijuana patients, and Jetty quickly served hundreds of patients in need with medicine that was out of their reach financially. This was in many ways, why the 1996 Compassionate Care Act, or Prop 215, was initially signed into law – to help those in need.
Unfortunately, when cannabis was given the green light for recreational use in California, compassionate care programs were outlawed.
According to Jetty's quick recap of the events,
"The legalization of cannabis for recreational use (Prop. 64) inadvertently made the operation of cannabis compassion programs virtually impossible. A multi-year effort to fix that flaw finally passed in 2019 (Senate Bill 34).
Implementation of the new law took time and presented a new set of challenges. Among them is a regulation requiring all donated products to be shipped by Jetty to a licensed dispensary for patient pickup. Our heartfelt thanks goes out to Harborside Oakland for participating in this pilot program.
After navigating numerous logistics, compliance, and other regulatory challenges with the team at Harborside, a new path for expanding Shelter is now clear."
The 5 Best Jetty Extracts Cannabis Products
Jetty has a wide array of products to explore. Below we call out our favorites among their product lines.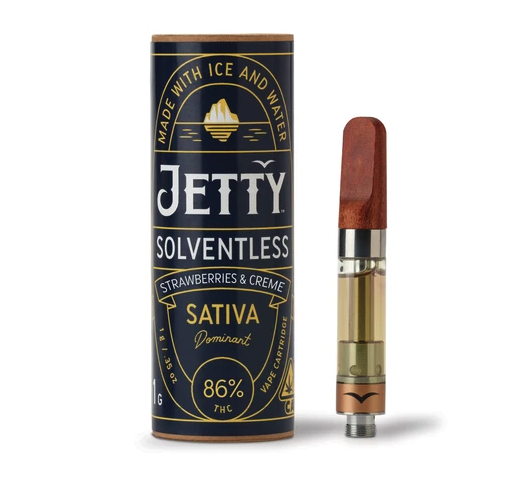 Jetty Solventless Vape: Strawberries and Creme
The Strawberries and Creme solventless vape is the cleanest vape on the market today, made with ice, water, heat and pressure-and no chemical nasties. It has a light color to the oil and is purified for the highest potency, delivering an incredibly satisfying experience from beginning to end.
This vape has a sweet strawberry flavor profile that has an ice cream-like finish. It is also reminiscent of strawberry gummies and leaves a tart but sweet, summer raspberry taste on the tongue. This is an extremely potent vape, and although it is a Sativa, be prepared for a full-body high that may feel sedating. We loved the full-body relaxation but enjoyed the clear-headed focus.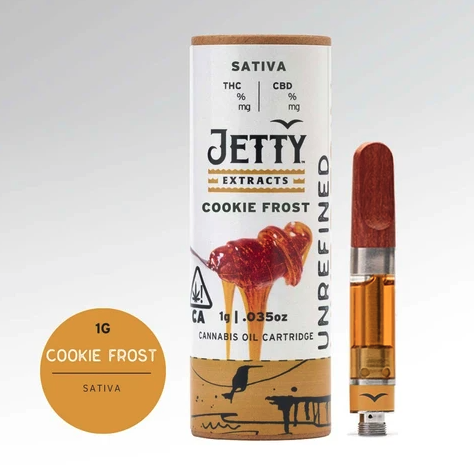 Jetty Unrefined Live Resin: Cookie Frost Diamonds
Cookie Frost Diamonds is 100% live resin which Jetty cryoextracts to capture the essence of the plant. Jetty's live resin is uncut (not distilled), with an unadulterated full spectrum of natural plant compounds. We felt invigorated by Cookie Frost Diamonds and were left buzzing with energy and engaged in lively conversation.
CFD is a flavorful cross of Girl Scout Cookies and Platinum Girl Scout Cookies which is both sweet and spicy with a twist of citrus. Through heat and pressure, Jetty isolates the crystalline structures of THCa, creating a concentrate full of cannabinoids and terpenes.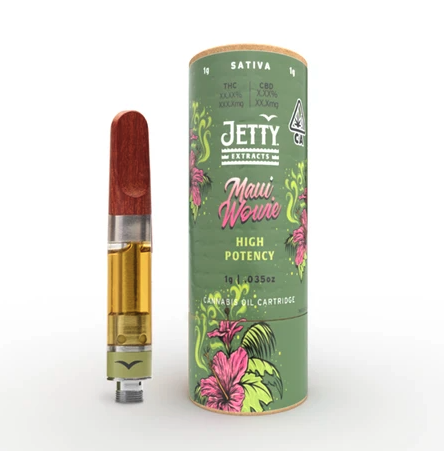 Jetty High THC Vapes: Maui Wowie Weed Cartridge
Maui Wowie is a crowd pleaser and it happens to be Jetty's top selling vape cartridge of all time. It's super high in THC and is "sweet, citrus-forward terpenes. A fun, energetic heady high that keeps you on your feet and groovin'", according to Jetty's team. We think this strain is extremely buzzy and a great choice for those who want to be energized through the day and into the night!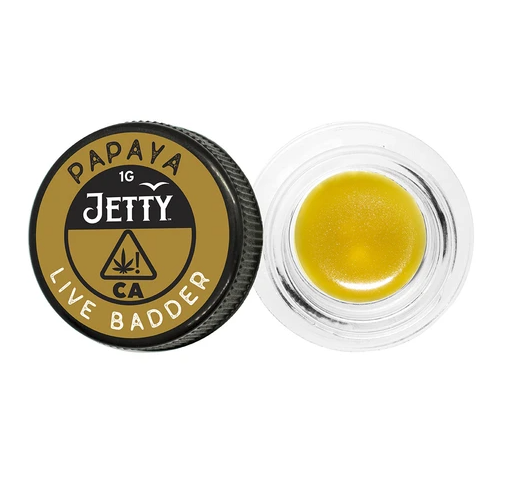 Jetty Concentrates: Papaya Live Badder
Jetty outdid themselves with Papaya Live Badder, a hybrid cross of Citral #13 and Ice #2. It's all the things you'd expect from the name – tropical, fruity, and sweet. With one dab, you're transported on a clean and smooth cannabis high that makes you wish you were in a hammock under a palm tree.
Papaya Live Badder is a creamy mixture that is 'whipped to perfection.'
With an abundance of cannabinoids and terpenes, you'll experience big flavors and a breadth of terpene profiles all in one go. We are fans of Jetty concentrates, for their purity and potency, and Papaya had us all smiling.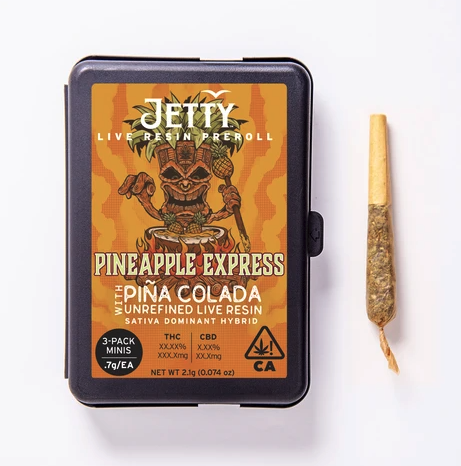 Jetty Infused Pre-Rolls: Pineapple Express x Pina Colada
The tropical double combo of Pineapple Express x Pina Colada in a pre-roll is an infused explosion of citrus and pineapple flavors. Live resin from Pina Colada adds an herbal undertone, and the result is an overwhelmingly satisfying body buzz that got us up and dancing to the groove. We loved the top shelf bud, the potency, and the flavorful finish of this superb pre-roll.
Get Your Medical Marijuana Card
If you want to use medical marijuana to treat a state-approved health condition, you will
need a medical card to legally obtain safe and tested cannabis products. At HelloMD, we make it fast, easy and cost effective to get your medical card ​ through our Telehealth services. Our medical professionals can also answer any questions you might have about using cannabis for medical issues.