I co-founded HelloMD, because cannabis cured me of chronic migraines I'd suffered for over 25 years. Luckily, living in California, I can access this plant-based medicine where so many others are denied. Ultimately, medical marijuana transformed my health—and my life.
Taking cannabis every day eliminated both my chronic pain as well as the anxiety that accompanied my headaches. And today, my lifestyle is far more active as a result. For instance, this summer I'll be hiking the John Muir Trail (JMT), the legendary 21-day, 211-mile California backwoods trek from Yosemite Valley to Mt. Whitney. You think if I still had recurring migraines I'd attempt this off-the-grid, grueling trip? Absolutely not.
FOLLOW US ON FACEBOOK & INSTAGRAM
And I don't intend to stop medicating with marijuana while I'm out on the trails. Cannabis has helped me feel well enough to take on this physical challenge, and here's how I'll be taking cannabis to prevent migraines (the last thing I need) during the hike, help my physical recovery and keep me in a smiling, happy mood, no matter what we encounter out in the wilderness.
All About the John Muir Trail
The JMT is a trail that cuts through California's High Sierra mountain range and is also part of the larger Pacific Coast Trail (PCT). It's often considered to be one of the most visually stunning trails in the United States, and it's also one of the mildest and sunniest mountain ranges in the world. The trail crosses through epic landscapes including:
The Ansel Adams Wilderness
The John Muir Wilderness
Sequoia National Park
Kings Canyon National Park
Mt. Whitney, the highest peak in the continental U.S.
The JMT is considered a difficult trek, testing a hiker's limits across body, mind and spirit. In other words, a backpacker's paradise.
Why Hike the John Muir Trail?
A lot of people ask me why I'm hiking the JMT. The simplest answer is that I'm doing it for me.
The past seven years of my life have been devoted to cannabis. During my time at HelloMD, I've listened to and learned from thousands of people who yearn for and often obtain a better quality of life through cannabis. The plant has also helped me go from a life of imbalance to one of personal strength and self-empowerment.
For me, the harmonious balance of body, mind and spirit is always the goal. Achieving this balance, even for a short time, is what I consider optimal wellness. My strategies to help me achieve my wellness goals include, but aren't exclusive to:
A healthy diet tailored to my needs, including the elimination of alcohol
Regular exercise with Vinyasa yoga, and other movements that inspire me
Working to feel connected with those around me
Putting the phone down for much-needed family time
Getting at least eight hours of sleep per night
Smiling and laughing as much as possible
Being more present in the moment
Consuming cannabidiol (CBD) and microdosing tetrahydrocannabinol (THC) daily
Communing with nature and hiking in the beautiful hills next to my house
Through the years of hiking, I've found a personal reset button that calms my being, centers my mind and allows me to more accurately perceive the world around me.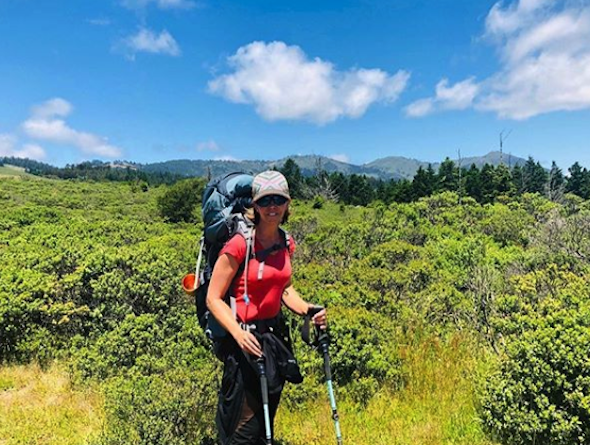 It's not easy finding peace when there's constant pressure. We're pressed for time, money, love, acceptance or whatever else we're endlessly seeking. My belief is that sometimes we need to stop the train, get off and take a good look around.
Hiking the JMT isn't a be-all answer to my optimal wellness, but I expect that I'll gain valuable insights about myself and my life. At the same time, I'll be giving myself the gift of a tremendous experience of walking meditation, pushing my personal limits and improving my fitness in one of the world's most spectacular natural environments.
It's a luxury to have the time to indulge myself in this dream, and it won't be easy leaving my family and work behind, much less hot showers. But it's also a reminder that I'm only here for a short time; I need to live my life and fulfill my dreams while I'm still on this planet.
Why I'm Bringing Cannabis Along on My Hike
CBD and THC are two welcome additions to my backpack, and both will be making the journey with me.
CBD has been reported to be:
An anti-inflammatory
An antispasmodic
An effective pain reliever
CBD is responsible for stopping my migraines, and I've consumed it daily for years as a preventative measure. It also helps me if I feel agitated, an emotion I assume I may feel while ascending steep mountains while also running at a high-calorie deficit.
In microdoses, THC helps me get in my zone and also acts as a potent pain reliever, which I'll need after daily 10–13-mile hikes at elevation. I'm also facing facts: I'm likely to have a lot of aches and pains—I'm not 21 anymore.
My CBD product of choice is Rosette's No. 20 Rich Cannabis Tincture, which has a 20:1 ratio of CBD to THC. Because of the CBD to THC ratio, it doesn't make me feel high like a THC-rich product does and has been my go-to choice for years. I plan on taking 10 mg of the Rosette tincture in the morning and in the evening.
When hiking, I'm also a big fan of transdermal cannabis patches, as they treat both localized and general pain. I'll often wear a patch on the side of my hips or my lower back above the sacrum, which helps a lot with any discomfort I feel.
During the day, I also plan to microdose THC from my CamelBak with Atlas Edibles' delicious powdered cannabis drinks. This is my favorite breakout cannabis product of 2019. The form is absolute genius, because it's a powder you mix with water, tea or any other beverage, not a ready-made drink like you may have seen in a dispensary. The powders are microdosed with CBD and THC, and they taste fantastic, with flavors like lemongrass ginger and pomegranate green tea.
I also plan to bring along Atlas' delicious granola bars, which I'll microdose after dinner to help me sleep better throughout the night.
If you're new to cannabis, it may be good to know that the way I microdose the plant never leaves me feeling high or consciously altered. Over the years, I've learned how to consume marijuana to help me feel my personal best. For me, it's a cross section of specific product types like tinctures or vape pens from brands that I like and specific dosages I've landed on.
Everyone's different, and it may take a period of experimentation to find what works for you. We suggest always starting at a low dosage and taking it slow before consuming more.
I'll be leaving for the trail the last week in July, expecting to return some 21 days later, give or take a few. Wish me luck and please leave comments below if you'd like to share something about cannabis and hiking or give me advice if you've conquered the JMT yourself.
Photo credits: Simon Dannhauer/Shutterstock.com (main image), Pamela Hadfield (Pamela image), Atlas Edibles (Atlas Edibles granola image)
If you're new to cannabis and want to learn more, take a look at our Cannabis 101 index of articles. And if you have questions about cannabis, ask them and our community will answer.