Artists and those familiar with cannabis have long known about this plant's ability to promote creativity. And with the start of a new year, now might just be the best time for the uninitiated to partake in marijuana's pleasant, mind-altering effects. We sat down with three artists to get a sense of how cannabis contributes to their creative practice—and what advice they have for those who've yet to try marijuana for this purpose.
FOLLOW US ON FACEBOOK & INSTAGRAM
1. Anjelica Colliard, Drawing & Printmaking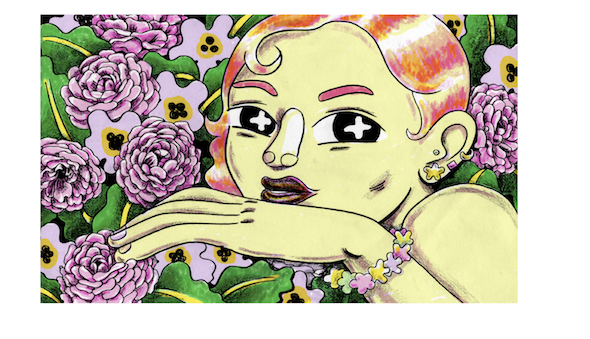 Oakland-based artist Anjelica Colliard specializes in drawing, printmaking and zine production. For the past four years, her work has been centered around what she calls "fantastical plant and jungle worlds." Her current work is a way to explore 2D concepts—such as patterns and visual contrast—she's interested in.
Says Angelica, "[Cannabis] has definitely helped me let go of some of the anxieties that I have around art-making. … You worry less about something being perfect."
For Anjelica, marijuana has become a tool to reinvigorate her mind—especially when she needs to look at concepts in a different way. However, she also cautions that cannabis can be a hindrance for work that requires precision, so when it comes to technical or dexterous tasks, she skips cannabis altogether.
"I'm a little joint queen—that's what I would call myself," says Anjelica. "There's something more luxurious about them, and in turn, more relaxing and indulgent—sort of like drinking beer out of the can versus pouring it into a chilled glass."
Anjelica says that sativas or sativa hybrids tend to boost her creativity, and she thinks they could be a good option for those who tend not to get too anxious.
RELATED: TOP 5 MARIJUANA STRAINS FOR BEGINNERS
Anjelica advises newbies to "come into it without huge expectations—just give yourself time and space to do whatever is on your mind. It should be your brainstorming time and your rough draft time." She notes that these instances are also a great opportunity to make things with your friends. "Try that out and have a little draw party," she says.
Anjelica's website: www.anjelicacolliard.com
Anjelica's Instagram: @jellicore
2. Krusty Wheatfield, Cartoons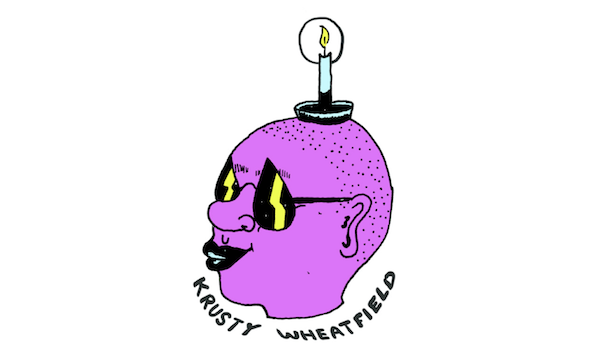 "Non-fiction," "dark humor" and "funny-looking people in weird situations" are just some of the words Krusty Wheatfield uses to describe her work. She enjoys the comic medium for its ability to express "simultaneous, but conflicting circumstances."
Krusty's currently working on a comic biography of counterculture publisher V. Vale, collaborating with other artists to put up a show about wills (as in will and testament) and performing in her new band Dingbat Superminx.
Krusty says that cannabis helps get her in the zone and work through the initial humps that unavoidably come with making art. "In the beginning it's always like, 'Oh, this looks stupid. I wanna give up,'" she says. "But if you smoke a little you can keep going. … It makes your ego shut up for a minute so your brain can be more child-like and full of wonder."
She goes on to describe cannabis's ability to let her brain connect seemingly disparate concepts, a phenomenon that scientists call divergent thinking—and which is often thought of as the foundation of human creativity.
"[Cannabis] helps you collage and mix the elements of the world more easily. The barriers between ideas don't seem as important—or they show themselves to be limits that you put on what ideas can go together," she says, adding "I'm a sativa girl."
Krusty writes everything down when smoking—her preferred consumption method. "Have a little field note book and a pen that you like to draw with," she advises. "I literally make a line and follow it and turn it into something. Do a scribble or a blob of paint or two and try to make it into a creature or a scene."
For new consumers, Krusty offers this piece of advice: "Don't think, 'Oh, I'm going to get stoned now and wait for my brain to produce these amazing things.' [Cannabis] is a tool to use on the ideas you already have—to let them free."
Krusty's website: www.krustywheatfield.com
Krusty's Instagram: @krustywheatfield
3. Dmitry Bikkinin, Cinematography & Photography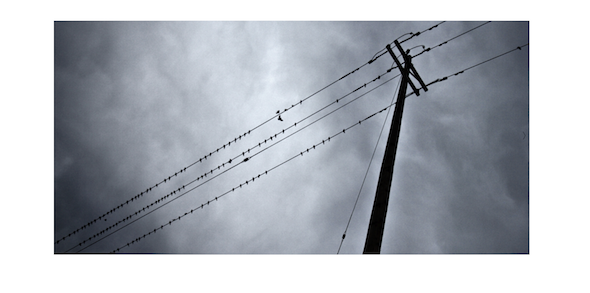 Dmitry Bikkinin is a San Francisco-based cinematographer and photographer, who also happens to work for HelloMD. When he's not at work, he focuses on narrative and documentary film as well as contemporary and black-and-white photography.
For Dmitry, incorporating cannabis into his creative process happened naturally because it helped him get "in the zone." He says, "Cannabis helps me see things I normally wouldn't see," and adds that marijuana helps him pick up patterns and reflections in his photographs more easily.
In addition, cannabis helps Dmitry block out extraneous concepts in his black-and-white photographs. "Instead of looking and seeing the content of [a picture], you see the shapes," he explains.
Dmitry's creative pursuits require technical mastery of various moving elements—consider the different settings required for taking that perfect picture. He says that cannabis allows him to work intuitively, without second-guessing himself. "It gives me this untapped ability of good guessing," he says. "[Cannabis] helps me slow down the time in my head to get all those [elements] together—expose it this way, frame it over there, get the focal length right—it's like, I know exactly what I'm doing."
Dmitry prefers to use cannabis concentrates because they work quickly and are convenient. When he's shooting, he prefers cannabis that's more energizing. When he's in the editing or post-production process, he prefers something with more indica characteristics.
While Dmitry is a huge proponent of cannabis and the creative process, he says new users should already know their gear flawlessly in order to be successful.
Dmitry's website: www.dbikk.com
Dmitry's Twitter: @dmbikk
If you're new to cannabis and want to learn more, take a look at our Cannabis 101 post. HelloMD can help you get your medical marijuana recommendation; it's easy, private and 100% online.