If you're new to cannabis, you may find yourself overwhelmed by the dizzying array of cannabis products on offer. In addition to the breadth of choice, there are so many different ways to ingest cannabis, and each form can result in a different bodily—and cerebral—effect.
Knowing what effect you're trying to achieve is important when selecting new products. Do you want to relieve anxiety, manage chronic pain or are you simply in need of relaxation on a Friday night after a long work week? Understanding what you're trying to achieve may make the selection process a little easier.
FOLLOW US ON FACEBOOK & INSTAGRAM
However, the reality is that most people end up going through a period of trial and error in the beginning in order to find the cannabis products that work best for them. Although some products are touted to work for specific conditions or cause a certain effect, each person's body reacts to cannabis differently—partially because everyone's endocannabinoid system is different. The result is that each of us can have a unique experience when consuming the psychoactive cannabinoid tetrahydrocannabinol (THC), and therapeutic benefits aren't always consistent from person to person.
One rule of thumb when starting your journey with cannabis is to go low and slow. This means start at a minimum dosage, ideally a microdose, and then wait to see how you react to it before taking more.
If you're a cannabis newbie, you may have a very low tolerance or possibly even an exceptionally high tolerance. When starting out, titrating your dosage, starting small and working up, will help you understand what works best for your body and mind. And it will help you avoid an uncomfortable experience.
RELATED: 5 TIPS TO REDUCE THE EFFECTS OF HAVING TOO MUCH CANNABIS
Following is a roundup of some of our favorite products that we recommend for first-time cannabis consumers.
Cannabis Beverage
Kikoko Sensuali-Tea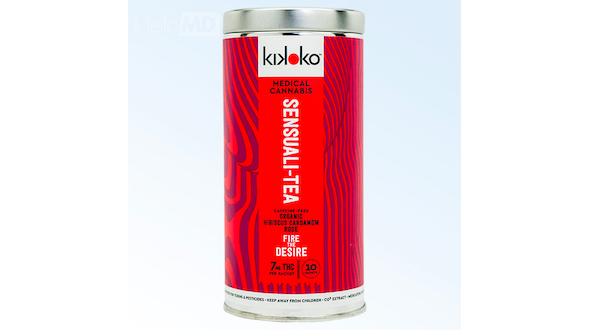 Kikoko was started by two of California's coolest women, who set out to help medical patients find relief through easy-to-consume, accurately dosed, cannabis-infused teas. The result is the best-tasting organic tea we've ever tried. And each cute triangle-shaped tea bag also happens to have a healthy dose of cannabis within it.
We're such fans, we think the flavors of the four different Kikoko teas rival, if not surpass, the taste of Republic of Tea, Mighty Leaf or any high-quality loose leaf tea you might purchase. Kikoko tea is pure magic on a brisk night.
The tea we think is best suited for a cannabis newbie is the Sensuali-Tea, an all-organic hibiscus, cardamom and rose-blend tea, which contains 7 mg of cannabis per tea bag. Steep the tea for two minutes, and the full cannabis dose will permeate the hot liquid.
Kikoko's Sensuali-Tea is meant to promote connection—and help you achieve monumental orgasms. Although we can't attest to the latter, we do believe you may feel a boost of creative energy and perhaps a desire for deeper conversations. If you're just starting out, we suggest splitting a single dose into two cups of tea, waiting for the full effect (which may take up to an hour) to set in before sipping more of the medicated beverage.
Cannabis Edibles
Satori Raisins in Milk Chocolate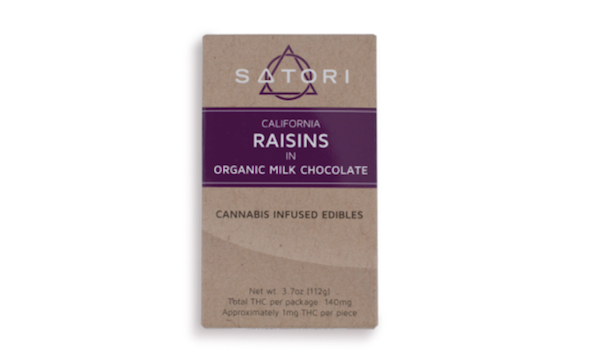 Satori's one of the first brands that focused on microdosing cannabis. It was also the first-place award winner in the edibles category at last year's High Times event—a prestigious accolade indeed. Each of the six Satori products, or bites as they're called, is coated in delicious chocolate and comes in a variety of small doses to suit the needs of different consumers.
Our choice for the new cannabis consumer is the California Raisins in Organic Milk Chocolate. Each chocolate-raisin bite contains 1 mg of THC, which is the smallest microdose available in an edible today—at least that we know of.
Start with one to two raisins, and wait for at least an hour to see the effect. If needed, you can take one more per hour, until you know what the right dose is for you. For some people, two raisins may be just enough, while others may need five.
In any case, dosing with Satori raisins is easy, because if you go low and slow, it's hard to overdo it. Most people we've talked to have found Satori to be an uplifting experience, great for an evening out with friends.
Garden Society Bright Blooms
Garden Society began with the belief that medical cannabis has the potential to be a tool for health and wellness and that everyone should have access to its holistic benefits. The result: a company well known for high-quality edible cannabis gelées and chocolates, which are not only delectable but exquisite to look at.
We chose the Bright Blooms gelées, which remind us of the sophisticated gelees you see in the window of a Parisian patisserie. The brightly colored treats are beautifully packaged, equal parts hostess gift and personal luxury.
Infused with fruit and herbs , the gelées are made from an organic, sun-grown, sativa-hybrid cannabis strain. At 5 mg of THC and tetrahydrocannabivarin (THCA) per gelée, they provide a subtle, yet relaxing boost, while still within the boundaries of what's considered a microdose.
If you're brand new to cannabis, we might suggest starting with half a gelée, and waiting two hours to feel the overall effect before having anymore.
Sensi Chew Insomnia With Melatonin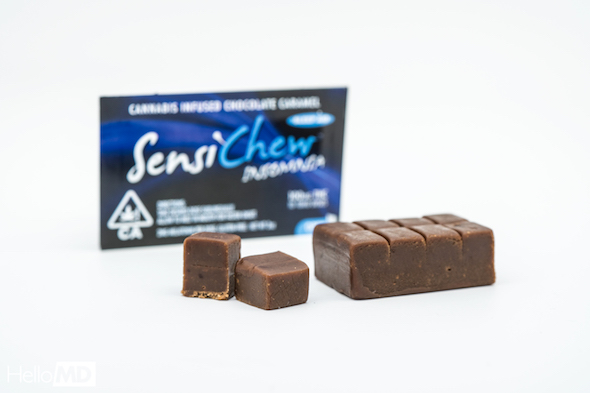 Sensi Chew has been one of the longest-standing medicinal cannabis brands in California. With widespread distribution throughout the state, it has also become a well-known go-to for relieving pain and insomnia. The Sensi Chew Insomnia with Melatonin combines the benefits of melatonin with the sedative qualities of THC to achieve a good night's sleep.
This particular Sensi Chew is similar to a chocolate chew with an almost Tootsie-roll quality. Although these bite-size morsels primarily contain THC and melatonin, they also include a full cannabinoid profile (including CBN, CBG, CBD, CBC, THCV) along with a terpene profile.
As each dose has 10 mg of THC, cannabis newcomers may want to start out by cutting a single dose in half. It may be that 5 mg is more than enough to promote a peaceful slumber.
Marijuana Tinctures & Sublinguals
Level Delta-8 THC Soothe Tablinguals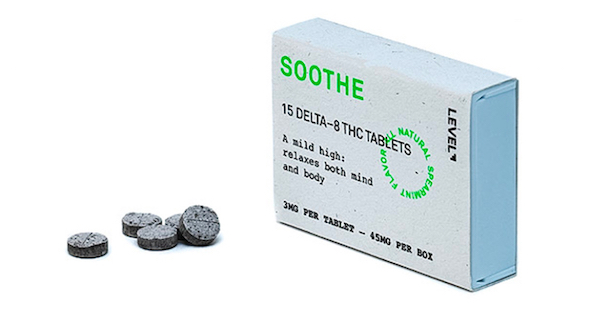 Level, a brand known for its scientific approach and wonderful cannabinoid blends, has come out with a first-to-market tablingual called SOOTHE. Slide open the package, flip open the silicon box inside and place a single 3 mg tablet directly under your tongue. There, the tablingual quickly dissolves and within five to 15 minutes, you should be feeling the effects of the cannabis.
Delta-9 THC is what everyone refers to as THC. Delta-8 is very similar, although chemically slightly differentiated; it's still psychoactive, however, the effect you feel may be milder, making it a great option for someone new to cannabis.
Delta-8 THC is known to have anti-emetic, anxiolytic, appetite-stimulating, analgesic and neuroprotective properties. When we tried a single dose of SOOTHE, it was both relaxing and uplifting, while still allowing for a clear head. Level also has a wide selection of vape oil cartridges, based on desired effects, that's well worth checking out.
Rosette Wellness' No. 1 CBD Rich Cannabis Tincture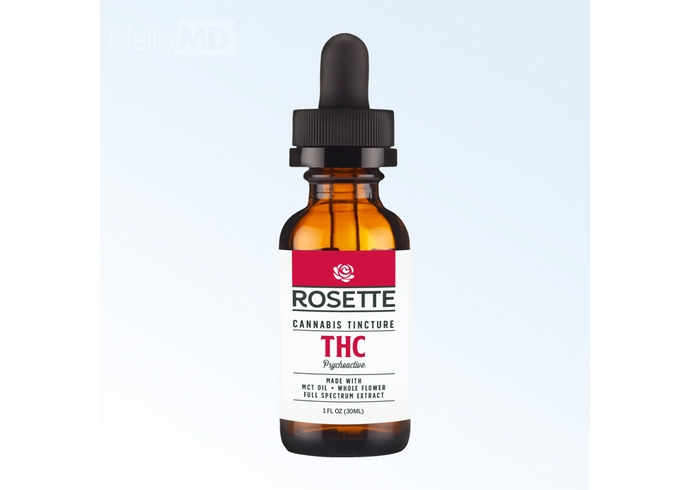 Rosette Wellness make whole plant extract tinctures, which are mixed with MCT (medium-chain triglyceride) oil made from coconuts. Rosette tinctures come in a variety of ratios of CBD to THC and even other formulations that include lesser-known cannabinoids such as THCA, cannabinol (CBN), cannabigerol (CBG) and cannabidiolic acid (CBDA).
A 1:1 ratio of CBD to THC is often referred to as borderline psychoactive, which is a good place to start if you're new to cannabis. For someone with a lower tolerance, this tincture may be mildly psychoactive, and for someone with a higher tolerance, it may not impart any high feelings at all. Many people have commented that they felt the No. 1 CBD Rich Cannabis Tincture is effective for both pain relief and relaxation. The 1:1 tincture has a mild taste and a fast-acting yet a manageable effect.
If you're interested in a tincture with more THC, you may want to start with the Rosette's THC Cannabis Tincture. This is made with sun-grown cannabis chosen for its high terpene content. The benefit of a tincture is that you can accurately dose the amount of THC drop by drop. Keep in mind that a microdose would be in the range of 2–3 mg to start.
Cannabis Topical
Dr. Kerklaan Natural Pain Cream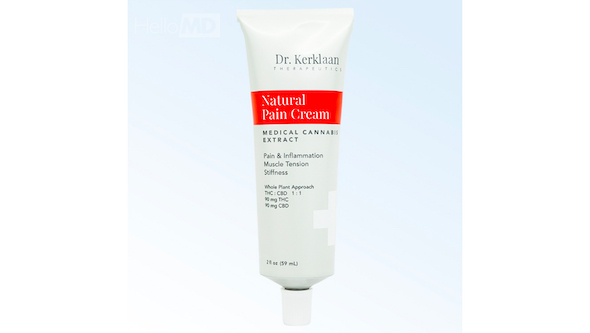 Dr. Andrew Kerklaan started his topicals brand Dr. Kerklaan with the idea that, after treating thousands of patients in integrative health care, there was a more natural pain alternative. His journey into health and wellness ultimately led him to cannabis. Today, Dr. Kerklaan is a fledgling topicals brand in the California market, but poised to make big waves.
Topicals are a wonderful entrée into cannabis for new consumers. They provide localized pain relief yet don't cross into the bloodstream. As a result, you don't feel the stereotypical high associated with most cannabis products.
Dr. Kerklaan Natural Pain Cream takes a whole plant approach and has 90 mg of THC to 90 mg CBD, a 1:1 ratio. One of the first things we noticed about the pain cream is the packaging, which appears more medical than most topicals on the market today. It comes in a tube, which is also more sanitary than most jars of cream and balms where you dip your fingers in again and again.
Immediately after squeezing some cream out, we noticed a pleasant aroma of peppermint, lavender and eucalyptus. In other words, it didn't smell like a field of cannabis. The cream is also creamy and not greasy, a common issue with many salves we've tried in the past.
Dr. Kerklaan Pain Cream states that it may relieve pain, inflammation, muscle tension and stiffness. With high hopes, we applied dime-size portions to various areas in need. Many of us immediately felt an effect, whether that be the loosening of a stiff shoulder or the easing of a sore knee.
Marijuana Vaporizers
Care By Design CBD-Rich 1:1 Vape Cartridge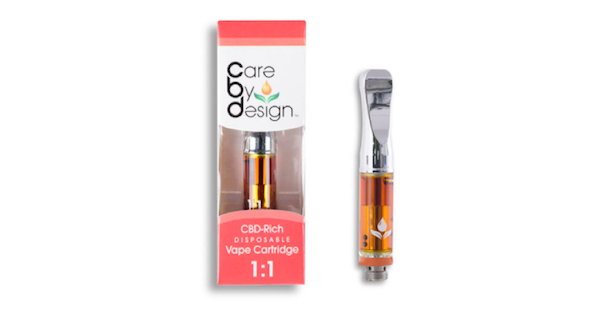 Since their inception, Care By Design has been laser focused on creating the safest, most effective cannabis-based medicine for patients throughout California. The entire Care By Design product line is based on whole plant CBD in either CBD-dominant, CBD-rich or CBD-THC balanced ratios.
CBD is well known as an effective anti-inflammatory, analgesic and antispasmodic. In some cases, it helps a patient sleep through the night and may greatly reduce anxiety.
We've chosen the Care by Design 1:1 vape cartridge as an ideal addition to any newcomers' starter kit as it balances one part CBD to one part THC. Having a 1:1 ratio creates a balanced high as CBD mitigates the effects of THC. Often a 1:1 ratio will be described as having "borderline" psychoactivity, which means the high may or may not be present—and if it is, it will be milder.
Care by Design's 1:1 vape cartridge offers a pleasant, piney flavor with the help of cannabis terpenes. The taste is robust, but not too overpowering. Most of our staff noticed little to no psychoactive effects; however, relaxation was evident within a few minutes of consumption. For a novice consumer, a 1:1 vape cartridge is a good place to begin testing the waters with both CBD and THC.
AbsoluteXtracts Jack Herer Vape Cartridge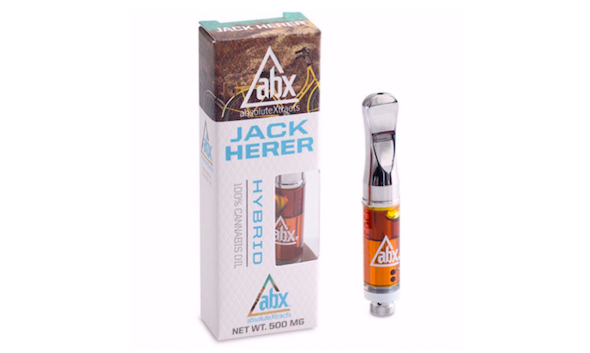 AbsoluteXtracts, or ABX, has been creating extensive lines of premium vape oil cartridges for years. One of the reasons we like ABX so much is its dedication to quality and long history of providing patients with superior cannabis alongside a consistent experience. A vertically integrated company, ABX grows its own cannabis and manufactures products on site.
Although there's a multitude of vape oil cartridges to choose from, we chose ABX's Jack Herer vape cartridge. This easy-to-find, mellow strain is a good fit for experienced cannabis users and newbies alike. It manages to be uplifting and cerebrally stimulating without any of the raciness that often accompanies other sativas.
Overall, Jack Herer is balanced and stimulating, making it a versatile companion any time of day. The ABX vape experience is very flavorful and aromatic with a citrus flavor undertone. If you're new to cannabis, we suggest that you start with one puff, wait 15–20 minutes to see how it affects you, and then determine if more may be needed.
Main photo credit (clockwise from top left): Garden Society, Satori, Kikoko, Sensi, ABX, Care by Design.
If you're new to cannabis and want to learn more, take a look at our Cannabis 101 post. HelloMD can help you get your medical marijuana recommendation; it's easy, private and 100% online.