Marie Antoinette famously said, "Let them eat cake!" and who doesn't love a good cake? If you're a medical cannabis patient, you can make a run-of-the-day cake even better with THC extract – why not make your marijuana consumption delicious! We suggest using Rick Simpson Oil (RSO) for this recipe, a high-intensity oil ideal for medical patients. It can also carry a strong weed taste, making a great pairing with a sweet cake recipe.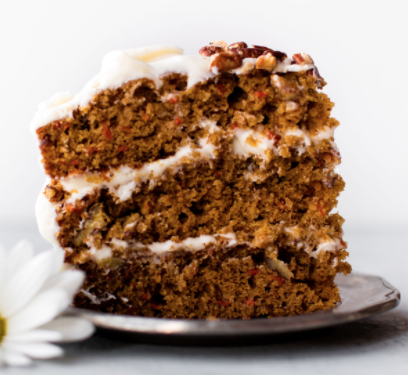 RSO carries a lot of therapeutic benefits, such as pain relief and relaxation, and is often used by cannabis patients dealing with anxiety, depression, or high blood pressure – its high potency helps many alleviate symptoms of many conditions. In addition, choosing an Indica strain, RSO is an excellent option for sleep-inducing effects meant for healing. RSO is often a black oil and has a tar-like consistency. Typically, the product comes in a syringe and is relatively easy to use. A cake recipe is full of great flavors and is a perfect way to balance any unpleasant weedy herbal notes.
So, if popping down to the store and buying some carrots sounds easy-peasy and you're in the mood for something tasty – make our carrot cake with homemade cream cheese frosting; it's a fun way to consume your marijuana and pass the time. Ready for some cake? Let's go!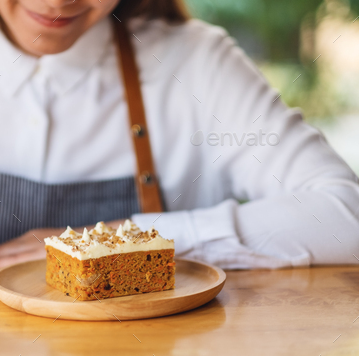 How to Make it
Yield: One cake will serve ten slices. This recipe used a dosage of 500 mg (Approximately 50 mg of THC per slice). Be sure to mix cake batter well!
Cake Ingredients:
500 milligrams of Full-Spectrum RSO (about a ½ gram syringe of Rick Simpson Oil)
1 cup chopped pecans
1 ½ cups brown sugar
½ cup white sugar
1 cup vegetable oil
4 large eggs
¾ cup unsweetened applesauce
1 teaspoon vanilla extract
2 ½ cups all-purpose flour
2 teaspoons baking powder
1 teaspoon baking soda
½ teaspoon salt
1 ½ teaspoon ground cinnamon
1 teaspoon ginger
¼ teaspoon nutmeg
¼ teaspoon cloves
2 cups grated carrots (about four large carrots)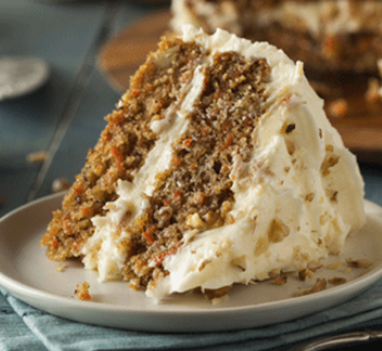 Cream Cheese Frosting:
16 ounces full-fat block cream cheese, room temperature
½ cup unsalted butter softened to room temperature
4 cups confectioners sugar
1 ½ teaspoon pure vanilla extract
1 cup chopped pecans
Pinch of salt, for taste
Infused-Cannabis Cake Prep:
Preheat oven to 300F.
Place chopped pecans on the baking sheet covered in parchment paper and bake for 6 minutes.
Remove from the oven. Let cool for at least 10 minutes.
Turn oven up to 350F.
Grease two 9-inch cake pans, line with parchment paper, and grease again. (The parchment paper helps the cakes release from the pans easily.)
Warm vegetable oil in a saucepan over low heat. Add RSO oil. Gently heat the infusion until it's warm enough to dissolve the RSO oil. Remove from heat.
Whisk granulated sugar, brown sugar, RSO-infused oil, applesauce, eggs, and vanilla in a large bowl until there are no sugar lumps.
Mix flour, baking soda, baking powder, ginger, nutmeg, salt, cloves, and cinnamon in another large bowl.
Slowly fold wet ingredients into dry ingredients using a wooden spoon or rubber spatula.
Fold the carrots and pecans into the mixture.
Pour the mixture evenly into the pans. Bake for 25-30 minutes. Test the center with a toothpick – make sure that the toothpick is clean and the cake is not gooey.
Let the cakes cool by placing them on a wire rack. The cakes need to be completely cool before frosting.
Frosting Prep:
Beat together butter and cream cheese using a mixer in a large bowl for about 2 minutes on medium-high speed until smooth.
Add the confectioner's sugar, a pinch of salt, and vanilla extract.
Start by beating the mixture on low for 20-30 seconds, then go to a higher speed and mix for 3 minutes until smooth.
Add more sugar if the frosting is running thin. You can add a small amount of milk if it is coming out too thick. Frosting should be soft but not runny.
Layer and Frost:
Using a large serrated knife, cut off the top of each cake to make a flat surface. Place one cake layer on a plate.
Cover with frosting.
Repeat for the second layer. Using the rest of the frosting, cover the top and sides of the cake. Be sure to smooth it out.
Add pecans on top and all over the sides.
Chill the cake in the fridge for at least 15 minutes before slicing and serving. This helps the cake hold together.
Get Your Medical Document & Purchase Medical Cannabis
It's easy to get your medical document with the online Telehealth service HelloMD. Register, pay, and receive an online medical consultation with a licensed practitioner and start purchasing medical cannabis today.