It's officially winter. What better way to ease into the colder months of the year than with a drink that's warm, relaxing and full of rich chocolatey goodness? That's right. I'm talking about that cold temperature classic, hot chocolate.
When I think of wintertime drinks from my childhood, hot chocolate is one of my favorites. One sip, and I'm back in those happy days, drinking hot chocolate by the fire during holiday parties with family or after coming inside from playing in the snow.
FOLLOW US ON FACEBOOK & INSTAGRAM
While this recipe may leave you feeling nostalgic for winters of the past, it takes a more sophisticated, gourmet approach than the powdered Swiss Miss powdered packets mixed with water that many of us enjoyed growing up. With rich cream, real dark chocolate and notes of vanilla, maple and cinnamon, this hot chocolate is rich and flavorful, but still a breeze to make.
And of course, who can forget the star of the dish: cannabis. In this recipe I infuse cannabis concentrate directly into the cream used for each individual cup of hot chocolate. The process is simple and makes it easy to medicate each mug according to everyone's particular needs.
RELATED: WHY YOU NEED TO EAT FAT WITH YOUR CANNABIS
Whether you're making a special treat for yourself or having marijuana-friendly guests over for winter gatherings or festivities, this marijuana-infused drink is the perfect pairing with the cold weather.
Ingredients for Cannabis-Infused, Cinnamon-Vanilla Hot Chocolate
Serves 1
1 drop of cannabis concentrate from a Dablicator
1 tbsp dark cocoa powder
1 tbsp dark chocolate chips
1/2 cup heavy whipping cream
1/2 tbsp of maple syrup (or a sweetener of your choice; adjust according to your taste)
1/2 cup of water
Pinch of salt
Pinch of cinnamon
1/2 tsp of vanilla
Whipped cream (optional)
The easiest way to infuse this recipe is using cannabis concentrate from a dablicator, because it's an easy and mess-free way to medicate the hot chocolate precisely. If you don't have a dablicator, you can use a dab of any full-melt cannabis concentrate in the recipe.
Either way, it's best to start with one drop or just a small dab of cannabis concentrate. Once you see how that dose affects you, if desired you may opt to increase the dose to better fit your needs.
If you don't have cannabis concentrates or aren't interested in consuming marijuana that way, you can substitute with 1 mL of the cannabis tincture of your choice.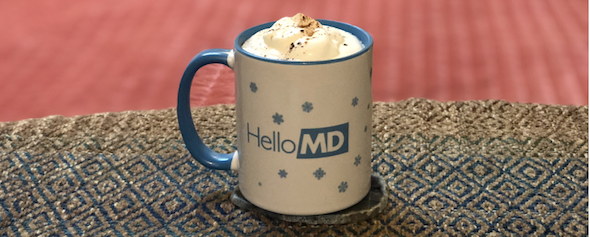 How to Make Cannabis-Infused, Cinnamon-Vanilla Hot Chocolate
If you're using a cannabis concentrate, place it in a small saucepan and heat on low for a few seconds. Remove from heat if there are any signs of vaporization (such as simmering) or if you can smell a more fragrant odor coming from the concentrate. Don't let it go too long on the heat or you'll lose medicinal components of the plant to the air. This step decarboxylates your cannabis concentrate, so that the tetrahydrocannabinol (THC) is active. Skip this step if you're using a cannabis tincture.
RELATED: DECARBOXYLATING MARIJUANA: WHY IT'S IMPORTANT
Add your cream to the saucepan and return to heat. Stir the mixture continually with a spatula as you heat the cream to a simmer.

Once your cream is simmering, add the cocoa powder and the chocolate chips. Stir continuously until the chocolate is completely melted and mixed with the cream. During this process, make sure to scrape any chocolate mixture from the bottom of the saucepan to avoid it burning.

Add the water, vanilla, cinnamon, salt and maple syrup. Stir thoroughly until it's well incorporated and the entire mixture is homogeneous with a consistent color and texture. If you're infusing the hot chocolate with a cannabis tincture, here's where you stir it in.

Pour the hot chocolate into a mug and top with whipped cream.
If you're new to cannabis and want to learn more, take a look at our Cannabis 101 index of articles. And if you have questions about cannabis, ask them and our community will answer.
Photo credits: rawpixel.com (main image), Emily Earlenbaugh (body image)