I don't usually like marijuana edibles. Too sweet, too sticky, too large, poorly packaged, too slow to come on and unpredictable with their effect. Lately however, I have discovered a new best friend that comes in a little tin box, and her name is 'Kiva' – the perfect marijuana edible.
Kiva Terra Bites are made by Kiva Confections one of the leading edible's manufacturers in California. Their factory in Oakland, and the founding story of the company is impressive, and a wonderful example of how the thriving cannabis industry is uplifting the economy and providing opportunity to thousands of small businesses and their employees.
Founders Kristi Knoblich and her partner Scott Palmer, were both photographers when the economy turned south in 2008. With prospects for photography work dimming, they started growing in their garden to help make ends meet. Upon visiting dispensaries to sell their crop, they observed a gap in the market for lab tested, professionally packaged and labeled edibles, that actually tasted good. With Kiva Confections, they set about meeting this apparent opportunity.
Their first product – The chocolate bar– sold well. But it was not long before they innovated further with a focus on the wonderful expresso bean, and the Kiva Terra Bite was created.
Kristi explains:
"Patients began asking us for a smaller portion of our bars. They would make a motion with their hands, indicating a small, palm sized serving of chocolate. Scott concluded the chocolate covered espresso bean would fit the description of what they were looking for. The small, simple serving size would promise consumers convenience and the ability to dial down their dose, thereby mitigating their over consumption. And so, Terra was born in November of 2013. That's what our company is all about: creating innovative ways people to consume cannabis, and have a positive experience!"
Kristi personally showed me around their impressive facility, and I watched in amazement as the espresso beans were created in large, turning cement mixer looking machines, each one carefully and skillfully manned by a production specialist.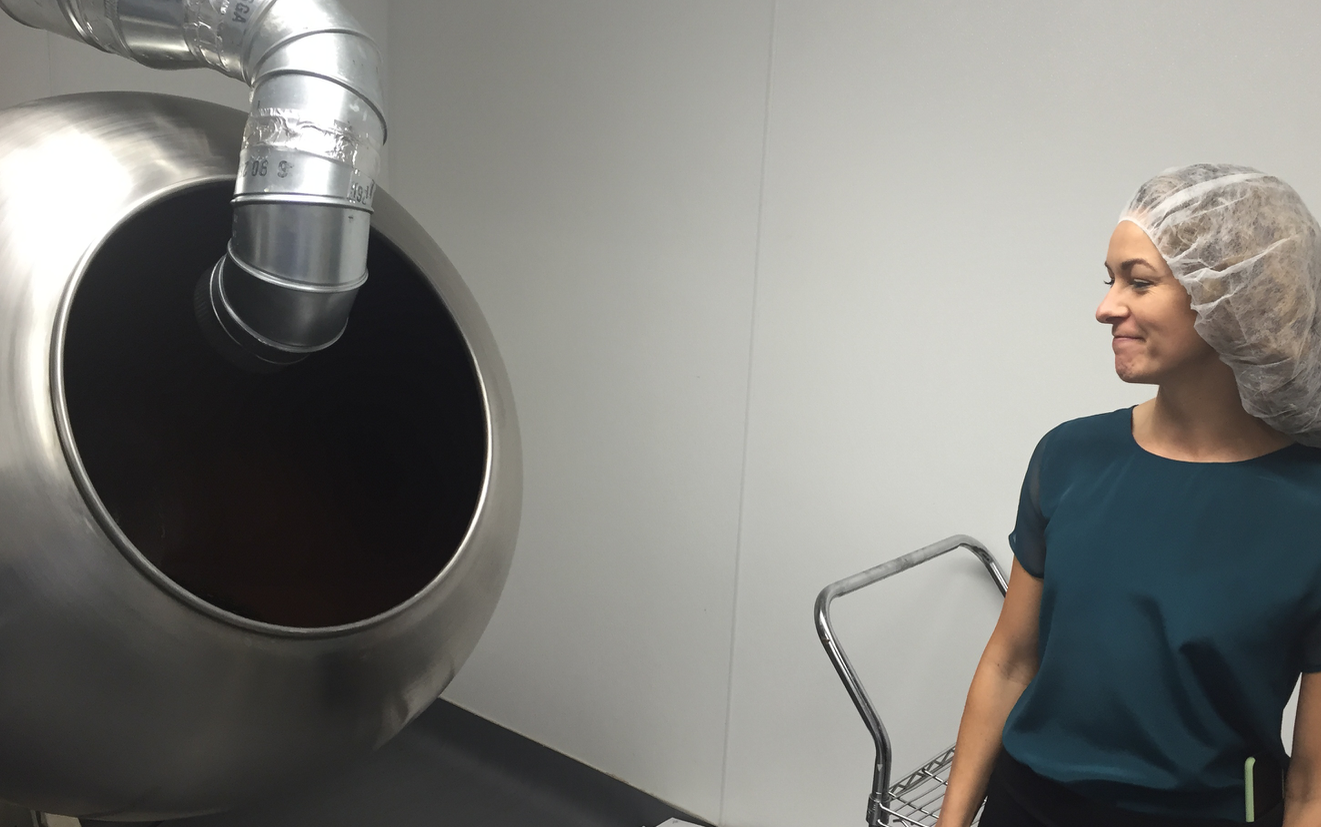 Kristi inspects one of the chocolate panning machines
Kristi on how they learned the art of covering espresso beans with chocolate:
"We spent some time in Ohio, learning the art of panning from the panning Guru, Kevin Dolan, who has since passed away. Panning is the process of coating the beans or berries in chocolate until they become the target size; it's like the snowball effect. Now Kiva has a team of expert panners, and they practice their art right here in our facility in Oakland. Our Terra Espresso beans and blueberries have become our most popular products."
So why is this the perfect edible, and why have I become such a fan?
Portion Size (and dose)
Each chocolate bean contains 5mg of THC. This makes dosing (or micro dosing) easy and consistent. Just eat as many beans as you want to dose. I personally like to take two beans together, and then might add a third about an hour later. This 10 – 15mg range puts me in a wonderful, happy mood for the evening, enhances the sound of music and leaves me sharp enough to cook and enjoy a delicious meal with my family. It's the perfect Friday night wind down after a stressful week.
Delicious Taste
There is no hint of cannabis in the flavor. It's just a combination of great tasting dark chocolate (which I love) and roasted espresso coffee bean which you just chew up once the chocolate has gone. I am not sure the espresso bean is enough to provide a wake-up kick, but it might, and I personally don't enjoy getting sleepy with cannabis and so this is an added bonus.
Convenient
The beans come in a little round tin, and are easy to pack and carry. There is no wrapper to create trash, or look unsightly as partially unwrapped chocolate does. I have taken the beans camping with me, and to others houses as a dinner guest. Everybody seems to love them!
Fast Acting
I have eaten edibles that take a full two hours to take effect, which is really too long for my purposes. I can't say why, but my experience with Terra Bites is that you usually feel them within 20 minutes of dosing. Perhaps it's something to do with the chocolate delivery.
All I can say in conclusion, is that I now keep a ready supply of these wonderful treats. Please don't take them away!