Looking for a hearty meal infused with cannabidiol (CBD)? We've got one that's as easy to make as it is delicious: zoodles with CBD-infused alfredo sauce.
When I was a kid, I used to love ordering chicken Alfredo at Italian restaurants. The smooth, cheesy sauce and pasta felt like a fancy mac and cheese that I never got tired of eating. And sometimes I still really crave that tasty dish.
But these days, I try to avoid eating the big dose of carbohydrates that comes with any pasta dish. That's why I love this healthier take on the classic chicken Alfredo. Instead of all those carbs, it swaps in healthy zucchini noodles—also known as zoodles.
Zucchini is an ideal pasta substitute, because it can handle any kind of pasta sauce. Plus, zucchini:
Has a high antioxidant content
Is rich in fiber
May support eye health
You also can leave the chicken out if you want to make this dish vegetarian or swap the chicken out for tofu or your protein of choice.
The Alfredo sauce is what holds this recipe together, and is a nod to the traditional chicken Alfredo dish. I use the classic ingredients:
Parmesan cheese
Cream
Butter
Garlic
Parsley
Alfredo sauce is high in fat, so it sometimes gets a bad rap as an unhealthy choice. But high fat doesn't always equal unhealthy. Fat actually helps you better metabolize CBD. Cannabis edibles need to contain fat for your body to be able to absorb and use a greater percentage of the cannabinoids you ingest.
RELATED: 3 MODERN ADVANCES THAT MAKE CBD MORE EFFECTIVE
If you're following a high-fat diet, like the keto diet, but want to add CBD to your daily routine, this recipe is the perfect way to get started.
Ingredients for Decadent CBD-Infused Alfredo Sauce Over Zoodles:
Serves 2*
1/2 cup butter
1 cup heavy whipping cream
2 cups Parmesan cheese, shredded
1 tsp garlic, minced
1 large zucchini (or 2 small to medium zucchinis), spiralized**
2 droppers of the CBD tincture of your choice
1/4 cup parsley, chopped (Substitute with basil if you prefer.)
Salt and pepper to taste
Optional:
*You can easily double or triple this recipe, if you're cooking for a larger group.
**To make the zoodles, your best option is to use a spiralizer. I like to use the widest noodle option on my spiralizer, because it does a great job of holding the sauce. If you don't have a spiralizer, don't worry. You can also make zoodles using a vegetable peeler. Just make long straight cuts with the peeler to creat zucchini strips. Then, cut any particularly wide pieces lengthwise to the size you'd like.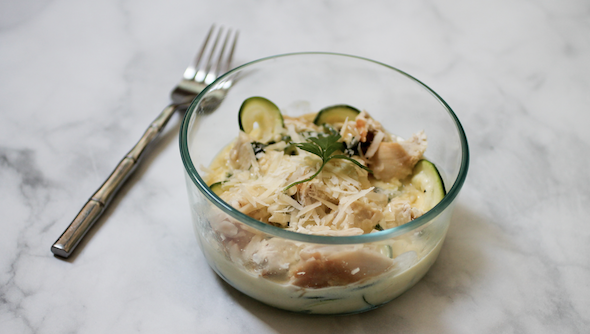 How to Make Decadent CBD-Infused Alfredo Sauce Over Zoodles
If you're using chicken in this recipe, it's best to start by cooking the chicken so that it's ready when the rest of your food is. Set up a frying pan or skillet on a medium-high heat, add a little butter or oil, and cook the chicken for 5–7 minutes on each side. When done, the chicken should be white, fully cooked on the inside and golden on the outside. Set aside to rest.
While your chicken is cooking, make the zoodles. Then, evenly divide them into two serving bowls.
To make the CBD-infused Alfredo sauce, add the butter to the sauce pan and melt over medium heat. Add the garlic, parsley and heavy cream, and bring to a low simmer. Let simmer for about 30 seconds.
Turn off the heat and whisk in 1 1/2 cups of the shredded Parmesan cheese. Whisk until the cheese has fully melted, and you have a smooth and creamy sauce. Add your CBD tincture here. Season with salt and pepper to taste.
If your dish includes chicken, take your cooked chicken breasts and cut them into bite-sized cubes. Divide the chicken breast cubes between the two serving bowls, laying them on top of the zoodles.
Finally, pour the hot CBD-infused Alfredo sauce over the two bowls of zoodles, making sure to pour evenly so that your zoodles are entirely covered. This is an important step, because the raw zoodles will soften and slightly cook in the sauce.
Sprinkle the remaining Parmesan on top of each dish. Serve immediately.
Photo credit: Wiktory/Shutterstock.com
Want to try CBD, but don't know where to start? Shop our selection of high-quality, lab-tested CBD products and have them shipped to your door. And if you have questions about CBD, ask them and our community will answer.