There was a time when "rolling a joint" was one of the only ways to smoke cannabis, and the prep work was just part of the process. But a new generation of pre-rolls is making it easier than ever before.
Leading the way in pre-rolls is Canndescent, California's leading cannabis cultivator and purveyor of high-end cannabis products designed to answer one question: how do you want to feel today?
What Are Cannabis Pre Rolls?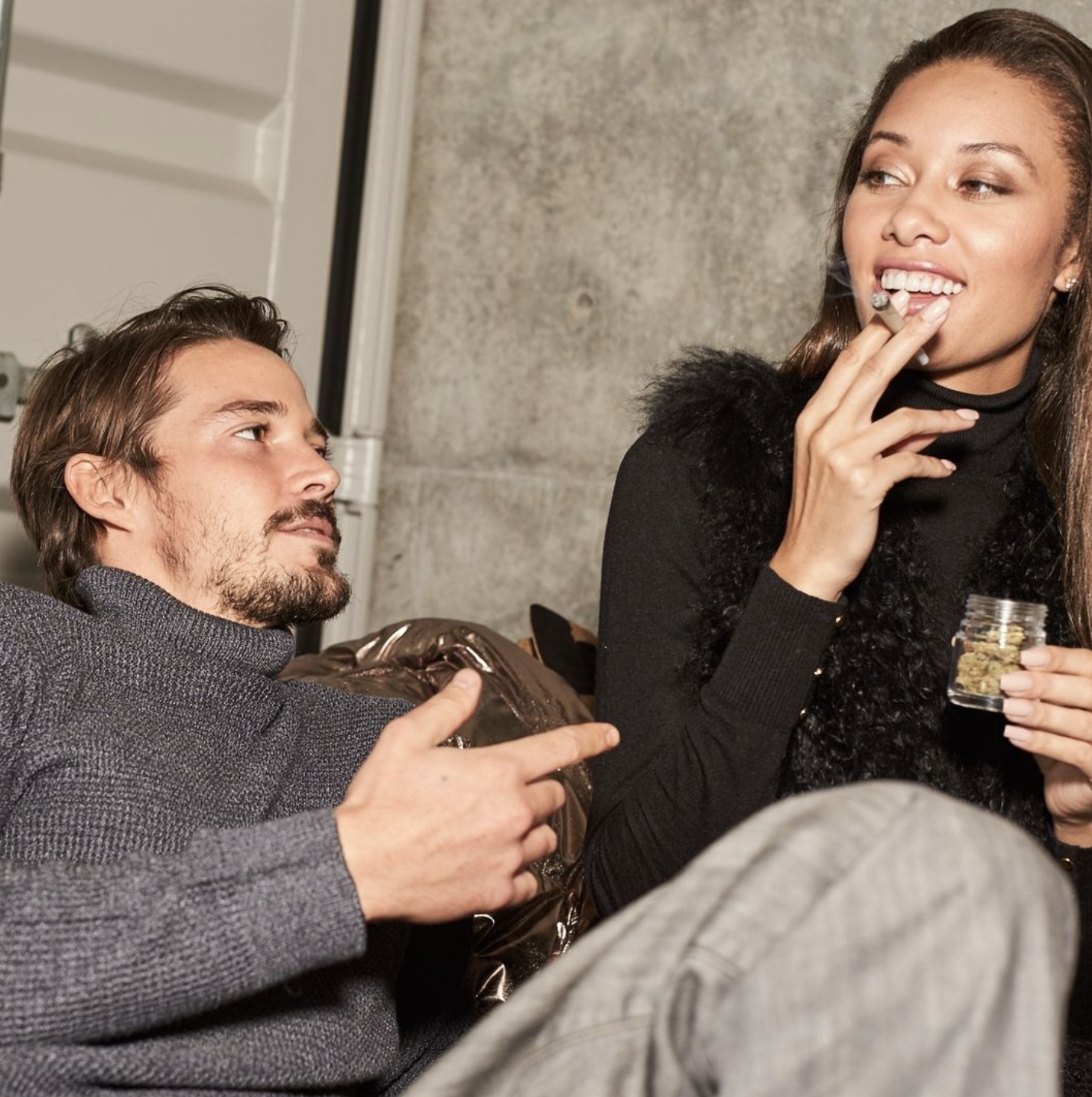 "Pre-roll" is the dispensary-preferred term for ready-to-smoke cannabis products that can be carried and used anywhere, like regular cigarettes. They typically consist of a filter and a cylinder filled with ground cannabis flower.
Pre-rolls come in various sizes and contain cannabis strains of all kinds. They're a staple of most recreational cannabis outlets and dispensaries, and today's pre-roll market features a range of upscale products that offer the highest quality cannabis flower, packaged with today's health and wellness-conscious consumers in mind.
Canndescent Defines Cannabis Luxury in the California Marketplace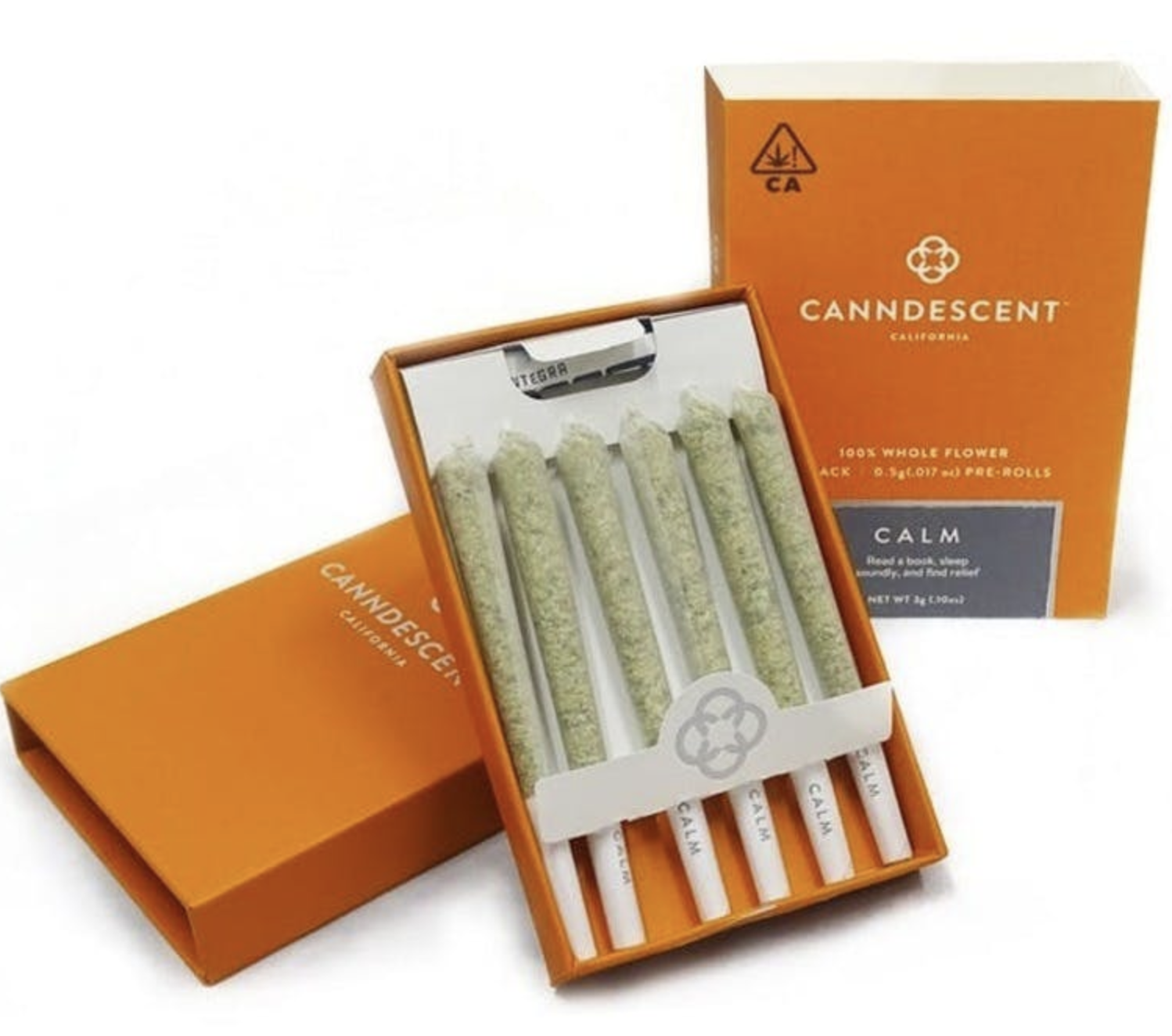 California-based Canndescent was founded in 2015, and just two years later, the company became the state's leading producer of cannabis products. Since its launch, Canndescent has been dedicated to the twin goals of sustainable cultivation and the rebranding of cannabis consumables as "transformative products that tune and enrich the human experience."
In pursuing those goals, Canndescent has racked up an impressive array of industry firsts and honors. The company pioneered solar-powered cultivation and precision nutrition for its scientifically engineered strains and now focuses on developing a select few product lines that echo the styling of high-end fashion and luxe lifestyle brands.
Canndescent CEO Adam Sedlin claimed a spot on High Times' 2018 list of the 100 most influential people in the cannabis industry for his vision of crafting a different kind of cannabis brand – one inspired more by the clean, minimalist messaging of Apple and Google than by the traditions of an industry defined by arcane terminology and silly names for cannabis strains.
"My view was that I was going to have gorgeous cannabis in cut crystal decanters," Seldin said in a recent Wall Street Journal interview. "And that we were going to reposition the whole thing and make it approachable."
Canndescent pre-roll products are different – they are labeled with a one-word description of the desired effect: Calm, Cruise, Connect, Charge and Create. They might not come in the crystal decanter that Sedin envisioned, but they're attractively packaged, similar to beauty, fashion, and other luxury lifestyle products, with eye-catching design, color, and minimal text.
Consumers can find more detailed information about the strains and terpenes in the product descriptions, but as Sedlin points out, Candescent's sleek, minimalist branding makes it easy for anyone to find the right product based on the desired effect. That product, Sedlin says, is the one that best answers the question: "how do you want to feel?"
With that question in mind, here's a look at Canndescent's five best pre-roll offerings.
Canndescent Pre-Roll Calm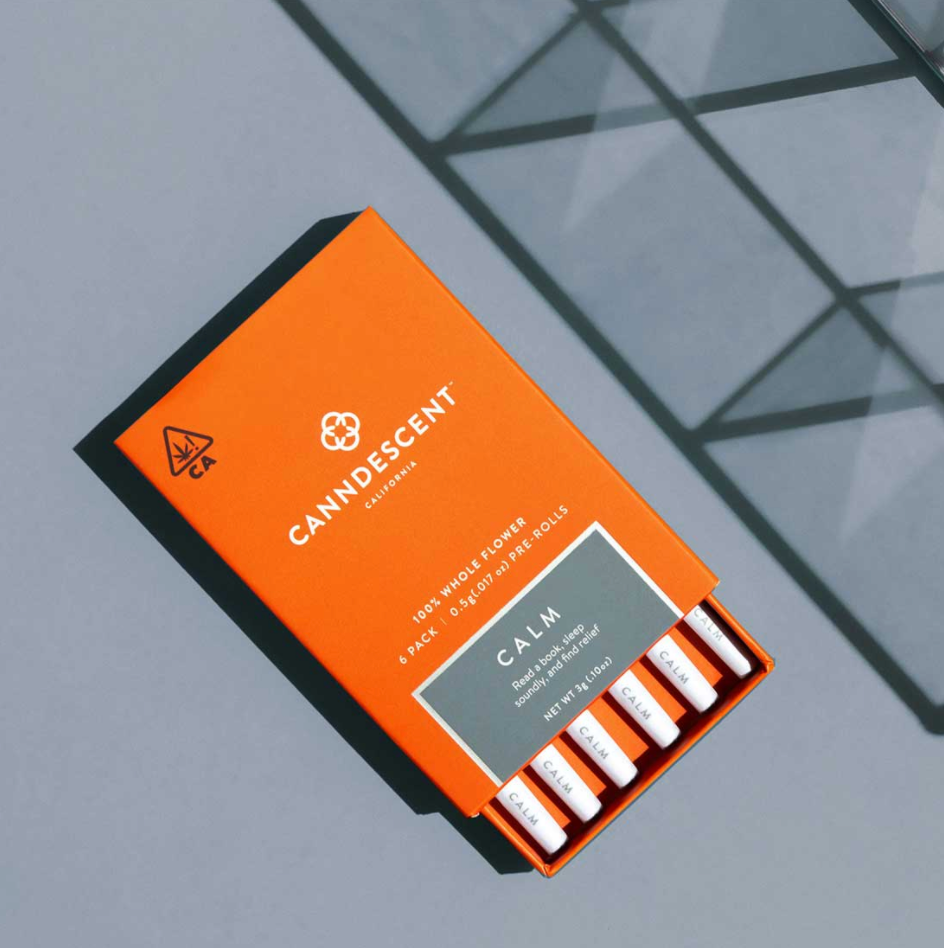 Canndescent's pre-roll Calm is an Indica-dominant pre-roll. It has a THC content of 24.26 percent and includes the calming terpenes myrcene, limonene, and caryophyllene. Canndescent Calm effect is gentle relaxation and relief from anxiety, and it eases the way to refreshing sleep. Calm pre-rolls can be purchased as singles or in a five-pack.
Canndescent Pre-Roll Cruise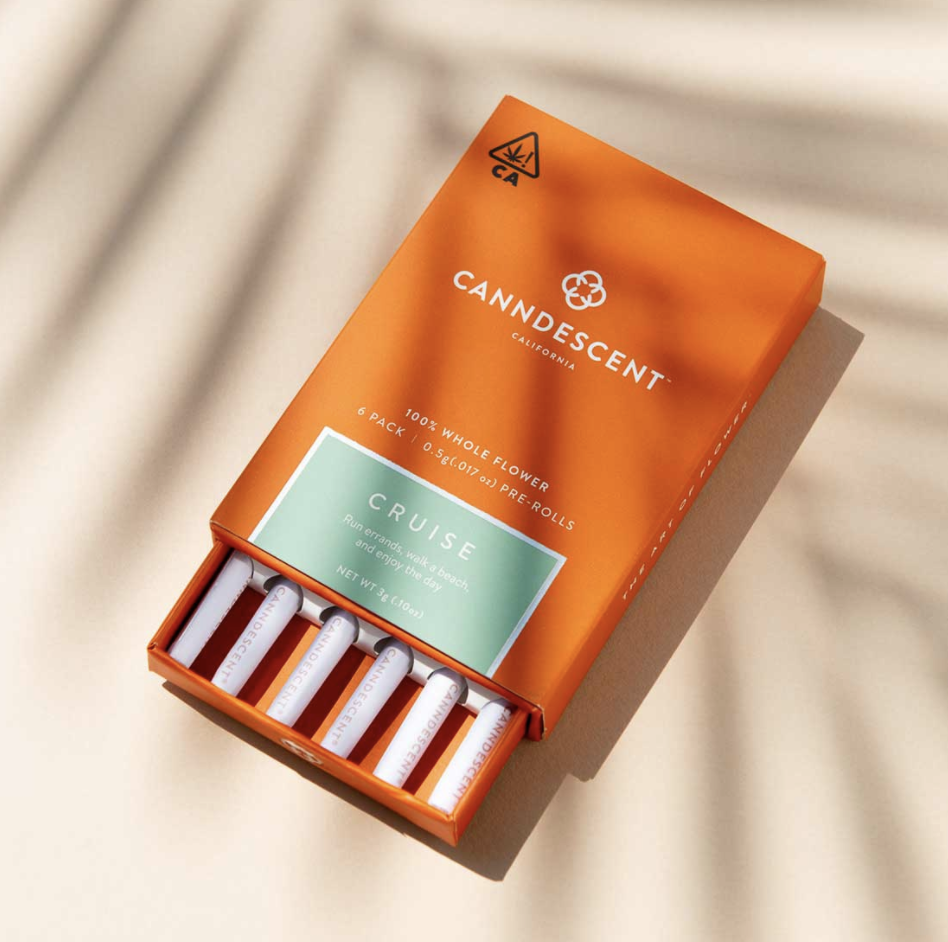 The Cruise pre-roll is an Indica hybrid pre-roll with the dominant terpenes caryophyllene, limonene, and myrcene with a THC content of 25.58 percent. The effects created by Cruise are both energizing and relaxing. Cruise lets you power through a busy day without burnout and stress overload, so it's best for starting a day full of tasks and errands.
Canndescent Pre-Roll Connect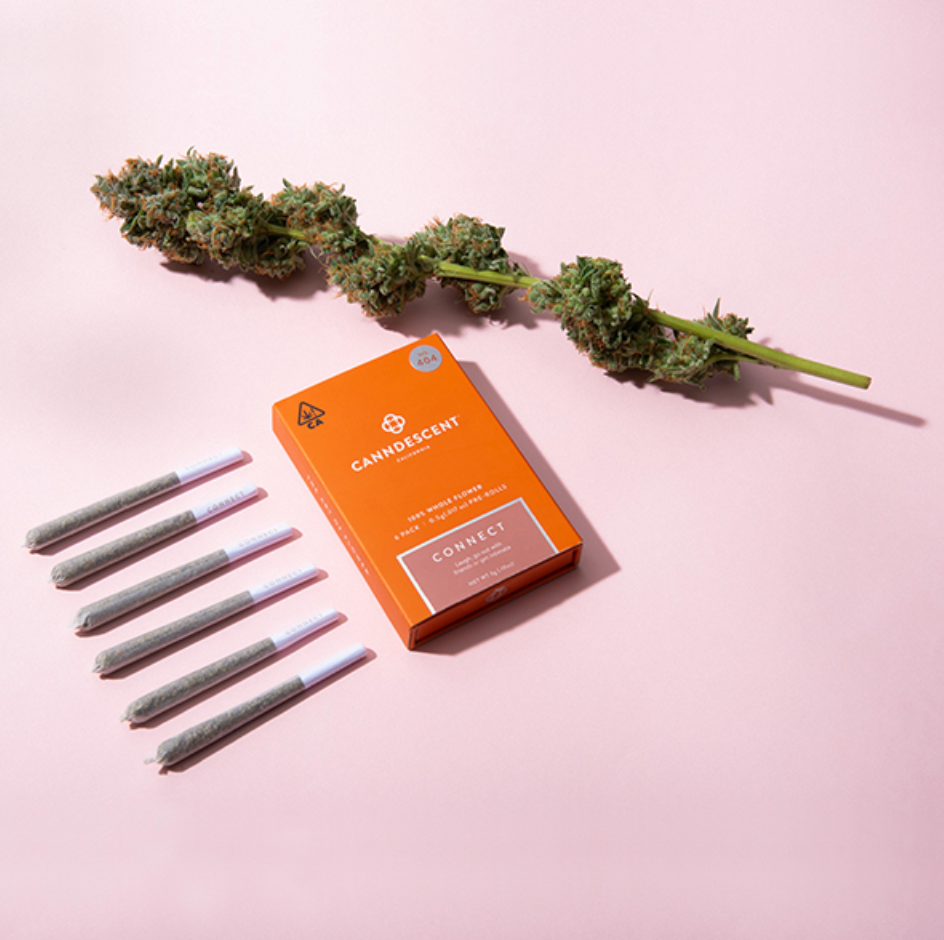 The Sativa hybrid pre-roll Connect has a relaxing, uplifting effect for a night out with friends or other social activities. With 23.05 percent THC and the terpenes limonene, caryophyllene, and myrcene. The Connect
pre-rolls create the overall effect and is meant to smooth the way for social connections of all kinds.
Canndescent Pre-Roll Charge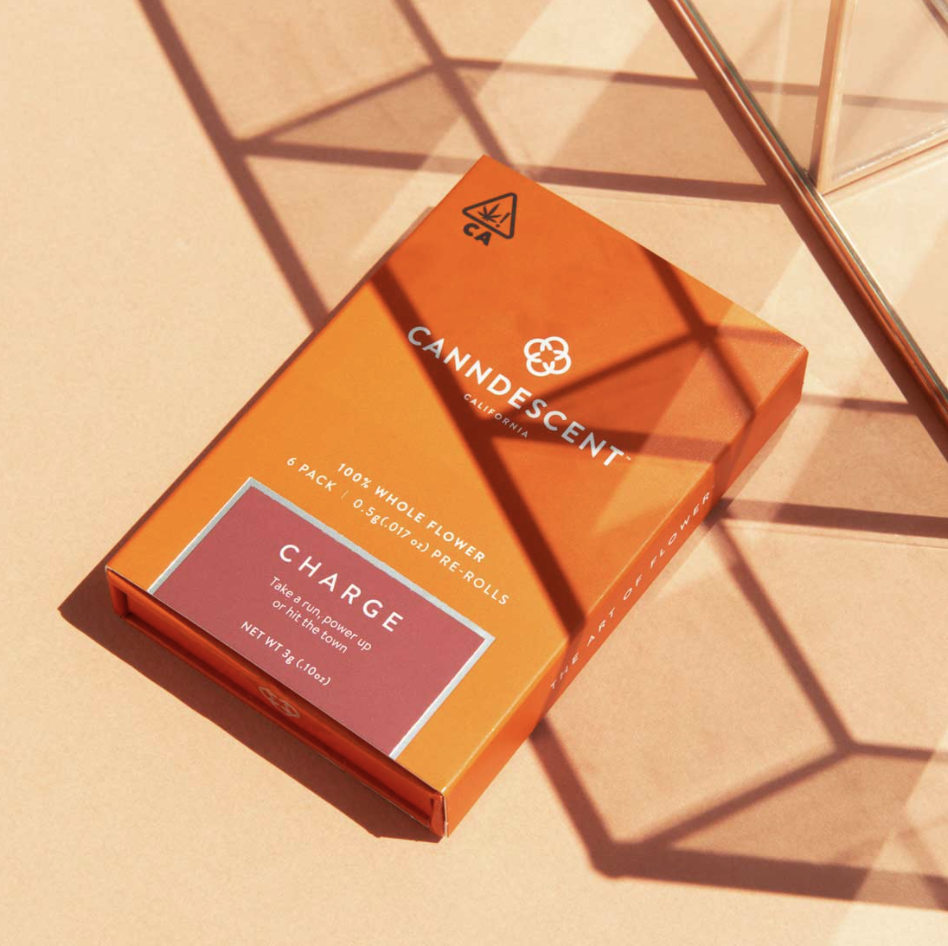 Canndescent's Sativa pre-roll Charge combines 27.17 percent THC with the terpenes terpinolene, myrcene, and ocimene. The overall effect is energizing, one that gets you up off the couch and moving, whether it's to go for a run or dance all night. The Charge pre-roll boosts alertness and wakefulness and comes in individual pre-rolls and packs of five.
Canndescent Pre-Roll Create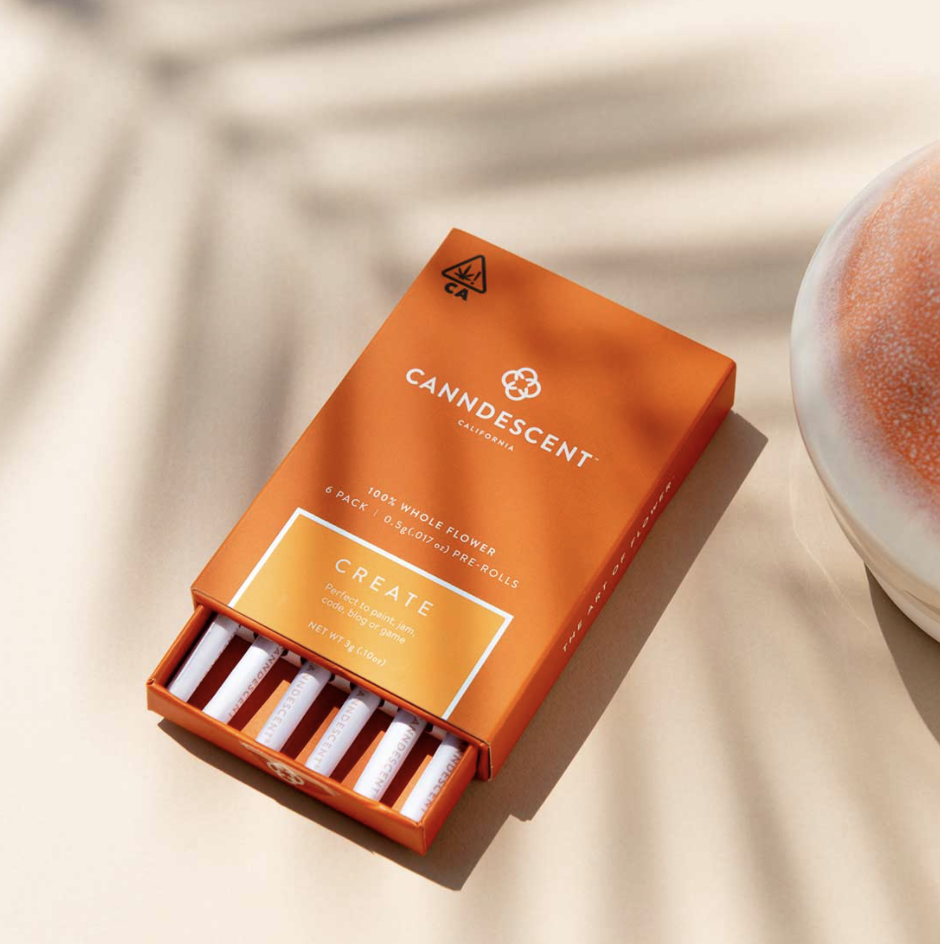 Canndescent says its hybrid pre-roll Create will help you find your muse for any creative activity. The Create pre-roll contains 25.85 percent THC and the dominant terpenes pinene, caryophyllene, and linalool. It's just right for focusing your mind on the task at hand or getting inspired for art, writing, and other kinds of creative work.
Canndescent's top-selling pre-rolls contain the same ultra-premium whole flower that's also sold separately in 1/8th jars. Canndescent is dedicated to the "art of the flower," – and its limited line of luxury cannabis products has something for just about everyone.
If you are new to cannabis and want to learn more, take a look at our Cannabis 101 post. HelloMD can help you get your medical marijuana recommendation; it's 100% online, private and efficient.