The ever-growing to-do list. Projects piling up at work or school. Holidays with the in-laws. There are lots of reasons to be stressed out these days. You may have tried lots of ways to lower your stress levels—from yoga and meditation to a glass of wine after a long day.
At HelloMD, we've seen how hemp-derived cannabidiol (CBD) products can help folks relax and de-stress. As long as they're quality, lab-tested, whole-plant CBD products, they can be just as effective for some folks as marijuana products containing psychoactive tetrahydrocannabinol (THC) are.
FOLLOW US ON FACEBOOK & INSTAGRAM
Today, we're excited to announce our nationwide online store of hemp-derived CBD products—all of which have been staff-tested and curated against our high standards of quality and safety.
Here are the HelloMD staff's three favorite hemp-derived CBD products to help ease stress. All three are available from our online store and can be shipped directly to your door. And for the month of November (2018), you can use code CBD4STRESS at checkout for 20% off your total order.
1. Wildflower CBD+ Aches Vaporizer Can Calm in an Instant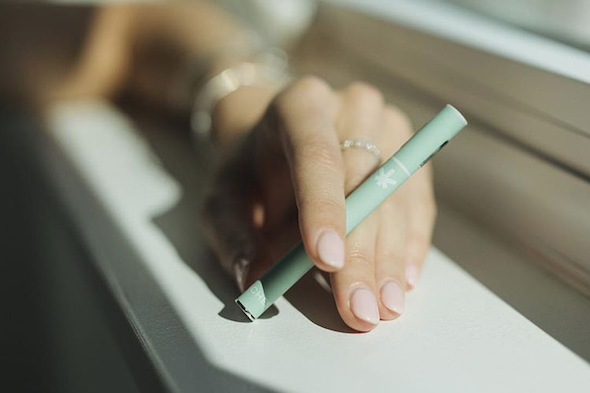 This vape pen is a staff favorite. It's not a nicotine-based e-cig, but a vaporizer filled with high-quality CBD oil. Its calming effects come on fast, and thanks to the added mint and rosemary oil extracts, it tastes great.
This CBD vaporizer can also act as a nicotine substitute for those looking to quit smoking—just another way you can help calm the stress in your life.
$60 $48 with discount code. BUY IT HERE
2. Elixinol CBD Hemp Oil Drops Give You a Smoke-Free Way to De-Stress
Oils, or tinctures, are an effective smoke-free way to take CBD. All you have to do is use the dropper to place the oil under your tongue. The mucus membranes in your mouth absorb the CBD oil much faster than eating your CBD will, because it doesn't have to be processed through your liver. You'll feel the tincture's calming effect in as little as 15 minutes.
Elixinol only uses American-grown, organic hemp to make its products. And the company doesn't use any chemicals in its full-spectrum cannabinoid extract. The combination of calming CBD and other natural ingredients will help you feel relaxed in no time.
$30 $24 with discount code. BUY IT HERE
3. A Massage With Vertly Relief Lotion Will Relax Stressed Muscles
The problem we've found with many CBD creams and lotions is that they either smell funky or don't absorb well. But this lotion from Vertly has cracked the code. It's silky smooth, absorbs quickly, and the smell of citrus and lavender is subtle yet calming.
If you're feeling stressed out, there's nothing better than giving yourself a quick massage with the Vertly Relief Lotion. It will help relax tense shoulders and cramped muscles wherever you feel tension. Use it daily to keep inflammation, pain and stress at bay.
$45 $36 with discount code. BUY IT HERE
RELATED: 5 HEMP CBD PRODUCTS FOR YOUR ACHES & PAINS
So, Why Choose Hemp-Derived CBD?
CBD is a cannabinoid that has many medical benefits. Besides helping to relax and calm, it also has anti-inflammatory properties and can help ease pain.
CBD is found in marijuana, but it's also found in hemp. Hemp is just another variety of the marijuana plant that medical marijuana comes from. But it differs in one important way: Hemp only contains a tiny amount of THC (0.3% or less by law), and therefore doesn't impart any psychoactive effects.
That's why hemp can be legally grown and harvested across the U.S., and it's why products derived from hemp aren't bound by the same restrictions as those derived from marijuana. For the most part, hemp-derived CBD products are available to anyone, anywhere.
Hemp-derived CBD isn't a magic bullet, and what works for one person may not work for another. But if you're looking for a natural way to deal with stress, we think you should give these hemp-derived CBD products a try.
Photo credits: Wildflower (vape pen image), Elixinol Japan (hemp oil image) & Vertly (relief lotion image)