These days, Americans are discovering, appreciating and enjoying the "other" cannabis: hemp.
Though hemp has been documented as one of the nation's first commercially grown crops, it's seen a recent resurgence as states begin to accept the plant's potential as a strong agricultural income-driver.
Hemp farms are now popping up in several states across the country. We recently caught up with Jason VonLembke, a Colorado hemp farmer who supplies Elixinol, a company that produces high-quality, hemp-derived CBD health and wellness products sold worldwide and through our website.
FOLLOW US ON FACEBOOK & INSTAGRAM
Traditional Farms Transition to Hemp
Jason's hemp farm, Centennial Ranch, is a portion of his family's much larger 14,000-acre ranch located in northern Colorado on the eastern side of the Rockies.
"Historically, it was a cattle property, used mostly for grazing. We purchased the property in 2003 after it had been converted into a defunct hog farm. Since then, we've run cattle and have been doing some agriculture," Jason explains.
But like so many farmers, economic considerations led Jason and his family to re-evaluate their farming operations, which led them to consider growing hemp.

"Most farms in this area are in support of the cattle industry," says Jason. "But as the prices of beef continue to go down, many farmers are at the mercy of feed lots and dairies. We were barely breaking even, and came to a point where we were looking to better monetize our asset."
Elixinol approached Jason, which was looking for farms interested in participating in a vertically integrated hemp operation.
Elixinol announced its Northern Colorado High Plains Partnership (NCHPP) last spring. Elixinol had already been sourcing hemp from Colorado, but the rollout of this joint venture now allows for seed-to-sale control over the entire vertical process, including the acquisition of water rights.
Hemp vs. THC Cannabis
The county where Jason's farm is located only allows for the growing of industrial hemp, which must contain less than 0.3% tetrahydrocannabinol (THC). Hemp is rich in cannabidiol (CBD), which is used in all types of cosmetic and medical preparations. But until recently, most hemp used to extract CBD was being grown in unregulated conditions outside the U.S. Jason intends to change that.
RELATED: CBD OIL VS. HEMP OIL: WHAT'S THE DIFFERENCE?
"Until fairly recently, we had no experience with hemp. We learned from and met as many people as possible who were willing to talk to us. I've got great guys on our staff with decades of farm experience. And growing one plant is definitely not so different from growing another," Jason says with a smile.
The Science of Big Commercial Hemp Farming
What's profoundly different from Jason's farm as compared to commercial cannabis farmers growing THC-rich cannabis is the sheer scale of his operation. Earlier this summer, Jason planted 250,000 hemp clones spanning a mind-boggling 120 acres. Jason's farm uses a very modern approach to commercial agriculture.
"We utilize GPS-guided tractors. We try to be very exacting and are very committed to precision agriculture, which incorporates both efficiency and conservation."
For this season, Jason purchased clones from local providers, but in the future, he's hoping to expand his operation into propagation of his own plants. These days, it isn't so easy to put in an order for a gigantic supply of hemp clones. "Putting in an order for 100,000 plants doesn't mean you'll receive that many, or that they will be healthy."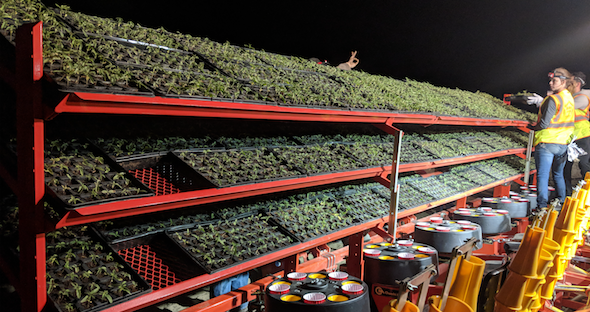 Just like outdoor-grown, THC-rich cannabis, hemp is an annual plant that's placed into soil following the last spring frosts. It must be mature and ready to harvest before the weather turns in the fall.
"The rule of thumb is to plant after the freezes in mid to late May and plant around Mother's Day. You don't want to plant too early and risk losing a million bucks worth of clones," Jason says. "Then we harvest in from late September to early October."
"Depending on when you plant, we'll have mature plants around five to six feet tall with a four- to five-foot diameter," says Jason. To determine when the plants are ready for harvest, Jason runs weekly tests for about three to four weeks. "Once we're happy with test results, we begin harvesting."
Jason bought tobacco harvesters to manage the massive amount of plant material. "The harvesters run alongside a row," he explains. "Then the harvester lifts the plant up and lays it down on other side of the machine where you have an awaiting trailer."
A number of the farm's former hog barns are being retooled and readied to become drying houses. "We're clearing out all that old infrastructure and preparing the barns to be ready for hanging. We have 10 barns streaming with ropes. Once we buck the plant, that's the end of the process from our side," he says.
To accommodate the increase in product, plans are underway for Elixinol to more than double its extraction and fulfillment facility to 20,700 square feet.
Colorado Understands the Importance of Hemp
Luckily, because all forms of cannabis have been legal in Colorado for many years, Jason hasn't had much pushback as a hemp farmer.
"The public is fairly well educated in our area. There's been time for people who were against marijuana to become comfortable with it. The farming community certainly knows what's going on with regard to the Farm Bill. We know the law. We know we can't grow psychoactive marijuana. We're very transparent in what we do. We follow all the rules. We haven't had any problems, so we're very comfortable," Jason says
Yet even hemp farmers like Jason are still challenged by laws and guidelines, which over time may better support the burgeoning industry. "We're always dealing with regulations, banking issues, cash flow—things like that," he concedes.
Jason believes that the proposed Farm Bill provides justification for exactly what he's doing. "Many of our friends are moving into industrial hemp. If the Farm Bill passes, commodity prices will probably crash, and more people may get into hemp. I'm hoping that precision farmers who are conservative with water will survive these downswings and will be able to move forward once the market stabilizes," Jason says.
Hemp CBD Makes for a Happier, Healthier Farmer
Jason isn't just a grower; he's an enthusiastic CBD consumer.
"I didn't know much about [CBD products] until about 18 months ago. I broke my ankle some months ago and really started taking CBD capsules. I take them twice a day. They help with inflammation and even some anxiety. I think they work very well."
Jason describes his journey to hemp farming as "a big learning process."
"We're very excited about it. We're figuring out the hiccups as we go. We're very proud of our precision farming techniques and our plants, and we're looking forward to the next two years as we expand our operations," he concludes.
If you're new to cannabis and want to learn more, take a look at our Cannabis 101 index of articles. HelloMD can help you get your medical marijuana recommendation; it's 100% online, private and efficient.