Edibles have gained popularity over the last five years as the marijuana legalization train has swept across the nation. Gone are the days of the saran wrapped pot brownie, and along with it the unintended consequence of too much THC and the effects of an unexpected "bad trip".
Today, walk into any legal dispensary across the United States, and you will not only experience shopping experiences akin to an Apple store but polished cannabis brands offering a variety of choices, flavors, and dosage options.
The Growing Popularity of the Weed Edible
It seems edibles are finally having their time in the spotlight. And, there's a reason for their popularity. A marijuana edible is any food item or infused beverage; they're easy to consume, discreet, and often have longer-lasting effects than other consumption methods, like smoking or vaping.
You'll find legal weed edibles with varying amounts of THC, the psychoactive component in the plant, or CBD, the non-intoxicating cannabinoid known for curbing anxiety and calming nerves. You will also find edibles that have a ratio of THC and CBD or other cannabinoids such as CBN.
Typically, the onset of an edible may take longer to hit (one to two hours as opposed to 10–20 minutes), but the effects also last longer than smoking or vaping (four to eight hours versus two to three hours). In addition, for medical marijuana consumers, the longer-lasting pain relief from edibles makes it an excellent choice for getting through the day or even through the night.
Finding the Right Weed Edible
When looking for the right edible for you, consider that marijuana acts differently within each of us and that starting with a low dosage and working up to a higher dose, is always a good way to start. A low-dose edible will usually contain 2.5mg of THC or less. A microdose, or smaller dosage, is considered anything under 5mg.
If you are new to cannabis, consider starting with 2.5 mg or less, so you don't accidentally over-medicate. An appropriate dosage is 2.5mg of THC for some people, whereas others may do well with 10mg. Remember though, what is suitable for your friend may not be right for you!
Weed Gummies: the Most Popular Edible
There's a wide array of edibles available nowadays, including sweet to savory treats and foods, cannabis-infused beverages, cannabinoid powders to be added to food or beverages, or infused butter and oils.
But, one type of edible seems to be more popular than all others – the cannabis gummy!
The weed gummies commonly outsell most other edibles. They come in all different shapes and textures, are often fruity, sour, chewy, small in size, and can pack a party-size flavorful punch. Simply put, they're fun, and popping one or two in your mouth, depending on your dose tolerance, can put a smile on your face.
Wana Gummies Offer Consistency & Potency
While there are many different kinds of gummies and brands to choose from, few edibles have the street cred earned by Wana Brands. Started in 2010, Wanna gummies are available for purchase in 12 states across the country. They are increasingly popular due to their vast array of tasty flavor, consistency, and potent THC formulations.
Wana Brands isn't a one-man THC band, however. Their gummies introduce unique blends of terpenes, the aromatic and essential oils that give cannabis not only its distinctive smell but also its tremendous flavor and bodily effects. Wana products are enhanced with 30+ terpenes, allowing their gummies to recreate specific effects of popular cannabis strains. The blending of terpenes helps to enhance the experience you choose to have, whether that be uplifting or relaxing.
Wana Brand edible gummies are high quality, elevated sweet treats, made with all-natural, organic ingredients. The sweet flavor is created with organic sugar or tapioca syrups rather than high fructose corn syrup. When popping a Wanna gummy in your mouth, you'll also notice the perfectly satisfying texture; they never feel rubbery in your mouth like other gummies.
Lastly, if you park your car in the blaring sun and your Wana gummies are inside your glove box, they won't melt! Their pectin formula withstands temperatures up to 175 degrees. So, unless you park in hell with your co-pilot Lucifer, your gummies won't stick together.
A Wide Selection of Wana Brand Gummies
There is a wide selection of Wana gummy products, and depending on where you live in the states, your choice may vary. They offer both medical and recreational/adult-use formulations as well.
Depending on your location, Wana offers two different form factors: fast-acting or sour gummies. Below we look at a selection of Wana gummies. The Wana Brands site allows you to choose your state and which products are offered in your area of the country.
Fast Acting Wana Brand Gummies
Fast Acting Wana gummies have a 5-15 minute onset (that's fast!) and 2-4 hour duration for full-body effects. Below are our favorite picks: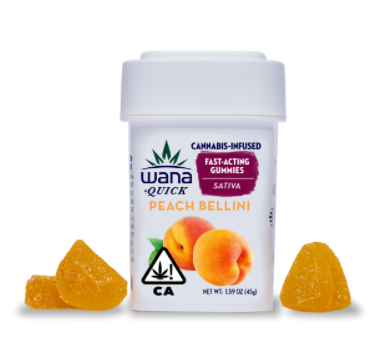 The Peach Bellini Sativa is 5 mg per piece and offers a bubbly peach flavor with a terpene-enhanced sativa blend for an uplifting, sweet vibe.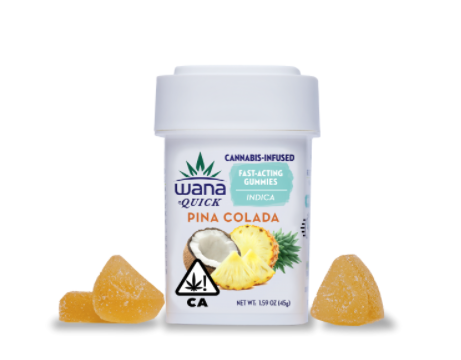 The Pina Colada Indica is 5 mg per piece and offers a pineapple-and-coconut infusion with a terpene-enhanced indica blend for smooth relaxation.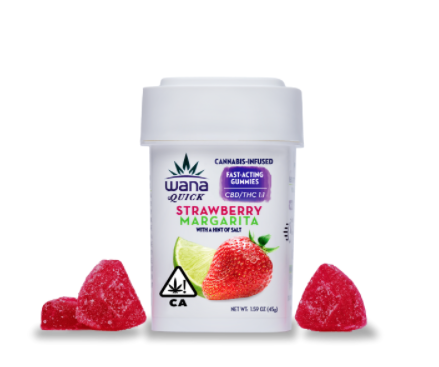 The Strawberry Margarita 1:1 CBD to THC gummy is 5mg of CBD and 5mg of THC. A balanced ratio bursting with a sweet, citrusy tang reminiscent of a margarita on the beach with a rim of salt on the edge! Want to be mellow while still being the life of the party? This is our pick for you!
Sour Wana Brand Gummies
Wana sour gummies are exactly how they sound; sour gummies with a hint of juicy sweetness with an array of flavors and dosages available. Below are our favorite picks: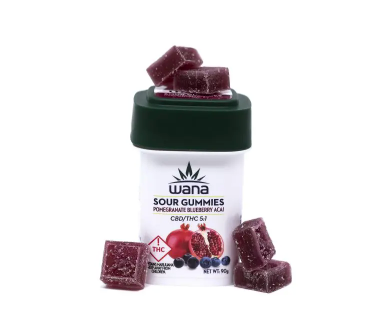 The Pomegranate Blueberry Acai is a 5:1 CBD to THC ratio delivering potent relaxtion for medicinal marijuana consumers. Each piece contains 50mg of CBD and 10mg of THC. Ideal for those with chronic pain issues or other conditions where consistent dosing is necessary.
The Mango Sativa is an awesome choice for the recreational consumer on the go. At 10mg of THC a piece, it's easy to titrate up or down, depending on how elevated you'd like to feel! It's a tropical-inspired gummy with a refreshing sweetness.
The Assorted Flavors Indica is perfect for a relaxing evening at home with your favorite Netflix show. At 10mg of THC per piece, it's a calming terpene-enhanced high with an assortment of flavors.
Need Your Medical Marijuana Card?
If you want to buy medical cannabis in a state where it is allowed, you'll need to get a medical marijuana card. HelloMD can help you with online virtual medical consultation and get your medical card fast, easy and private.